Sale: 360 / Modern Art, Dec. 12. 2009 in Munich

Lot 180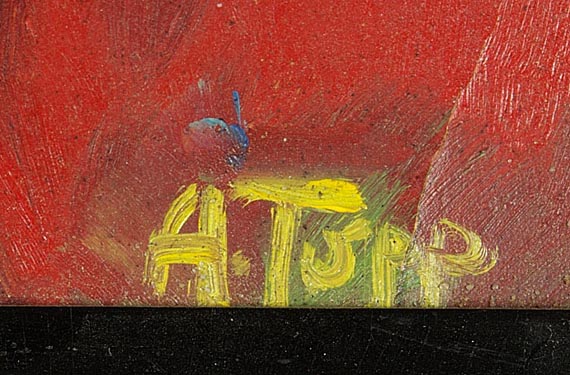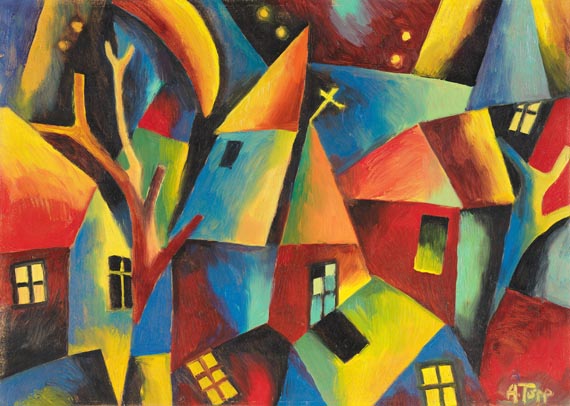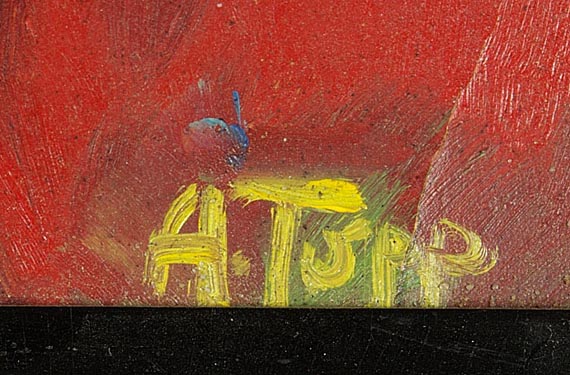 180
Nächtliche Stadt, 1918.
Oil on cardboard
Estimate:
€ 30,000 / $ 34,800
Sold:

€ 75,640 / $ 87.742
(incl. 22% surcharge)

Oil on cardboard
Signed lower right. 35,4 x 49,5 cm (13,9 x 19,4 in)

This work is accompanied by an expertise by Dr. Rainer Enders, Frankfurt (Oder), from 27 June 2009. The work will be included into the catalogue raisonné under the number 18.Oe.33. in the context of its next revision.

PROVENANCE: Collection Schmitsdorf, Brandenburg an der Havel.
Private collection North Germany.

Arnold Topp was born in Soest, Westphalia, in 1887. By 1904 he was already friends with the Soest artists Wilhelm Morgner and Eberhard Viegener. Topp first attended the Soest Teachers' Seminary and worked as a as a village after he had completed his training. In 1910 he changed to the Royal School of Art in Düsseldorf where he studied drawing in the class of Lothar von Kunowski. Afterwards he found employment as a drawing teacher in Brandenburg on the Havel as of 1913. From there the artist cultivated the ties he had previously forged with the Berlin gallery "Der Sturm". He visited Berlin regularly and made friends with artists such as Bruno Taut and Georg Muche. The painter got married in 1914, his first son was born a year later. Topp's first show was held at "Der Sturm" in December 1915. That same year Topp was conscripted for military service and was wounded in combat near Verdun. After several stays in military hospitals Topp returned to Brandenburg. In 1918 Topp was a founder member of the Work Council for Art.

The work "Nächtliche Stadt" (City at Night ) originates from Arnold Topp's most important creative period. The city's houses in a mystic nocturnal ambience, is just the supporting actor in the supernatural scene. The shimmering colors, that merge in the constant game of deception, are the real protagonists in this scenery. The sky and the earth clash in crystalline geometrical surfaces and are combined to a cosmic whole with the blurred and intertwined colors. Towards the end of World War I Topp, just like many other artists in those days, tried to compose a newly ordered world for the time after the war in visions of colors and forms. Our painting is a prime example of Topp's idea of a transcendental harmony of matter and spirit.

Until 1929, Arnold Topp showed his works at numerous exhibitions in Germany, but also in the US, the Soviet Union, Japan and France. As of 1927 Topp was a lecturer in Brandednburg. As a reaction to the Law for the Restoration of the Professional Civil Service, Topp joined the aw National Socialist Teachers League in 1933, but his art was still disparaged as degenerate. At least five works by him were included in the exhibition of "Degenerate Art". In 1940 he was displaced to Meseritz in Western Prussia. In 1945 he was first conscripted to the "Volkssturm" and later to the Wehrmacht. He was reported missing in action from that time on. Escaping the Red Army, his wife had to leave the house, the studio and therefor also her husband's paintings behind. In April 1961, Arnold Topp was declared dead by the Soest District Court. [JW].


180
Nächtliche Stadt, 1918.
Oil on cardboard
Estimate:
€ 30,000 / $ 34,800
Sold:

€ 75,640 / $ 87.742
(incl. 22% surcharge)
You might also be interested in
Arnold Topp - lots sold by Ketterer Kunst