Sale: 361 / Post War/ Contemporary Art, Dec. 12. 2009 in Munich

Lot 369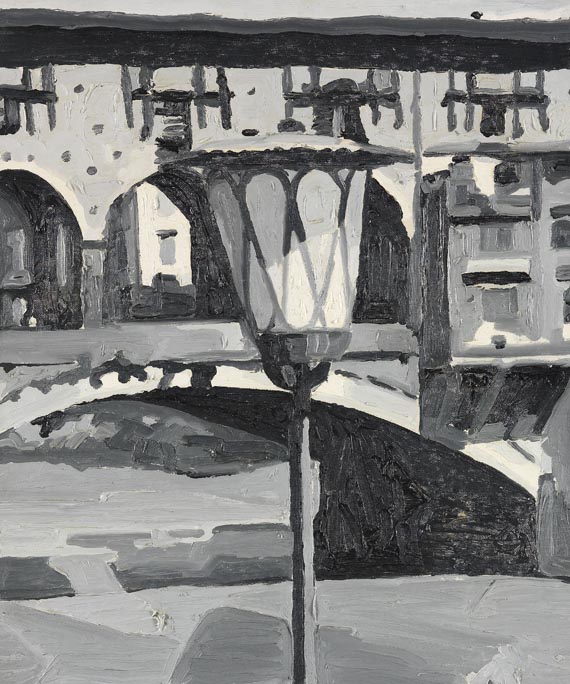 369
Ohne Titel (Aus: Uno di voi, un Tedesco in Firenze), 1976.
Oil on canvas
Estimate:
€ 40,000 / $ 42,400
Sold:

€ 183,000 / $ 193,980
(incl. 22% surcharge)

Oil on canvas
60 x 50 cm (23,6 x 19,6 in)

PROVENANCE: Private collection Hamburg (present from the artist).

LITERATURE: Gisella Stelly, Ihr Kippy Kippenberger, Briefe - Bilder - Fots - Film 1976-1978, Cologne 2006, p. 145 (with illu.).
Cf. Eva Meyer-Hermann/Susanne Neuburger (editor), Nach Kippenberger/After Kippenberger, ex. cat. Museum Moderne Kunst Stiftung Ludwig, Vienna/Van Abbe Museum, Eindhoven, 2003/2004, pp. 30-35.

Martin Kippenberger was one of the most versatile and prolific post-war German artists. Exuberantly energetic, he had produced an enormous and variegated œuvre from the early 1970s to his early death, ranging from painting, prints and sculpture to installations and happenings. He was engaged in almost all aspects of art, being actively involved in organizing exhibitions, and worked in book publishing. His chief concern was questioning the assumptions of society at large and the art scene in particular while plumbing the possibilities that might remain for contemporary art. Assuming an intentional amateurishness, he attacked the art industry in provocatively trite or ironical pictorial inventions, which could on occasion be deliberately tasteless, and in nonsense texts. He was never squeamish about crossing the bounds of good taste.
Martin Kippenberger grew up in a cultured, art-loving family. After doing badly in school and dropping out of an apprenticeship as a decorator, he began to study painting at the Hamburg Art Academy in 1972.

Leaving Hamburg in 1976, the place where he had studied at the School of Visual Arts, Kippenberger moves to Florence with the intention to turn to acting. But instead he makes a series of 100 black and white paintings titled "Uno di voi, un Tedesco in Firenze", all in a format of 60 x 50 cm. It is Martin Kippenberger's conceptual intention to make as many pictures as necessary so that they reach a height of 189, his size, when put one on top of another. Inspired by Gerhard Richter's works in black and white and his photographic motifs, Kippenberger captures impression of Florence in snapshots, such as the famous Ponte vecchio, represented in a color relief that dissolves in single strokes of the brush, its clarity and photo-realistic depth effect only occur when observed from a certain distance. [SM].

In 1978 Kippenberger moved to Berlin, where he founded 'Kippenbergers Büro' with Gisela Capitain and managed the club SO 36. In the 1980s Kippenberger did many joint projects with Albert Oehlen, Werner Büttner and Georg Herold. In 1990 Kippenberger was a visiting professor at the Städelschule in Frankfurt and taught at the Gesamthochschule Kassel in 1992. A large-scale, long-term project that would keep him busy for the rest of his life was the realization of a world-wide underground railway, for which he designed and built an entrance in Syros, Greece in 1993, another in Dawson City, Canada in 1995 and a third in 1997 at the Leipzig Trade Fair. It was posthumously supplemented that same year by a ventilation shaft executed after his plans in Münster and a portable entrance at documenta X in Kassel.


369
Ohne Titel (Aus: Uno di voi, un Tedesco in Firenze), 1976.
Oil on canvas
Estimate:
€ 40,000 / $ 42,400
Sold:

€ 183,000 / $ 193,980
(incl. 22% surcharge)
Martin Kippenberger - lots sold by Ketterer Kunst