Sale: 353 / Rare Books including Marine Art, May 18. 2009 in Hamburg

Lot 203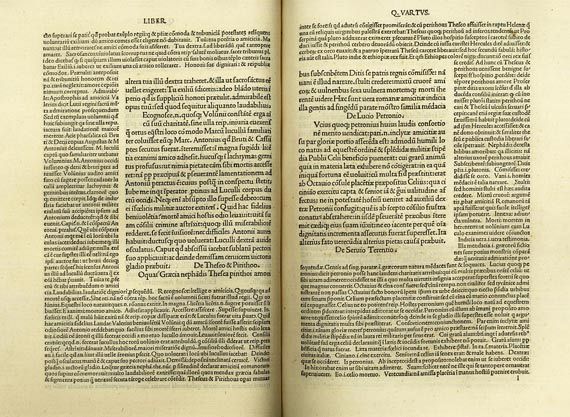 203
Valerius Maximus. 1485
Estimate:
€ 3,000 / $ 3,390
Sold:

€ 3,000 / $ 3.389
(incl. 20% surcharge)
Valerius Maximus,
Facta et dicta memorabilia.Venedig, Dionysius Bertochus und Peregrinus de Pasqualibus, 20. April 1485. Pgt. d. 17. Jhs. Folio. 206 nn. Bll. Rom. Type, mit umgebendem Kommentar.
Hain/Cop. 15787. - Goff V-34. - BSB V-18. - Nicht im BMC und bei Polain. - Seltene venezianische Ausgabe des in der Inkunabelzeit häufig gedruckten Klassikers. Schöner und sauberer Scholiendruck mit Kommentar von Omnibonus Leonicenus. - Exemplar ohne die Druckermarke (wie etwa bei dem Expl. der BSB; vgl. auch Hain/Cop.), die sich bei manchen Exemplaren auf der leeren Rückseite des letzten Blattes findet. - Wenige Bll. gebräunt und tls. minim. stockfl., vereinz. mit leichten Wurmspuren, 8 Bll. mit Wurmgang von 4 cm (Buchstabenverlust). Insges. gutes und sauberes Exemplar.
Venice edition by Pasqualibus & Bertochus, scarce. Rom. type, fine printing with surrounding commentary by Omnibonus Leonicenus. 17th. cent. vellum. - Few leaves browned, partly minim. foxing, here and there slight worming (8 leaves with a longer wormtrace 4 cm; loss of letters). Else well-preserved and clean copy.
203
Valerius Maximus. 1485
Estimate:
€ 3,000 / $ 3,390
Sold:

€ 3,000 / $ 3.389
(incl. 20% surcharge)
Valerius Maximus - lots sold by Ketterer Kunst