Sale: 353 / Rare Books including Marine Art, May 18. 2009 in Hamburg

Lot 73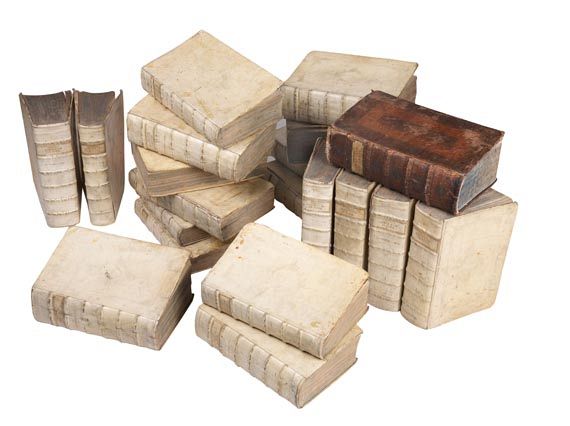 73
Theatrum Europaeum. 20 Bde. 1662.
Estimate:
€ 18,000 / $ 19,800
Sold:

€ 33,600 / $ 36,960
(incl. 20% surcharge)
Merian. -
Theatrum Europaeum, Oder, Außführliche und Warhafftige Beschreibung aller und jeder denckwürdiger Geschichten, so sich hin und wieder in der Welt, fürnemblich aber in Europa, und Teutschlanden, so wol im Religion- als Prophan-Wesen, vom Jahr Christi 1617. bißauff das Jahr. (1718) zugetragen haben. Beschrieben durch J. Ph. Abelinus, (H. Oraeus, J. P. Lotichius, J. G. Schlederus u. a.). Bde. I-XX (von 21). Versch. Auflagen. Mit
20 Kupfertiteln, 612 Kupfertafeln und -karten
(st. 676; tlw. doppelblattgr. bzw. gefalt.; tls. von mehreren Platten) und
620
(st. 701)
Porträtkupfern
im Text und auf 321 Tafeln sowie einigen gefalt. Tabellen. Frankfurt, Merian Erben u. a. 1662-1764. Pgt. d. Zt. (19) und Ldr. d. Zt. (1). Folio.
Wüthrich III, 113-272. - Diesch 471. - Lipperheide Ci 20. - Hiler S. 843. - Berühmte, umfangreiche und reich illustrierte Jahrhundert-Chronik von Matthäus Merian und seinen Nachfolgern. - Die Bde. XIII-XV, XVIII und XX liegen in erster Ausgabe, die restl. Bände in zweiter bis sechster Auflage vor. Tlw. sind die Bde. Mischlauflagen. Zwischen den Auflagen variiert der Tafelbestand, so daß kaum ein Exemplar eine gleiche Anzahl aufweist. Die vorlieg. Kollation lehnt sich eng an Wüthrich an. - Wüthrich zählt für das Gesamtwerk einen Maximalbestand von "693 verschiedenen Tafeln mit 722 Abbildungen, davon hat M. Merian d. Ä. erwiesenermaßen nur 140 selbst gestochen ... allerdings einige der schönsten und wertvollsten Kupfer seines gesamten Oeuvres ... In den letzten Bänden kommen mitunter wahre Prunkstücke der Portraitgraphik vor ... Aus eigener Lektüre möchten wir sagen, daß es in deutscher Sprache
keine vergleichbare und ebenso reiche Fundgrube zeitgenössischer historischer Dokumentation über das Zeitalter des Dreißigjährigen Krieges
und das von Ludwig XIV. gibt" (Wüthrich). - "Ein wertvolles Repertorium der Geschichte jener Zeit, welches in keiner wohleingerichteten Bibliothek fehlen darf. Mit Gründlichkeit und meist auch mit Unparteilichkeit geschrieben, enthält dieses Werk in seinen früheren Bänden eine besonders ausgezeichnete Ausstattung in den beigefügten vortrefflichen Kupferstichen von Merian" (Ebert 22723). - "Ouvrage important et impartial, indispensable à tous les historiographes à cause de ses notices extractes et détaillées sur l'histoire de cette époque-la" (Graesse VII, 110). - Die Veröffentlichung der ersten Bände des berühmten
Theatrum Europeum
fällt zusammen mit den politischen Wirren des Dreißigjährigen Krieges, auf die sich die Redaktion der Bände diplomatisch einzustellen hatte; so wurde etwa die schwedisch-protestantische Prägung, die Joh. Abelin als Verfasser des zweiten Bandes verantwortete, für die zweite Auflage dieses Bandes zurückgenommen, indem Merian den Band durch Joh. Flitner umarbeiten und revidieren ließ. Diese Revision wurde nötig, um der Zensur der kaiserlichen Bücherkommission zu entkommen, die die evangelisch-schwedische Tendenz nicht geduldet hätte; später dann taucht Abelin als Autor wieder auf (vgl. ausführl. H. Bingel, Das Theatrum Europaeum, S. 17ff.). - Bd. V ohne die Seiten 889/890 und 895/896. - Tlw. fleckig und gebräunt, stellenw. wasserrandig, 3 Taf. sporfleckig, ca. 40 Taf. mit meist hinterl. Einrissen und Randläsuren (ca. 5 mit etw. Bildverlust), ca. 5 Kupfer mit Fehlstellen (5 hinterlegt, 1 mit Darstellungsverlust), 5 Kupfer knapp beschnitten, 3 Kupfertitel mit Randausschnitt (1 mit Bildverlust), ca. 15 Textbl. mit Randläsuren (2 hinterl.), 1 typogr. Titel entfernt, 1 Titel mit hinterl. Fehlstelle, 2 Titel mit getilgtem Besitzvermerk. Einbde. meist geworfen, zahlr. Rücken und Außengelenke eingerissen, 1 Rücken und 1 Kap. mit Fehlstellen. - Exlibris E. H. Barten.
Vols. XIII-XV, XVIII and XX in first edition, the rest of vols. in second to sixth edition. With 20 copper titles, 612 copper plates and maps (of 677; some double page and folding; some on several plates) and 620 (of 699) portrait coppers in the text and on 321 plates, as well as several folding charts. Contemp. vellum (19) and contemp. calf (1). - Vol. V lacking pp. 889/890 and 895/896. - Partly stained and browned, here and there waterstained, 3 plates with moulding, ca. 40 plates with (mostly backed) tears and marginal defects (ca. 5 with loss of printed matter), ca. 5 plates with defective spots (5 backed, 1 with loss of printed matter), 5 plates cropped close, 3 plates with marginal cutout (1 with loss of printed matter), ca. 15 text leaves with marginal defects (2 backed), lacking 1 typogr. title, 1 title with backed defective spot, 2 title with cancelled ownership entry. Binding mostly bowed, num. spines and outer joints torn, 1 spine and 1 extremity of spine with defective spot. - Ex libris E. H. Barten.
73
Theatrum Europaeum. 20 Bde. 1662.
Estimate:
€ 18,000 / $ 19,800
Sold:

€ 33,600 / $ 36,960
(incl. 20% surcharge)
You might also be interested in
Matthaeus Merian - lots sold by Ketterer Kunst