Sale: 343 / Post War / Contemporary Art, Dec. 04. 2008 in Munich

Lot 747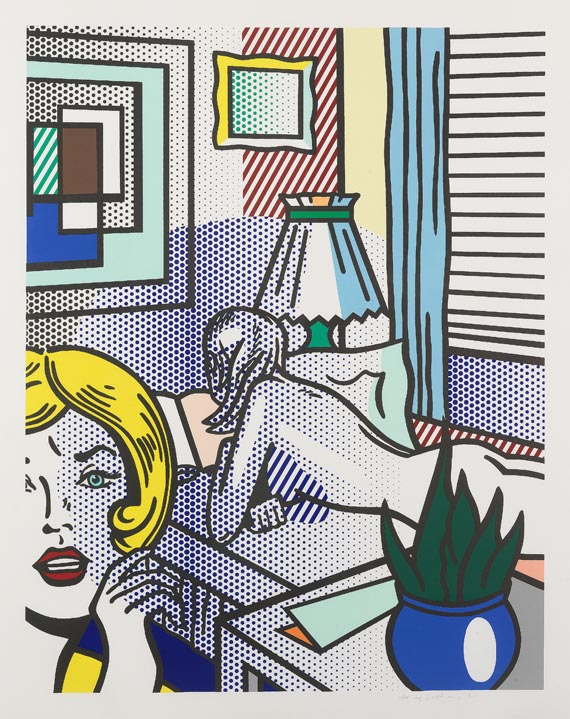 747
Roommates, 1994.
Relief
Estimate:
€ 60,000 / $ 63,600
Sold:

€ 61,000 / $ 64,660
(incl. 22% surcharge)
Roommates. 1994.
Relief print in colours.
Corlett 282. Signed, dated and numbered 11/40. On firm wove paper by BFK Rives. 146,8 : 114,8 cm (57,7 : 45,1 in). Sheet: 162,7 x 130 cm (64,1 x 51,1 in). In 1939 Roy Lichtenstein began with his studies at the Art Students League with Reginald Marsh as his teacher. One year later he moved to the Ohio State College, where he returned to after his military service and stayed until 1949. Following this he began working there as a teacher until 1951. He moved to New York in 1957, where he continued working as a teacher at the New York State College of Education in Oswego. Whereas fairytale-like motifs in primitive figurativeness dominated his work during the early 1950s, Lichtenstein turned to contemporary image contents in the mid-1950s. In 1962 Lichtenstein participated in the first big Pop-Art exhibition 'New Realists' at the Sidney Janis Gallery, New York. Two years later his first exhibition in Europe took place at the Gallery Ileana Sonnabend in Paris. His most famous paintings show dramatic figurative scenes in a typical American cartoon style.
With his Nudes series, to which our print also belongs, Roy Lichtenstein entered uncharted territory, technically and aesthetically, in the early 1990s. The elaborate relief block printing process – individual sculptural forms were cut by hand, mounted on blocks and then printed in several stages with an offset plate printing press – makes possible subtle colour gradations through a colour being printed several times. Lichtenstein was known for his experiments with the aesthetic effects to be achieved with dots in primary colours, which he used for his early Mirror and Interior series. Lichtenstein achieved a wavy light effect by allowing the dots to form patterns and run over objects into parts of the overall composition. The artist compared his intention to the chiaroscuro used by so many Old Masters as a device for modelling form, albeit not so much in the individual figure as in scenes as a whole, by subtle gradations of light and dark. The female nude here presents Lichtenstein with an opportunity for combining living form and stringently geometric patterns to create a world all his own.
His works were celebrated in important retrospective exhibitions all around the world. Roy Lichtenstein died in New York on 29 September 1997. The memory of his motifs is kept as icons of Pop-Art. [KR]
PROVENIENZ: Private collection North Germany.
Printed and published by Tyler Graphics Ltd., Mount Kisco, New York 1994 (with blindstamp)
Good overall impression. Verso partially loosely mounted on backing, the lower margin softly pushing through and with minor ripples.
747
Roommates, 1994.
Relief
Estimate:
€ 60,000 / $ 63,600
Sold:

€ 61,000 / $ 64,660
(incl. 22% surcharge)
Roy Lichtenstein - lots sold by Ketterer Kunst