Sale: 343 / Post War / Contemporary Art, Dec. 04. 2008 in Munich

Lot 766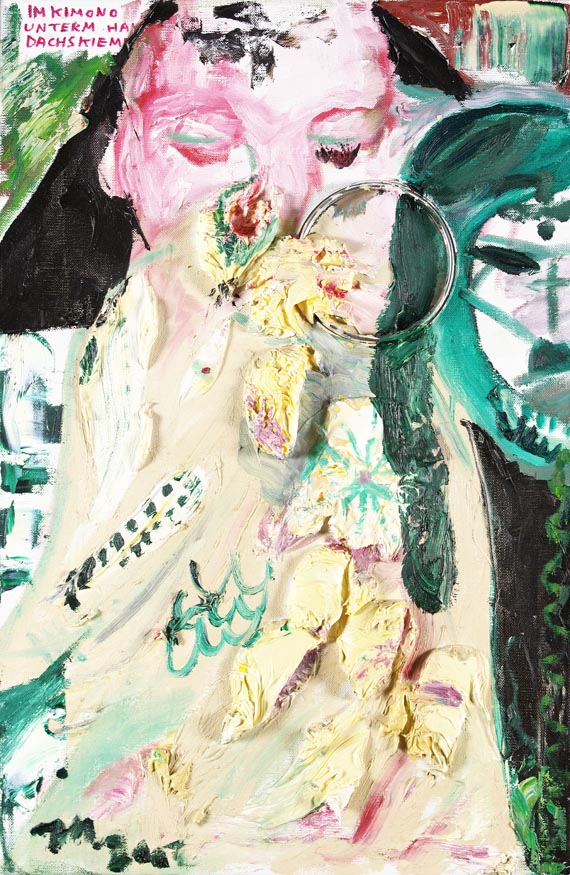 766
Im Kimono "Lady Schnurrkuss de Hot", 2002.
Mixed media
Estimate:
€ 25,000 / $ 25,000
Sold:

€ 24,400 / $ 24.400
(incl. 22% surcharge)
Im Kimono "Lady Schnurrkuss de Hot". 2002.
Mixed media on canvas.
Monogrammed and dated lower left, inscribed upper left. Titled and inscribed on the reverse. 90 : 59,5 cm (35,4 : 23,4 in). At the age of twenty-two, Jonathan Meese decided to become an artist and was admitted to the Hamburg Art Academy in 1993. He dropped out again in 1998 without graduating, since he had come to the conclusion that one did not become an artist by studying. Since then Jonathan Meese has been living as a total artist in and with his art. Art, he maintains, expresses itself through him and not the other way round. An important role in all artistic statements is played by provocation as well as childish delight in crass effects. Meese does his best to annoy. "I believe art has its own rules. I suspect it does. Or I long for it to. We don't understand this, it's a mystery. Why something is art remains a huge enigma. […] We don't know why a picture is art and why another picture may not be. It's just too much for us. What is at stake is being overpowered. After all, a lot of people want to solve the mysteries but I believe it wouldn't be interesting anymore if they did. You have to let it stay mysterious. I have a yearning or a hope and there is no other indication that a picture itself will decide whether it's art or is brilliant or wonderful. I can say with certainty: this picture is shit. But that's just an opinion. The picture itself will know whether it's great" (in an interview with Alain Bieber, artnet, 19 May 2006).[ET]
PROVENIENZ: Contemporary Fine Arts, Berlin (with the label and two stamps on the frame).
Private collection Hesse.
With a collage of 4 colour photos, tape, cellulose cloth and paint on the reverse
In good condition.
766
Im Kimono "Lady Schnurrkuss de Hot", 2002.
Mixed media
Estimate:
€ 25,000 / $ 25,000
Sold:

€ 24,400 / $ 24.400
(incl. 22% surcharge)
More offers for Jonathan Meese
You might also be interested in
Jonathan Meese - lots sold by Ketterer Kunst