Sale: 342 / Modern Art / Sideways, Dec. 03. 2008 in Munich

Lot 305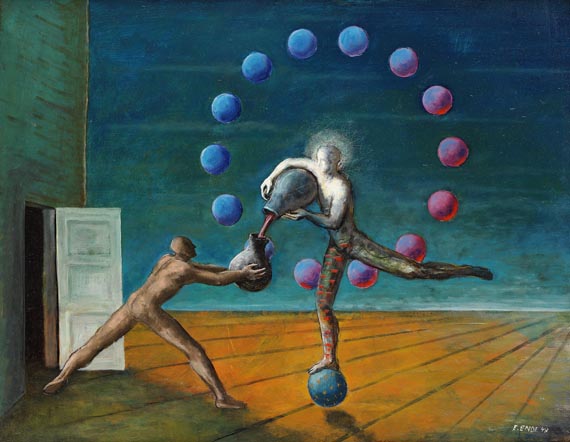 305
Der Tänzer auf der Kugel, 1948.
Oil on paper
Estimate:
€ 15,000 / $ 16,500
Sold:

€ 28,060 / $ 30,866
(incl. 22% surcharge)
Der Tänzer auf der Kugel. 1948.
Oil on paper, on fibreboard.
Murken 135. Signed and dated lower right. 53,5 : 68,5 cm (21 : 26,9 in). At the tender age of eleven, Edgar Ende decided to become a painter. In 1915 he embarked on an apprenticeship as a decoration painter while also attending the School of Arts and Crafts in Hamburg-Altona. A year after finishing his apprenticeship in 1919, the artist also completed his studies at the Altona School of Arts and Crafts and began attending courses at the Hochschule für Freie und Angewandte Kunst [Academy of Fine and Applied Art] in Hamburg. He was assigned a studio in Donner Castle, became a member of the Altona Artists' Association and showed work at Karl Nierendorf in Berlin and with the Hamburg Secession. After frequent stays in Berlin and several exhibitions there, the painter left Hamburg for good in 1928 to settle in Garmisch and a few years later in Munich. The early 1930s were extremely productive years for Ende. He jotted down the spontaneous ideas for pictures that developed from his subconscious in what he called "dark-room sketches" and created paintings notable for imagery that was entirely his own. In 1936 Edgar Ende was forbidden to paint and exhibit and in 1937 works of his were removed from German museums and galleries through the National Socialist ban on "degenerate art". During the air raids on Munich in 1944, most of Ende's œuvre was destroyed. After the war the artist was a co-founder of the Professional Association of Munich Artists and the Neue Gruppe, showing work at the Venice Biennale and other international exhibitions. He was often a member of the jury at the Great Munich Art Exhibition at the Haus der Kunst.
Our painting is one of Ende's most important works. Gustav E. Hartlaub speaks of Edgar Ende's "Romantic Surrealism" and in putting it this way does ample justice to the artist's late work. Hartlaub is right in pointing out that Ende was influenced especially by the painting of Giorgio de Chirico. Ende's painted dreams are like visions of a classic world between worlds, in which playful qualities intermingle with menace. Much that is visualised here is from the subconscious and now awaits polysemic interpretation. Thus our picture, too, with its unreal figures which are performing unreal acts in an unreal world, reveals a mythology complete in itself, one which defies explanation with the terminology usually applied to art and cultural history. Edgar Ende opens up his surreal worlds not to the specialist but to those gifted with imagination, who have retained the unobscured sight of a child.
In 1951 Ende met André Breton in Paris and was a co-founder of the International Union of Surrealists. In 1963 Ende was made an honorary member of the Munich Fine Art Academy. After an unusually productive last year, the painter died in Netterndorf in 1965. [KD]
PROVENIENZ: From the artist's estate.
Galerie Helmut Pabst, Frankfurt/Main.
Private collection Hesse.
AUSSTELLUNG: Edgar Ende, Ausstellung und Katalog der nachgelassenen Gemälde, Galerie Wolfgang Ketterer, 2 July - 12 August 1972, cat.no. 30, p. 23 (with illustration).
Edgar Ende 1901-1965. Gemälde, Gouachen und Zeichnungen, Städtische Galerie im Lenbachhaus Munich, 25 November 1987 - 17 January 1988/ Hamburger Kunsthalle, 5 February - 20 March 1988/ Städtische Kunsthalle Mannheim, 25 June - 28 August 1988/ Von der Heydt-Museum der Stadt Wuppertal, 2 October - 20 November 1988 (according to the administration of the estates aside from the catalogue).
Edgar und Michael Ende, Touring exhibition in Tokyo and six additional Japanese cities, 1989, cat.no. 22.
Good overall impression. Margins with isolated tiny retouchings, partly more obvious on the corners.
305
Der Tänzer auf der Kugel, 1948.
Oil on paper
Estimate:
€ 15,000 / $ 16,500
Sold:

€ 28,060 / $ 30,866
(incl. 22% surcharge)
More offers for Edgar Ende
You might also be interested in
Edgar Ende - lots sold by Ketterer Kunst