Sale: 345 / Modern Art / Post War, June 04./05. 2008

Lot 384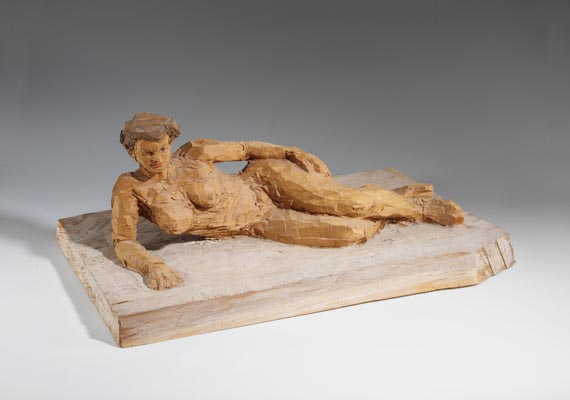 384
Liegende Frau, 1991.
Wooden sculpture
Estimate:
€ 30,000 / $ 27,600
Sold:

€ 72,000 / $ 66,240
(incl. 20% surcharge)
Liegende Frau. 1991.
Holzskulptur, teils farbig gefasst.
cm ( in)Circa 28 x 70 x 46,3 cm (11 x 27,5 x 18,2 in) 1957 wird Stephan Balkenhol im hessischen Fritzlar geboren. Er studiert von 1976 bis 1982 an der Hamburger Hochschule für Bildende Künste in der Bildhauerklasse von Ulrich Rückriem. Die Suche der deutschen Künstler seit den 1980er Jahren nach neuen Formulierungsmöglichkeiten und Sinngebungen alltäglichen Materials manifestiert sich deutlich auch im Werk von Balkenhol. Mit traditionellem Werkzeug bearbeitet Balkenhol das Holz, das er als lebendige Substanz empfindet. So bleiben Riefen, Schrunden, Splitter und Risse sichtbar und verweisen auf den bildhauerischen Arbeitsprozess. Bereits 1983 kann Balkenhol seine erste Einzelausstellung ausrichten. Nach zwei Stipendien erhält er zwischen 1988 und 1989 einen Lehrauftrag an der Hamburger Kunsthochschule. Im Anschluss lehrt er bis 1991 an der Frankfurter Städelschule. In seinen Skulpturen, die durch Farbmarkierungen in ihrem körperlichen Volumen akzentuiert werden, bildet er Menschen und Tiere ab, häufig auch in Interaktion miteinander. Seine menschlichen Skulpturen weisen gelegentlich die Nähe zum Porträthaften und immer eine gewisse "Familienähnlichkeit" auf, wahren doch stets auch ein notwendiges Maß an Verallgemeinerung.
"Zum einen ist die menschliche Figur der Anlaß, das Thema, das ich mir stelle, mit dem ich mich auseinandersetze, das ich studiere und das mir auch einen gewissen Widerstand bietet; ich mag gerne diese Art von Herausforderung ... Dann geht es auch darum, ein Bild zu schaffen, also zu versuchen, ein Bild zu hauen, etwas darzustellen und zu sehen, inwieweit eine Bildsprache funktioniert. Was ich mir ... von meinen Skulpturen wünsche, ist, daß sie der Anlaß sind oder der Ausgangspunkt für alles andere. Es ist dann nicht nur die Figur, die wichtig ist, wenn man sie in einem Raum sieht und erlebt, sondern davon ausgehend, kann sie alles mögliche transportieren. Es ist wichtig, daß man nicht an der Oberfläche kleben bleibt, sondern daß wie bei einem Spiegel andere Dinge reflektiert werden können ..., Stimmungen, Gefühle, Ideen" (zit. nach: Dirk Teuber, in: Künstler. Kritisches Lexikon der Gegenwartskunst, München 1995, S. 2). In ihrer kraftvollen Erdverbundenheit verkörpert unsere Skulptur etwas Archetypisches, Mythisches, das zugleich ganz der Gegenwart verhaftet ist.
Seit 1992 ist der Künstler als Professor an der Staatlichen Kunstakademie in Karlsruhe tätig. In diesem Jahr verlegt er auch sein Atelier von Hamburg nach Meisenthal in Frankreich, wo er sich zwei Jahre später endgültig niederlässt. Neben seinen skizzenhaften Zeichnungen und den Skulpturen in den Werkstoffen Holz und Bronze finden sich zahlreiche Monumentalskulpturen des Künstlers im öffentlichen Raum. [NB]
PROVENIENZ: Andrea Rosen Gallery, New York.
Privatsammlung Süddeutschland.
AUSSTELLUNG: Signs of Being. Figurative Art of Diverse Media in a Dialogue with Abstract and Conceptual Works, The Foundation to Life Exhibition Space, Mount Kisco, New York, Mai 2004-Mai 2005.
Von guter Erhaltung. Geringfügig angestaubt.
384
Liegende Frau, 1991.
Wooden sculpture
Estimate:
€ 30,000 / $ 27,600
Sold:

€ 72,000 / $ 66,240
(incl. 20% surcharge)
You might also be interested in
Stephan Balkenhol - lots sold by Ketterer Kunst