Sale: 340 / Rare Books, May 19./20. 2008 in Hamburg

Lot 60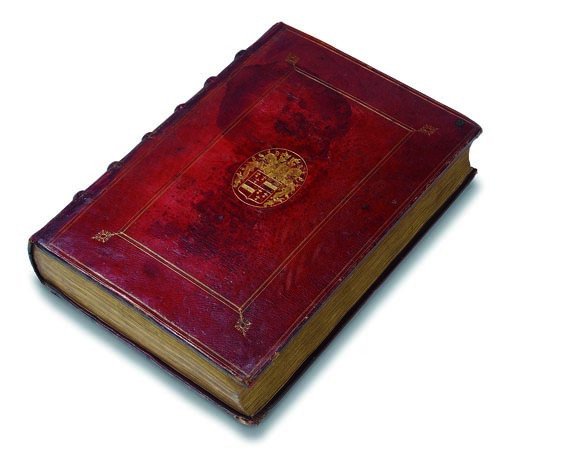 60
Sommaire chronologie. 1622
Estimate:
€ 2,800 / $ 3,416
Sold:

€ 2,880 / $ 3.513
(incl. 20% surcharge)
Lot description
[Vallées, C.-A. de],
Sommaire chronologie des souverains pontifes, empereurs, roys, princes, grands seigneurs et hommes illustres, des le commencement du monde. Mit
figürl. Titelkupfer
von M. Merian,
19 gest. Zwischentiteln
mit figürl. Bordüre und über
2100 Kupferporträts
. Paris, A. Buizard 1622. Roter Maroquin d. Zt. mit Ganzgoldschnitt, goldgepr. Deckelbordüren und goldgepr. Wappensupralibros des Balathier-Lantage, Kapitän der Armee von Condé. Folio. 258 nn. Bll.
Wohl einzige Ausgabe, äußerst selten. Reichhaltiges und ungewöhnliches Porträtwerk mit Bildnissen von Patriarchen, Sibyllen, Päpsten, persischen Monarchen, römischen Kaisern und Kaiserinnen, französ., spanischen, englischen und polnischen Königen und Königinnen, maurischen Prinzen, Herzögen von Brabant, Prinzen und Herzögen Venedigs, Großmeister des Ordens des Hl. Johannes von Jerusalem, lateinischen Poeten u. v. m. - Sämtl. Kupferporträts und gedruckter Text auf Tafeln mit Bordüreneinfassung geklebt. - 11 S. mit Bordürenrahmung nicht beklebt. Tlw. etw. stockfleckig, vord. Innengelenk gelockert. Einbd. etw. fleckig und mit kl. Schabspuren, Rücken gefärbt, Gelenke brüchig.
Very scarce set of portraits. Only edition. With fig. engr. title by M. Merian, 19 engr. subtitles with fig. border and more than 2100 engr. portraits depicting patriarchs, popes, Persian sovereigns, Roman emperors, Kings and Queens of France, Spain, England and Poland, dukes of Venice, Latin poets etc. All portraits and text mounted on plates with printed borders. Contemp. red morocco with gilt edges, gilt borders and gilt armorial centrepiece of Balthier-Lantage, captain of the army of Condé. - Partly some foxing, inner front hinge loosened. Binding slightly stained and scraped, joints and spine ends restored.
60
Sommaire chronologie. 1622
Estimate:
€ 2,800 / $ 3,416
Sold:

€ 2,880 / $ 3.513
(incl. 20% surcharge)