Sale: 340 / Rare Books, May 19./20. 2008 in Hamburg

Lot 140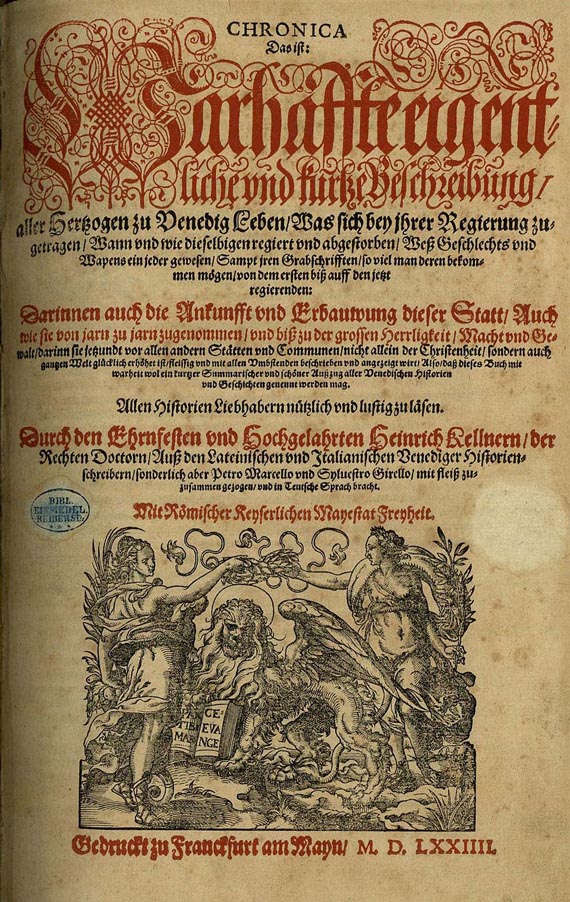 140
Sammelband. 1561
Estimate:
€ 5,000 / $ 5,500
Sold:

€ 5,040 / $ 5.544
(incl. 20% surcharge)
Lot description
Kellner, H.,
Chronica Das ist: Warhaffte eigentliche und kurtze Beschreibung aller Hertzogen zu Venedig Leben, was sich bey ihrer Regierung zugetragen ... Darinnen auch die Ankunfft und Erbauwung dieser Statt ... Auß den Lateinischen und Italianischen Venediger Historienschreibern, sonderlich aber Petro Marcello und Sylvestro Girello mit Fleiß zuzusammen gezogen, und in Teutsche Sprach bracht. Mit
Titelholzschnitt
und
103 Textholzschnitten von Jost Amman
(tlw. wdh.) sowie
Holzschnitt-Druckermarke
am Ende. Frankfurt, P. Reffeler für S. Feyerabend 1574. 4 nn. (d. l. w.), 140 num., 6 nn. Bll. (d. l. w.). -
Angeb.: (Gianotti, D.)
, Respublica Das ist: Wahrhafftige eigentliche ... Beschreibung der herrlichen und weitberühmpten Statt Venedig. Mit
Titelholzschnitt
(auf Bl. II wdh.). Frankfurt, P. Schmidt für S. Feyerabend 1574. 4 nn. (d. l. w.), 56 num. Bll. -
Angeb.: Spangenberg, C.
, Chronicon Corinthiacum. Historien und Geschichte, von ankunfft, auffnemen, Regierung, und abgang der Stad Corinth. Mit
Holzschnitt-Karte
im Text. Eisleben, U. Gaubisch 1561. 3 nn., 80 (recte 81) num. Bll. - Zeitgenöss. Schweinslederband über abgeschrägten Holzdeckeln mit reicher Blind- und Rollenpräg. (Köpfe, bibl. Figuren), monogr. "B F" (d. i. Brosius Faust), ferner mit 2 Messingschließen. Folio.
I:
VD 16, K 695. - Adams K 11. - BM STC, German Books S. 468. - Soranzo 3280. - Becker Amman 18a. - Lipperheide Jba 3. - Erste Ausgabe. Die schönen Holzschnitte von Amman hier erstmals abgedruckt, sie zeigen 84 Dogenporträts (Kniestücke mit Wappen) sowie Grabmäler. -
II:
VD 16, G 1954. - BM STC, German Books S. 359. - Nicht bei Adams. - Erste Ausgabe von Gianottis Chronik, häufig mit Kellners Chronica zusammengebunden. -
III:
VD 16, S. 7511. - Nicht bei Blackmer. - Erste Ausgabe, selten. - Die schöne Holzschnitt-Karte (65 : 65 mm) zeigt die Gegend um Korinth. - Zum Einband vgl. Haebler I, 111 Rolle 3 und Schunke, Leben und Werk Jacob Krauses, S. 63 (mit Abb. eines Einbandes von Brosius Faust mit identischem Stempelmaterial). Faust war Hofbuchbinder in Dresden und 1564 Mitbegründer der Dresdener Buchbinderinnung. Wie Krause arbeitete er für Kurfürst August von Sachsen. - Titelbl. von I mit kl. Stempel. Rücken etw. beschabt, VDeckel gering fleckig. Insgesamt
schönes Exemplar
in einem dekorativen Holzdeckelband der Zeit.
Three fine printings in a beautiful masterbinding by Brosius Faust, Saxon bookbinder for elector August of Saxony. Richly blind-tooled pigskin over wooden boards with monogram "B F", 2 brass clasps. - I (Kellner): First German edition. With woodcut title, 103 woodcuts (partly rep.) by J. Amman and woodcut printer's device at end. - II (Gianotti): First edition. With woodcut title. - III (Spangenberg): First edition, scarce. With small woodcut map of Corinth in text. Not in Blackmer. - Title of I with small stamp, spine rubbed, front board minim. stained. Very fine copy.
140
Sammelband. 1561
Estimate:
€ 5,000 / $ 5,500
Sold:

€ 5,040 / $ 5.544
(incl. 20% surcharge)