Sale: 340 / Rare Books, May 19./20. 2008 in Hamburg

Lot 33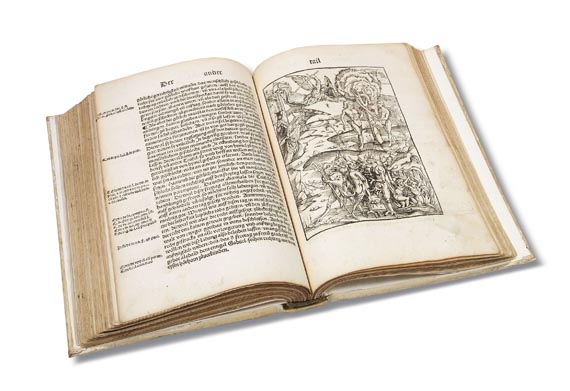 33
Layen-Spiegel. 1509
Estimate:
€ 3,000 / $ 3,510
Sold:

€ 4,440 / $ 5.194
(incl. 20% surcharge)
Lot description
Tengler, U.,
Layen Spiegel. Von rechtmässigen ordnungen in Burgerlichen und peinlichen regimenten. Mit
34 Textholzschnitten
(davon 5 schemat., 28 ganzseit., 1 doppelblattgr. und 6 ankoloriert) und einzelnen Holzschnitt-Initialen. Augsburg, J. Otmar für J. Rynmann 1509. Pgt. d. Zt. Folio. 172 nn. Bll.
VD 16, T 337. - BM STC, German Books S. 851. - Kaspers 121. - Zapf II, 40. - Muther 935. - Goedeke I, 391, 32 Anm. - Nagler, Monogr. III, 316, 6. - Nicht bei Adams. -
Erste Ausgabe des berühmten Rechtsbuches
, unter Mitwirkung von Sebastian Brandt entstanden und von größtem Einfluß auf die Rechtssprechung im 16. Jahrhundert. Bis 1560 erschienen mindestens 18 Ausgaben und Nachdrucke. - "Die erste Ausgabe, aber sehr selten. Der Verfasser dieses Rechtsbuchs ist der ehemalige Stadtschreiber in Nördlingen, Ulrich Tengler, der nachher Landvogt des Landgerichts Höchstett wurde ... Des Freyherrn von Senkenbergs
Visiones diversae de collectionibus Legum Germanicarum
... welcher dieses Werk ungemein hochschätzt, und sogar behauptet, nicht das römische Recht, sondern dieser Layenspiegel, habe dem Sachsen- und Schwabenspiegel den letzten Stoß gegeben" (Zapf). - Illustriert ist das Werk mit 34 (9 wdh.) prachtvollen blattgr. Holzschnitten, die vermutl. zumeist vom dem Monogrammisten "H F" (H. Furtenbach) stammen (jedoch ist nur 1 Holzschnitt monogrammiert). Die schönen Holzschnitte zeigen zumeist Gerichts- und Folterszenen sowie zahlr. Szenen aus dem Strafvollzug. - Tlw. leicht fleckig (3 Bll. mit kl. Braunfleck, 1 Taf. mit kl. Tintenspur), Titel (mit gelöschtem Stempel) angerändert, altes Vorsatz und Titel (vo. und rc.) mit Eintragungen von alter Hd., 5 Bll. mit hinterl. Randläsuren, ca. 25 Bll. im Seitensteg knapp beschnitten (Glossen tlw. mit minim. Buchstabenverlust), wenige Bll. mit zarter Unterstreichung in brauner Tinte. Bindung und Vorsätze erneuert.
First edition of this famous work on law. With 34 woodcuts in text. Contemp. velum. - Partly slightly stained (3 ll. with brown stain, 1 plate with ink stain), title (with erased stamp) remargined, old orig. endpaper and title (vo. and rc.) with entries by old hand, 5 ll. with rebacked marginal defects, ca. 25 ll. cropped close in the fore edge (gloss partly with minim. loss of letters), some ll. with underscorings in brown ink. Binding and endpapers renewed.
33
Layen-Spiegel. 1509
Estimate:
€ 3,000 / $ 3,510
Sold:

€ 4,440 / $ 5.194
(incl. 20% surcharge)
You might also be interested in

Ulrich Tengler - lots sold by Ketterer Kunst