Sale: 340 / Rare Books, May 19./20. 2008 in Hamburg

Lot 12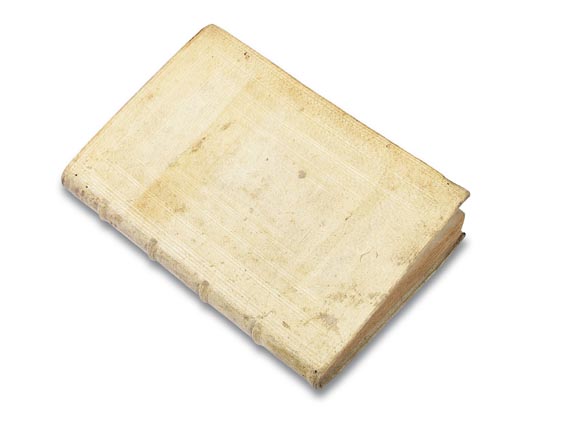 12
Rerum danicarum. 1593
Estimate:
€ 3,000 / $ 3,300
Sold:

€ 5,520 / $ 6.072
(incl. 20% surcharge)
Lot description
Ens, C.,
Rerum Danicarum Friderico II. inclitae memoriae, rerum potiente, terra mariq(ue) gestarum historia: Bella Ditmarsicum & Suecicum maxime memorabilia complectens ... Accesserunt appendicis loco eiusdem argumenti epigrammata Joh. Lauterbachii ... 2 Tle. in 1 Bd. Mit
7 gest. Porträts, 3 Wappenkupfern
und
14 Kupfertafeln
(12 doppelblattgr., 2 gefalt.) von Franz Hogenberg und Simon Novellanus,
2 Textholzschnitten
sowie 2 Holzschnitt-Druckermarken. Frankfurt, P. Fischer 1593 und (Anhang:) Joh. Wechel 1592. Zeitgenöss. Schweinsldr. mit reicher Blind- und Rollenpräg. (Köpfe) sowie blindgepr. Mittelplatte auf den Deckeln (Allegorien Prudentia und Fortitudo). Kl.-Folio. 6 Bll., 165 (recte 167) S.; 77 S.
VD 16, E 1387. - BM STC, German Books S. 270. - Adams E 186. - Bruun III, 58. - Merlo Sp. 372, 17. - Nicht bei Brunet und Graesse. -
Einzige Ausgabe
dieses seltenes zeitgenöss. Berichtes über den Dithmarschenkrieg, der unter Führung des dänischen Feldherrn und Statthalters des Königs, Heinrich von Rantzau stattfand. Das reich illustrierte Werk ist zugleich eine Verherrlichung des Renaissancefürsten König Friedrich II. von Dänemark, der - im Bund mit Lübeck und Polen - im sogenannten Dreikronenkrieg (1563-70) gegen Schweden gekämpft hat. - Die schönen Kupfer zeigen Schlachtszenen, festliche Aufzüge, Zeremonien und Beeredigungsaufzug Friedrichs II., gestochen von Franz Hogenberg, der 1588 21 Stiche für den Trauerzug ausführte. Unter den Tafeln finden sich u. a. die
ersten Abbildungen von Heide und Meldorf
in Schleswig-Holstein (Klose/Martius I, 215 und 238). - Der Anhang (mit eigenem Titelbl.) enthält u. a. 7 gest. Porträts, überwiegend Mitglieder des Geschlechts der von Rantzau, darunter hervorzuheben das
blattgr. Porträt Heinrich von Rantzaus
in einem Renaissance-Rahmen mit Wappen und Ritterhelm. - Die Anzahl der Tafeln schwankt, Vergleichsexemplare enthalten entweder 14 oder 15 Tafeln, Merlo verz. 16 Tafeln. - 3 Tafeln seitl. etw. knapp beschnitten, Titel mit kl. Papierausdünnung und erg. Eckabschnitt. Deckel gering geworfen. Im ganzen sehr schönes Exemplar mit reicher Blindprägung, die reizvollen Mittelplatten beschrieben bei Haebler I, 143 unter dem Monogrammisten "G. G.".
Only edition, scarce. 2 parts in 1 vol. With 7 engr. portraits, 3 engr. coat-of-arms (2 rep.), 14 copperplates by F. Hogenberg and S. Novellanus, 2 woodcuts in text and 2 woodcut printer's devices. Contemp. pigskin on 3 raised bands, richly blind- and rollstamped (heads), each board with fine panel (Prudentia & Fortitudo).- 3 plates cropped close at the side, title with thinned spot and mended corner. Beautiful copy.
12
Rerum danicarum. 1593
Estimate:
€ 3,000 / $ 3,300
Sold:

€ 5,520 / $ 6.072
(incl. 20% surcharge)
You might also be interested in