Sale: 340 / Rare Books, May 19./20. 2008 in Hamburg

Lot 13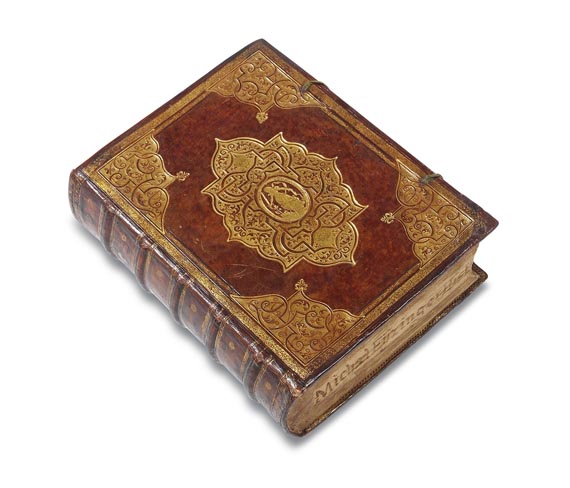 13
Novus de leone Belgico. 1588
Estimate:
€ 15,000 / $ 17,550
Sold:

€ 20,400 / $ 23.868
(incl. 20% surcharge)
Lot description
Aitzinger (Eytzinger), M.,
Novus de Leone Belgico, eiusque topographica atq(ue) historica descriptione liber ... Auctior et locupletior accessione quing(ue) annor(um) et nonagi(n)ta sex chartarum. Mit
gest. Titel, gest. Porträt
auf dem Titel verso,
gefalt. Kupferkarte, 7 doppelblattgr. gest. Porträt-Tafeln
und
237 doppelblattgr. Kupfertafeln.
(Köln, G. van Kempen für) F. Hogenberg 1588 [1596].
Prachtvoller zeitgenöss. Antwerpener Kalblederband
mit reicher Goldprägung: Deckel mit Goldbordüre, arabesken Eckstücken und mittig mit großer arabesker Vignette, darin Medaillon mit schöner Justitia- (VDeckel) und Fortuna-Darstellung (RDeckel), beide jew. mit umlaufendem Motto. Rücken auf 5 erhabenen, von floralen Leisten begrenzten Bünden, dazwischen Lilien- und Blütenstempel, im obersten Feld das Datum "1597". Ferner mit Innenkantenverg. und gepunztem GGoldschnitt. Kl.-Folio.
VD 16, ZV 5650. - BM STC, German Books S. 292. - Hellwig, Hogenbergs Geschichtsblätter S. 9ff. und 21. - Meurer S. 108. - NDB I, 119. - Diese erweiterte Ausgabe nicht bei Adams. -
Dekoratives und gut erhaltenes Exemplar
der erstmals 1583 erschienenen und laufend erweiterten Geschichte der Religionskriege in Holland und Belgien, geschrieben aus spanischer Sicht. Die vorliegende Ausgabe beschreibt die Ereignisse von 1555 bis 1595 in XVIII Büchern. - Reich illustriert mit den Kupfern Hogenbergs (von den gleichen Platten wie in seinen Geschichtsblättern, die deutsche Legende abgedeckt). Zu sehen sind Kriegsszenen, davon etwa zwei Drittel Belagerungsansichten aller wichtigen Städte in den Niederlanden: Alkmar, Amsterdam, Antwerpen, Antorf, Bergen op Zoom, Breda, Brüssel, Haarlem, Leiden, Maastricht, Mecheln, Middelburg, Rotterdam, Utrecht, Zutphen u. a. - Ohne das Supplement von 1606. - Vollständiges Exemplar, die doppelblattgr. Tafeln jew. mitfoliert und rückseitig mit Text. Kollation: Bll. (1)-4. (inkl. Titel), 4 nn. Bll.
Index locorum
, Bll. 9-499, 1 w. Bl., 2 nn. Bll.
Calendarium Belgicum
, 2 weitere mit 430 und 427 bez. Bll. - Stellenw. minimal fleckig, vereinz. mit schmalem Wasserrand im breiten Fußsteg, die Karte mit hinterl. Falzrissen und neu eingehängt. Vorsätze alt erneuert, Einband an den Ecken und Gelenken stilgerecht restauriert. Schönes Exemplar. Aus der Sammlung Cornelius J. Hauck.
First published in 1583 and continuously expanded account of the events in the Dutch war from the Spanish point of view. The events described in this edition cover the period between 1555 and 1595 in XVIII books. Beautifull copy in a contemp. Antwerp calf binding with richly gilt decoration. With engr. title, engr. portrait (on title verso), folding engr. map, 7 double-page engr. portraits and 237 double-page engr. plates. - Without the supplement of 1606. - Partly minim. staining, here and there small waterstains, the map with backed tears in the folds and mounted on extended guard. Endpapers renewed, edges and joints partly skilfully restored. Fine and complete copy. From the collection Cornelius J. Hauck.
13
Novus de leone Belgico. 1588
Estimate:
€ 15,000 / $ 17,550
Sold:

€ 20,400 / $ 23.868
(incl. 20% surcharge)
You might also be interested in
Michael von Aitzinger - lots sold by Ketterer Kunst