Sale: 340 / Rare Books, May 19./20. 2008 in Hamburg

Lot 7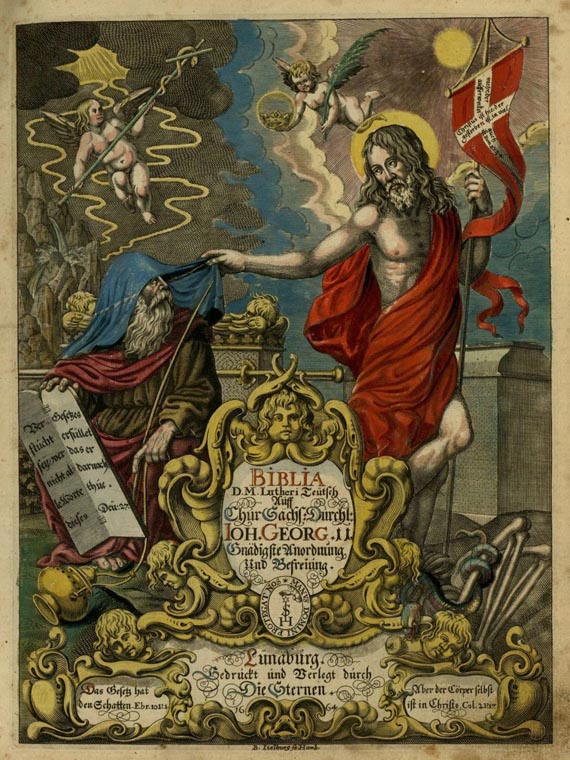 7
Biblia germanica. 1663-64
Estimate:
€ 7,500 / $ 8,550
Sold:

€ 12,600 / $ 14.363
(incl. 20% surcharge)
Lot description
Biblia germanica. -
Biblia, Das ist: Die gantze H. Schrifft Altes und Newes Testaments, Deutsch, D. Mart. Luth. ... Auff Churfürstl. Sächs. Durchl. Herrn Johann Georgen des Andern etc. Gnädigsten Befehl und Anordnung, von der jetzigen Theologischen Facultät zu Wittenberg von neuem revidiret und übersehen ... 3 Tle. in 1 Bd. Mit
gest. Titel, gest. Zwischentitel, gest. Wappen, 11 gest. Porträt-Tafeln
(mit Text verso),
1 doppelblattgr. gest. Kalendarium
und
4 gest. gefalt. Karten
sowie
156 Textholzschnitten
und 3 Holzschnitt-Titelvignetten.
Sämtliche Illustrationen in Fürstenkolorit
. Lüneburg, Stern 1663-64. Schwarzer Maroquin d. Zt. über Holzdeckeln mit gepunztem GGoldschnitt. 4to. 38 nn., 382 num., 268 num.; 182 num. Bll., 3 w. Bll.
Dumrese/Schilling S. 89. - Die Quartausgabe der Kurfürstenbibel aus der Lüneburger Offizin der Sterne, auf Befehl des sächsischen Kurfürsten Johann Georg II. (1613-80) von der theologischen Fakultät bearbeitet. Die Ausgabe galt als grundlegend für alle späteren Ausgaben. Mit Kurfürstenporträts, Kalendarium und mehreren Karten des Hl. Landes. Außergewöhnliches
Widmungsexemplar mit Fürstenkolorit
, sämtliche Illustrationen in kräftigen leuchtenden Farben mit Goldhöhung, ferner sämtliche Schmuckintialen durchgeh. koloriert und goldgehöht. Weißes Vorblatt mit
eigh. Widmung von Johann Georg II
. für August Adolph von Crandorf: "Diese Bibel hab Ich August Adolph von Crandorffen g[e]ben, dieses mahlen Fennerichen [Fähnrich] auff der Festung Weissenburg, zu Leipzig, 1667 meiner regierung in Eilfften Jahr ..." - Oberhalb mit seinem vollen Namenszug, unterhalb mit einem frommen Spruch. - Tlw. leicht stockfleckig, letzte Bll. mit kl. Wurmspuren, 2 Karten seitl. knapp beschnitten, nur wenige Bll. etw. fingerfleckig. Einbd. gering wurmstichig. Insges. gutes Exemplar.
Dedication copy of Johann Georg II, Elector of Saxony, in strong and gilt heightened contemp. colouring. Quarto edition of the Kurfürstenbibel from the Lüneburg printing shop Die Sterne, edited by order of Johann Georg II. With engr. title, engr. subtitle, engr. coat-of-arms, 11 full-page engr. portraits, 1 double-page engr. calendar and 4 folding engr. maps as well as numerous woodcuts in text. Contemp. black morocco over wooden boards with gilt tooled cut. - Partly minor foxing, last leaves with small wormtraces, few leaves slightly fingerstained, 2 maps cropped close at the side. Some unobtrusively wormholes to binding. Well preserved copy.
7
Biblia germanica. 1663-64
Estimate:
€ 7,500 / $ 8,550
Sold:

€ 12,600 / $ 14.363
(incl. 20% surcharge)
You might also be interested in

Biblia - lots sold by Ketterer Kunst