Sale: 340 / Rare Books, May 19./20. 2008 in Hamburg

Lot 75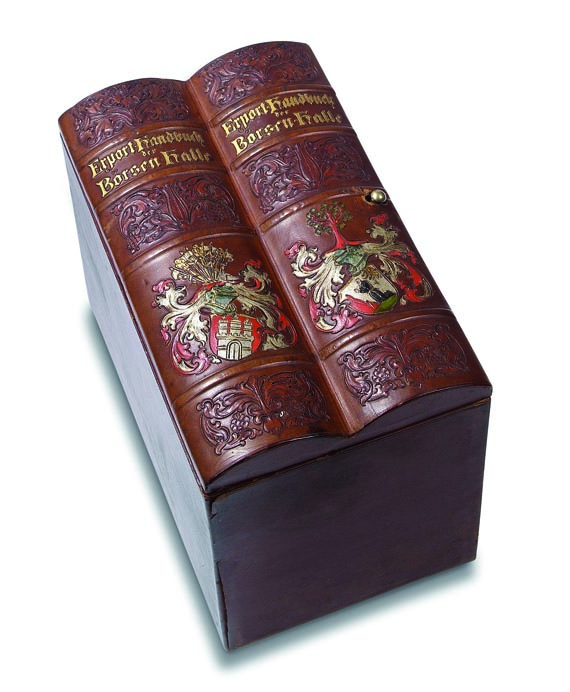 75
Exporthandbuch der Börsenhalle
Hamburgs Export-Handbuch. 1890
Estimate:
€ 6,000 / $ 6,600
Sold:

€ 3,000 / $ 3.300
(incl. 20% surcharge)
Lot description
Illustriertes Export-Handbuch
der Börsen-Halle 1897/99. 5 Abschnitte in 5 Bdn. Mit zahlr. tlw. farb. und mont. Werbe-Schildern, -Plakaten und Texten. Hamburg, Verlag der Actien-Gesellschaft 'Neue Börsen-Halle' 1897-99. Verschiedenfarb. flex. Orig.-Ganzlederbände mit goldgepr. RTitel und GGoldschnitt sowie gold- und farbgepr. Vorsätzen mit Schiffsmotiv in Buchattrappen-Ldr.-Kassette mit Schnapp-Schloß. Rücken mit floralem Lederschnitt-Ornament, goldgepr. RTitel sowie 2 kolor. geschnitzten und kolor. Wappen. Gr.-8vo.
Rapp S. 190. -
Außergewöhnliches Buchobjekt mit einem aufwendig gestalteten Exporthandbuch
der Börsenhalle für die Jahre 1897-99. - Enthält:
I.
Hamburgs Handel und Verkehr. -
II.
Hamburgs Grossindustrie und Kunstgewerbe. Mit dem ergänzenden Anhang: Privat-Mittheilunghen aus industriellen und gewerblichen Kreisen. (Erste Lage gelöst). -
III.
Hamburger Export-Agentur-Geschäfte und Export-Musterlager. (Erste 15 Bll. mit Eckknickspur). -
IV.
Annoncen-Anhang. -
V.
Register. - Das umfassende Register gliedert sich in Namens-und Sach-Register sowie einem Register der auswärtigen Firmen mit Angabe ihrer Vertreter in Hamburg. - Die schöne Lederschnitt-Kassette im Format ca. 26,8 : 16,2 cm. - Kassette mit geringfüg. Bereibungen, Verschlußmechanismus etw. schwerfällig. - Ungewöhnlich frische Bände des Export-Handbuches in einer originellen Buchkassette.
Extensive export handbook. Elaborately designed handbook of industry and commerce in Hamburg, in five sections, covering various fields of trade for the years 1897-99. In orig. leather bindings in various colours, with gilt lettering and gilt edges, as well as gilt- and colour-stamped endpapers with a ship motif in a fake book calf case with a snap lock. Spine with floral leathercut ornament, gilt lettering and 2 colour-carved and coloured crests. In an inventive and fine leathercut case. - Case with minor rubbings, closing mechanism somewhat cumbrous, else in fresh condition.
75
Exporthandbuch der Börsenhalle
Hamburgs Export-Handbuch. 1890
Estimate:
€ 6,000 / $ 6,600
Sold:

€ 3,000 / $ 3.300
(incl. 20% surcharge)