Sale: 340 / Rare Books, May 19./20. 2008 in Hamburg

Lot 77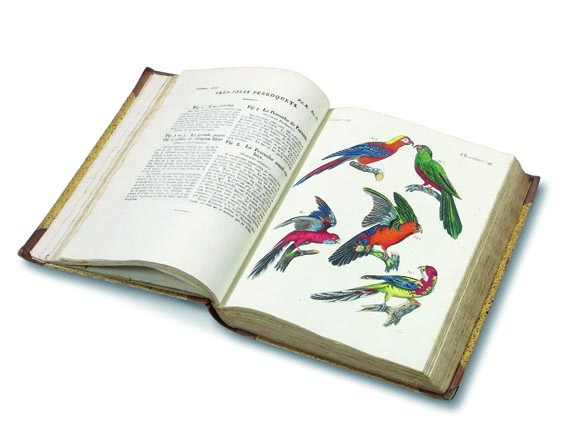 77
Friedrich Johann Justin Bertuch
Bilderbuch für Kinder. 36 Bde. + 1 Beig. 1792
Estimate:
€ 16,000 / $ 17,600
Sold:

€ 20,400 / $ 22,440
(incl. 20% surcharge)
Bertuch, F. J.,
Bilderbuch für Kinder enthaltend eine angenehme Sammlung von Thieren, Pflanzen, Blumen, Früchten, Mineralien, Trachten und allerhand andern unterrichtenden Gegenständen aus dem Reiche der Natur, der Künste und Wissenschaften. 12 Bde. Mit
1186 (1182 kolor.) Kupfertafeln
. Weimar, Industrie-Comptoir 1792-1830. HLdr. d. Zt. mit 2 farb. RSch. Kl.-4to. -
Dabei: Funke, C. P.
, Ausführlicher Text zu Bertuchs Bilderbuche für Kinder. 24 Bde. Ebd. 1798-1833. HLdr. d. Zt. mit 2 farb. RSch. (23; 6 abweich. geb.) und spät. HLdr. mit 2 farb. RSch. im Stil d. Zt. (1). 8vo.
Goedeke IV/1, 679, 19. - Wegehaupt I, 131. - Seebaß II, 157. - Brüggemann/Ewers 84 und S. 391 ff. - Rümann 33. - Erste Ausgabe. -
Vollständiges Exemplar
der berühmten Kinderenzyklopädie, so komplett und mit dem ausführlichen Kommentar Funkes ausgesprochen selten. - "Ohne Zweifel ist das Bertuchsche Bilderbuch eines der großartigsten Werke, die dem Kinderbuchsammler begegnen ... Hier beginnt das neuzeitliche, naturwissenschaftliche Denken, die Zielstrebigkeit, mit der im Kinderbuch das moderne Sachbuch vorausgenommen wird. Darüber hinaus gehört es zu den kostbarsten Schätzen des Sammlers illustrierter Bücher" (E. Strobach in Philobiblon XIII, 255 ff.). Nicht zuletzt die einleitenden Worte Bertuchs "Ein Bilderbuch ist für eine Kinderstube ein eben so wesentliches und noch unentbehrlicheres Meuble als die Wiege, die Puppe oder das Steckenpferd" sorgten dafür, daß durch Bertuchs Werk das "Bilderbuch" zum Begriff geworden ist.
"In den 1100 (sic!) Tafeln sind nicht nur die im Titel aufgezählten Gegenstände und Gebiete enthalten, sie bringen darüber hinaus Kuriosa wie die sieben Weltwunder, Fabeltiere, einen Stierkampf in Spanien, Pferderennen in England, mikroskopische Ansichten von Tieren und verschiedenen Gegenständen, das Teleskop von Herschel, eine Taucherglocke, den Telegraphen in Paris, die Degensche Flugmaschine aus Wien und vieles andere mehr. Die Fülle des Wissens und des unmittelbaren Anschauungsmaterials, die Sorgfalt, die auf das Größte und auf das Kleinste, auf das Merkwürdigste wie das Alltägliche verwendet wird, ist erstaunlich und entspricht den durchaus modern anmutenden psychologisch-pädagogischen Überlegungen, wie der Autor sie in dem Vorbericht anstellt" (Europäische Kinderbücher vom 15. bis zum 19. Jh. 137-137a). - Begleittexte zu den Tafeln tlw. in Deutsch und Französisch.
Zustand Bertuch: Tlw. etw. stockfl. oder gebräunt (überwieg. Text). Einbde. etw. fleckig, berieben und bestoßen, Kap. tlw. mit geringfüg. Läsuren, 1 Außengelenk eingerissen. - Zustand Funke: Titel tlw. gestemp., 1 Bd. tlw. mit leichten Feutigkeitsspuren, 3 Bde. etw. stockfl., Vorsätze tlw. leimschattig, ca. 30 Bll. mit kl. Knickspur. Einbde. berieben und tlw. bestoßen, einige Deckel mit Wurmspuren. - Exlibris Erich Horstkötter. - 1 Beigabe.
Complete copy of the famous children encyclopedia with comprehensive comments by Funke. With 1186 (1182 col.) copperplates. Contemp. half calf with 2 labels (Bertuch, 12 vols.) and contemp. half calf with 2 labels (Funke, 24 vols.). - Bertuch: partly foxing and browning. Bindings stained, rubbed and bumped, spine ends with small damages, 1 outer joint torn. Funke: Title stamped,1 vol. slightly stained by damp, 3 vols. slightly foxed, preliminary leaves glue-stained, ca. 30 leaves with small creases. Bindings rubbed and partly bumped, some boards with wormtraces. - Ex libris Erich Horstkötter. - 1 addition.
77
Friedrich Johann Justin Bertuch
Bilderbuch für Kinder. 36 Bde. + 1 Beig. 1792
Estimate:
€ 16,000 / $ 17,600
Sold:

€ 20,400 / $ 22,440
(incl. 20% surcharge)
You might also be interested in
Friedrich Johann Justin Bertuch - lots sold by Ketterer Kunst