Sale: 340 / Rare Books, May 19./20. 2008 in Hamburg

Lot 433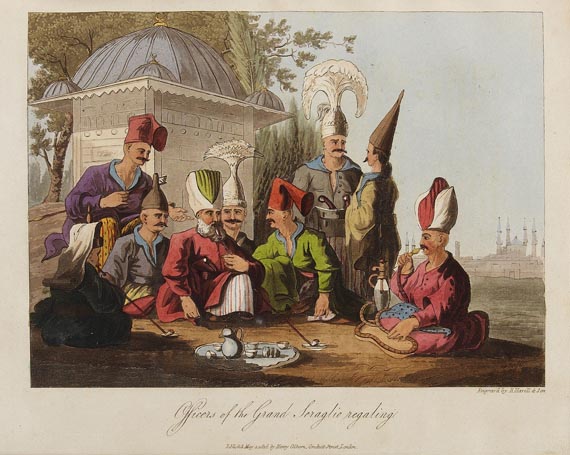 433
Ten years' residence at Tripoli. 1817. - Ex. A. Kestner.
Sold:

€ 552 / $ 656
(incl. 20% surcharge)
Lot description
Afrika. -
Tully, R.,
Narrative of a ten years' residence at Tripoli in Africa. Second edition. Mit
gest. Faltkarte und 7 kolor. Aquatinta-Tafeln.
London, H. Colburn 1817. Lwd. d. Zt. Kl.-4to. XIII S., 1 Bl., 376 S.
Abbey, Travels 301. - Tooley 493. - Blackmer Coll. 1683 Anm. - Kainbacher I, 139. - Lowndes IV, 2718. - Zweite Ausgabe, gegenüber der ersten Ausgabe 1816 um zwei Tafeln vermehrt. - Tully war von 1783 bis 1793 als britischer Konsul in Tripoli stationiert. Die Herausgabe des Berichtes erfolgte nach seinem Tod durch seine Familie. Der Appendix enthält u. a. ein maurisches Vokabular. "The work is particularly valuable for its details of family life in the seraglio ... This is one of the most important records of Tripolitan life during the 18th century." (Blackmer) - Die schönen Tafeln zeigen Kostüme und Volksszenen sowie den Triumphbogen in Tripoli, die Karte zeigt die nordafrikanische Küste von Tunesien und Libyen. - Tlw. leicht stockfleckig. Kanten gering berieben. -
Exemplar aus der Bibliothek August Kestners
(1777-1853; mit seinem Exlibris-Stempel auf Titel), Sohn der Charlotte Buff, Kunstliebhaber und -sammler und Begründer des Kestner-Museums in Hannover. Der vord. flieg. Vorsatz mit eigh. Widmung (dat. Basel 1872) seiner Schwester Charlotte Kestner (1788-1877) an zwei Freundinnen (Sophie Früh und Jeanette Jacob). -
Siehe Abendauktion Kat.nr. 50.
433
Ten years' residence at Tripoli. 1817. - Ex. A. Kestner.
Sold:

€ 552 / $ 656
(incl. 20% surcharge)