Sale: 340 / Rare Books, May 19./20. 2008 in Hamburg

Lot 10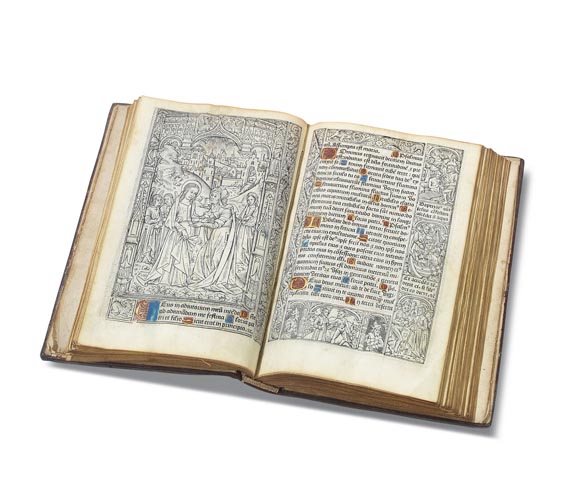 10
Lat. Stundenbuch auf Pergament. Paris 1498.
Estimate:
€ 20,000 / $ 23,400
Sold:

€ 22,200 / $ 25.974
(incl. 20% surcharge)
Lot description
Horae B. M. V. -
Ces presentes heures a lusaige de Rouan. Lateinisches Stundenbuch, Titel und Almanach in Französisch. Auf Pergament gedruckt. Mit
55 (17 ganzseit.) Metallschnitten
, jede Seite mit figuralen und ornamentalen
Metallschnitt-Bordüren,
Titel mit Metallschnitt-Druckermarke von Pigouchet (Polain 152). Text mit zahlr.
Initialen in Gold auf rotem oder blauem Grund sowie kl. Initialen und Zeilenfüllern
in gleicher Ausstattung. Paris, Ph. Pigouchet für S. Vostre, 30. April 1498. Antwerpener Lederband des 16. Jahrhunderts mit ornamentaler RVerg., doppelten Deckelfileten mit reich verzierten Eckornamenten, großem ovalen goldgepr. Mittelstück (VDeckel: Christus am Kreuz; RDeckel: Verkündigung an Maria und die Initialen "IHS"), umgeben von kl. goldgepr. stilisierten Blüten sowie GGoldschnitt. 8vo. Blattgröße 16,2 : 10,6 cm. 88 nn. Bll. auf Pergament.
GW 13212. - Goff H 419. - French Vernacular Books 29817. - Nicht im BMC und in der BSB, bei Brunet, Bohatta, Lacombe, Claudin, Fairfax Murray, Mortimer sowie bei Van Praet, Livres imprimes sur Velin. -
Äußerst seltenes und prachtvoll illustriertes Inkunabel-Stundenbuch auf Pergament
. Nur 2 weitere Exemplare nachweisbar (London, Lambeth sowie Poughkeepsie NY, Vassar College Libr.). Der schöne Druck wurde von dem französ. Wiegendrucker Philippe Pigouchet für den bedeutenden Pariser Verleger Simon Vostre angefertigt. "
Amongst the printers of the beautifully decorated French Books of Hours in the XVth and early XVIth Centuries, Pigouchet is pre-eminent
. The number of his productions (including those executed for Vostre) covers a period of about 35 years and in them alone is exemplified the progress of French art as applied to books, from its rise to its fall, the cuts and ornaments being representative of all the styles in vogue at different periods" (Fairfax Murray I, S. 265).
Die ganzseit. Metallschnitte zeigen Anatomie-Mann, Hl. Johannes als Märtyrer, Judaskuß, Segnung mit dem Hl. Geist, Marientod, 2 weltl. Szenen, Dreieinigkeit, Christus als Schmerzensmann sowie einige Bilder aus dem Christuszyklus (Verkündigung, Heimsuchung, Anbetung des Kindes, Hirten auf dem Feld, Darbringung im Tempel, Flucht nach Ägypten, Kreuzigung). Auf den kleineren Metallschnitten im Text sind u. a. Gelehrte in ihren Studierstuben, versch. Märtyrer, männl. wie weibl. Heilige, der Leidensweg Christi bis hin zur Auferstehung und der Ausschüttung des Hl. Geistes dargestellt. Die illustrativen und ornamentalen Bordüren mit aufwendigem floralen Rankenwerk und Architekturelementen mit sowohl biblische Szenen und Figuren als auch Szenen aus dem alltägl. Leben. Besonders hervorzuheben sind die beiden Totentanz-Zyklen in zus. 72 Bildern. 36 Illustrationen zeigen einen Frauentotentanz und 36 Bilder den Totentanz der Männer (worunter die ersten 6 Szenen mit den kirchl. und weltl. Würdenträgern und dem Konnetabel eine Wiederholung am Ende des Zyklus finden).
Zustand: Stellenw. schwach stockfl., 1 Bl. mit kl. Randeinschnitt, ca. 30 S. mit leichten Farbverwischungen. - Ingesamt gut erhaltenes Exemplar des ausgesprochen seltenen und früh gedruckten Stundenbuches in einem schönen Antwerpener Einband.
Extremely scarce and finely illustrated Pigouchet-hours printed on vellum, only 2 copies known. Not in BMC, Claudin, Brunet, Bohatta, Lacombe, Fairfax Murry, Mortimer and Van Praet. Paris, Philippe Pigouchet for Simon Vostre, 30 April 1498. - With 55 (17 full-page) metal-cuts, pages with illustrative and ornamental metal-cut borders, initials and line fillers painted in gold on red or blue background. 16th century dark brown calf with ornamental gilt spine, double gilt fillet borders with gilt corner ornaments, richly gilt oval central piece (vo. Christ at Cross; rc. Mariae annunciation), the remaining space dotted with tiny flowers and gilt edges. - Here and there slight foxing, 1 leaf with marginal cut, ca. 30 pages with slightly wipped colours. Fine printing on vellum in decorative Antwerp binding.
10
Lat. Stundenbuch auf Pergament. Paris 1498.
Estimate:
€ 20,000 / $ 23,400
Sold:

€ 22,200 / $ 25.974
(incl. 20% surcharge)
You might also be interested in

Stundenbuch - lots sold by Ketterer Kunst