Sale: 340 / Rare Books, May 19./20. 2008 in Hamburg

Lot 62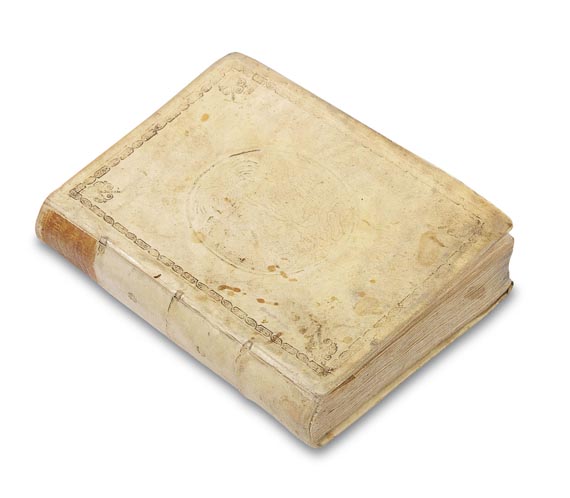 62
Fruchtbringenden Gesellschafft. 1630
Estimate:
€ 2,500 / $ 2,750
Sold:

€ 11,400 / $ 12.540
(incl. 20% surcharge)
Lot description
[Ludwig zu Anhalt-Köthen],
Der Fruchtbringenden Gesellschafft Vorhaben, Nahmen, Gemählde Und Wörter. Nach jedweders einnahme ordentlich In kupffer gestochen mit Undergesetzten teutschen Reimen. Mit
gest. Titel
und
200 emblemat. Kupfern
von
M. Merian.
[Frankfurt, M. Merian 1630]. Pgt. d. Zt. mit RSch., Deckel mit blindgepr. Emblem der Fruchtbringenden Gesellschaft (Palmenbaum). 4to. 4 Bll., 200 nn. Bll., 2 w. Bll.
Dünnhaupt 6. 4. - Wüthrich II, 22. - Nicht bei Faber du Faur, Jantz, Landwehr, Nissen und Maltzahn (nur spät. Ausg.). - Seltene erste Ausgabe mit diesen Illustrationen,
eines der schönsten Emblembücher des Barock
. - 1 von 200 Exemplaren, die ausschließlich für die Mitglieder der Fruchtbringenden Gesellschaft angefertigt wurden. - Chronologisch geordnete Mitgliederliste der Fruchtbringenden Gesellschaft, geordnet nach dem Aufnahmejahr der Mitglieder, beginnend mit dem AlterspräsidentenTeutleben. "Erst nach ihm Ludwig selber, der Gründer und 'Nährende', dem Weizenbrot als Sinnbild und 'nichs bessers' als Symbolum (Wahlspruch). Das Werk enthält die vollständige Reihe der bis zum Erscheinungsjahr aufgenommenden Mitglieder mit ihren Sinnbildern, Namen, Wahlsprüchen in Kupferwiedergabe des jeweiligen 'Gesellschaftsgemäldes'. Neben seiner eminenten historischen Bedeutung ist das Buch eines der schönsten deutschen Kupferwerke des 17. Jahrhunderts" (Wolfskehl 253). "Diese Fassung enthält die ursprüngliche Fassung der Reimgesetze in je vier Alexandrinerpaaren, noch vor ihrer Umwandlung in echte Stanzen, ferner den
Kurtzen Bericht
mit nur geringen Abweichungen" (Dünnhaupt). Im Jahr 1646 erschien eine erweiterte Fassung mit weiteren 200 Mitgliedern. Von der "Fruchtbringenden Gesellschaft" beauftragt, fertigte Matthaeus Merian d. Ältere ab 1625 in über 20-jähriger Arbeit die Radierungen für das Stammbuch der bedeutenden literarischen Vereinigung an. - Titel (im Seitensteg knapp beschnitten), Text und letzte Taf. vo. mit Eintragungen von alter Hd., 1 Taf. mit längerem Einriß, ca. 10 Taf. mit schwachem Wasserrand, Buchblock mehrf. angebrochen. Einbd. etw. braunfleckig und berieben. Insgesamt jedoch schönes, kaum fleckiges Exemplar der seltenen ersten Ausgabe mit den schönen Kupfern Merians.
First edition with the illustrations by Merian, one of the finest emblem books of the Baroque. Engr. title and 200 copperplates. Contemp. vellum with blindstamped emblem of the "Fruchtbringende Gesellschaft" (palm). - Title (cropepd close in the fore edge), text and last plate vo. with inscriptions by old hand, 1 plate with tear, ca. 10 plates slightly waterstained, inner book broken. Binding stained and rubbed. Altogether fine, hardly stained copy of the scarce first edition with copperplates by Merian.
62
Fruchtbringenden Gesellschafft. 1630
Estimate:
€ 2,500 / $ 2,750
Sold:

€ 11,400 / $ 12.540
(incl. 20% surcharge)
Ludwig zu Anhalt-Köthen - lots sold by Ketterer Kunst