Sale: 340 / Rare Books, May 19./20. 2008 in Hamburg

Lot 57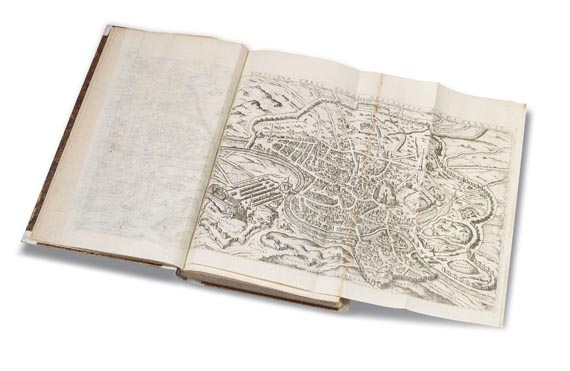 57
Topographiae Urbis Romae. 1681
Estimate:
€ 1,500 / $ 1,650
Sold:

€ 1,680 / $ 1.848
(incl. 20% surcharge)
Lot description
Boissard, J. J.,
Topographia urbis Romae, das ist: Eigentliche Beschreibung der Stadt Rom, sampt allen Antiquitäten, Pallästen, Amphitheatris oder Schauplätzen ... in lateinischer Sprach beschrieben. Jetzo aber in die teutsche Sprach übersetzt ... und an den Tag gegeben durch D. de Bry. Mit
101 (7 gefalt.) Kupfertafeln
von den Gebrüdern de Bry. Frankfurt, M. Merian Erben 1681 (recte um 1700-1720). HPgt. d. 19. Jhs. 4to. 2 Bll., 74 S., 1 Bl.
Wüthrich IV, 79. - Schuchardt 102.B. - Cicognara 3626. - Graesse I, 45. - Dritte Ausgabe der Neuauflage bei Merian Erben, wie die anderen Ausgaben 1681 datiert. - Frühe und umfangreiche Stadtbeschreibung und Verzeichnis der Altertümer Roms, als Romführer in vier Abschnitte bzw. "Tage" gegliedert. Die schönen Tafeln wurden von den Originalplatten der de Brys gedruckt. Sie zeigen neben den beiden Vogelschauplänen vom antiken und neuen Rom einige Ansichten (Engelsburg, Cestiuspyramide, vatikanischer Obelisk, Tiberinsel, Circus Maximus u. a.) und vor allem Statuen, Reliefs, Sarkophage und einige Inschriften. - Tlw. knapp beschnitten, vereinz. fleckig, 1 Tafel angerändert, die beiden Vogelschaupläne stellenw. leicht leimschattig. Einbd. berieben. -
Exemplar aus der Bibliothek
Ulrich von Hassells
mit Exlibris und
eigh. Besitzvermerk
auf dem vord. festen Vorsatz. Ulrich von Hassell (1881-1944) war von 1932-1938 als deutscher Botschafter in Rom tätig, nahm jedoch gegenüber der nationalsozialist. Außenpolitik eine eher kritische Haltung ein. Nach seiner Entlassung schloß er sich zunehmend dem nationalkonservativen Widerstand um General Beck und Goerdeler an; seine Beteiligung an den Vorbereitungen auf das Attentat auf Hitler am 20.07.1944 (er war als Außenminister in einer Regierung unter Reichskanzler Goerdeler vorgesehen) führte zu seiner Verurteilung und Hinrichtung. - Laut Vermerk erhielten von Hassell und seine Frau Ilse das vorlieg. Exemplar zu Weihnachten 1934 als Geschenk von [Bernh. Wilh.] von Bülow (Staatssekretär und Mitarb. des Ausw. Amtes, 1885-1936), dem wohl von Hassells große Bewunderung und Verehrung der italien. Kultur und Lebensart bekannt waren. - Schönes Exemplar mit bemerkenswerter Provenienz.
Third edition of the early itinerary. 101 (7 folding) copper plates by the brothers de Bry. 19th cent. half vellum. - Partly cropped and occasionally stained, 1 plate remargined, the two folding views of Rome glue-stained in places. Binding scraped. - Copy of Ulrich von Hassell (1881-1944), ambassador in Rome 1932-38, member of the German resistance. His involvment in the assassination attempt on Hitler on July 20, 1944, led to his execution. - Overall nice copy with remarkable provenance.
57
Topographiae Urbis Romae. 1681
Estimate:
€ 1,500 / $ 1,650
Sold:

€ 1,680 / $ 1.848
(incl. 20% surcharge)
Jean Jacques Boissard - lots sold by Ketterer Kunst