Sale: 340 / Rare Books, May 19./20. 2008 in Hamburg

Lot 39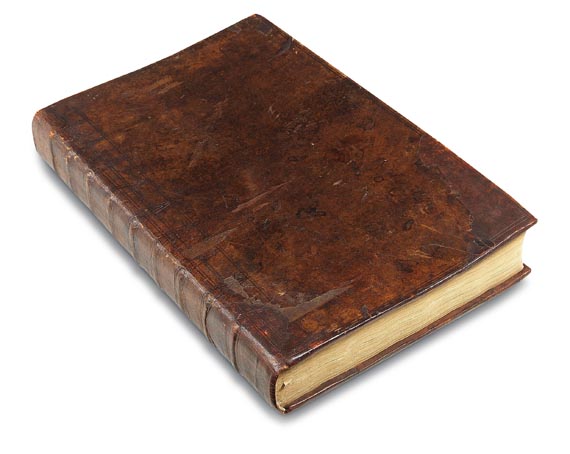 39
Landesbeschreibung Schleswig-Holstein. 1652
Estimate:
€ 8,000 / $ 8,800
Sold:

€ 23,400 / $ 25.740
(incl. 20% surcharge)
Lot description
Danckwerth, C.,
Newe Landesbeschreibung der zwey Hertzogthümer Schleswich und Holstein, zusambt vielen dabey gehörigen newen Landkarten. Mit
kolor. gest. Titel und 39 kolor. doppelblattgr. Kupferkarten und -plänen von Joh. Mejer
(st. 40; 2 gefalt.)
sowie 1 zusätzl. kolor. Kupferkarte.
Husum, M. und N. Petersen 1652. Restaur. Ldr. d. Zt. mit etw. Blindpräg. Folio. 4 Bll., 301 S., 1 Bl.
Phillips/Le Gear 8804. - Kat. Schleswig-H. 430 und 2244. - Schleswig-H. biogr. Lex. IV, 55f. - Graesse II, 324. - Vgl. Kat. O. Dreyer-Eimbcke,
400 Jahre Johannes Mejer
, Oldenburg 2006. -
Erste und einzige Ausgabe
dieses großen Spezialatlasses
von Schleswig und Holstein sowie einigen angrenzenden Gebieten.
Seltenes koloriertes Exemplar
mit schönem Grenz- und Flächenkolorit in sorgfältiger und teilweise früher Ausführung. - "Es ist für seine Zeit als historisch-topographische Beschreibung eines größeren Territoriums unübertroffen und bildet die Grundlage für die meisten späteren Verfasser" (NDB III, 505). "Das Werk von D. und Mejer [ist] eine beachtliche Leistung, die nach Konzept und Ausführung damals in Europa nicht ihresgleichen hatte und heute noch eine wichtige Quelle für die historische Landeskunde darstellt." (Schleswig-H. biogr. Lex.) - Die plastischen Beschreibungen von Land und Leuten machen auch heute - neben den hervorragenden Karten von J. Mejer - den Reiz des Werkes aus. - Die Karten, gestochen von den beiden Brüderpaaren Matthias und Nicolaus Petersen und Andreas und Christian Lorenzen, Goldschmiede und Kupferstecher aus Husum, meist mit dekorativen Wappenkartuschen, kleinen Stadtplänen, Ansichten und Volksszenen im Rand. Hervorzuheben sind die Karte der Alten Welt, die schöne Karte von Schleswig-Holstein mit 18 kleinen Stadtplänen im Rand und der große Plan von Hamburg. - Ohne die Karte
Das Amt Tondern ohne Lundtofftharde
, stattdessen vorweg eingeb. die astronomische Karte
Mathematischer Abriß des Großen Wundergebäudes Gottes
von J. Mejer. - Text meist etw. stockfleckig od. gebräunt und tlw. wasserrandig. Titel mit kl. Randläsuren, etwa 7 Karten unten mit kl. Einriß (1 Karte bis zur Blatthälfte), mehrere Karten leicht gebräunt oder leicht wasserrandig, 2 Karten mit Knickspur entlang der Mittelfalte, die letzten 3 Karten mit zwei kl. Wurmlöchern im unt. weißen Rand. Einbd. etw. beschabt, unterer Rücken und VDeckel mit Restaurierungen. - Insgesamt ein sauberes breitrandiges Exemplar mit dem schönen Kolorit in vielfältiger und sorgsamer Ausführung.
Only edition. With engr. title and 39 (of 40) doublepage engr. maps and plans with 1 additional astronomical chart, all in beautiful and partly early colouring. Contemp. calf. - Text partly somewhat foxing, browned or waterstained. Title with small marginal defects, about 7 maps with small split in the bottom of centrefold, 1 map up into the illustration, a few maps slightly browned or with marginal waterstaining, 2 maps with crease near to centrefold, the last 3 maps with two tiny wormholes in the bottom of the sheet. Binding somewhat scraped, bottom of spine and of front cover restaured. Overall a good clean and broadmargined copy with carefully executed colouring of the maps.
39
Landesbeschreibung Schleswig-Holstein. 1652
Estimate:
€ 8,000 / $ 8,800
Sold:

€ 23,400 / $ 25.740
(incl. 20% surcharge)
Caspar Danckwerth - lots sold by Ketterer Kunst