Sale: 340 / Rare Books, May 19./20. 2008 in Hamburg

Lot 21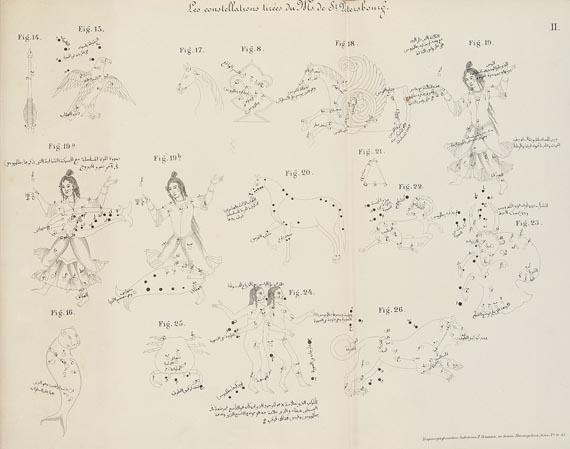 21
Description des étoiles fixes. 1874
Sold:

€ 1,680 / $ 1.965
(incl. 20% surcharge)
Lot description
Al-Sûfi, Abd-al-Rahman,
Description des étoiles fixes composée au milieu du dixième siècle de notre ère. Traduction littérale ... avec des notes par H. C. F. C. Schjellerup. Mit
7 gefalt. lithogr. Sternentafeln.
St. Petersburg, Academie Impériale des Sciences 1874. OLwd. mit goldgepr. Titel. 4to. 2 Bll., 272 S., 1 Bl.
Houzeau/Lancaster 1150. - DSB XIII, 150 und XII, 170. - Vgl. LGK I, 297 und 331. - Erste vollständige gedruckte und zugleich erste französ. Ausgabe des zuvor nur in Handschriften und Auszügen überlieferten und übersetzten,
äußerst seltenen Hauptwerkes der islamischen Astronomie
. - Schjellerup fertigte seine Übersetzung anhand zweier arab. Manuskripte aus den Bibliotheken von Kopenhagen und St. Petersburg an (inkl. arabischer Passagen und Zeichnungen), eine vollständige Ausgabe des arabischen Textes, basierend auf fünf Manuskripten, erschien erst 1954. - Al-Sûfis bedeutendes, um 950 nach Chr. entstandenes Werk
Kitab suwar al-kawakib al-thabita
ist die erste kritische Auseinandersetzung mit Ptolemäus' Beobachtungen, und wurde für Jahrhunderte zur maßgeblichen Schrift der islamischen Astronomie. Es bildete eine wichtige Quelle für Sternenkoordinaten und war unverzichtbar für frühe Konstruktionen von Astrolabien sowie Himmelsgloben. - "The scientific significance of this work lies in the valuable records of real star obervations - in contrast with those of most other medieval astronomers, who merely repeated the Ptolemaic star catalog ... There is also another important aspect: the exact astronomical identification of the several hundred old Arabic star names, which had been registered and transmitted only in philological works ... Al-Sûfi did his best to identify them astronomically, although he was not always successful. His identifications were adopted by most later Islamic writers on astronomy and even penetrated modern stellar terminology." (DSB XIII, 149). - Der Übersetzer Schjellerup war als Astronom an der Kopenagener Sternwarte tätig. Er veröffentlichte 1864 einen auf eigenen Beobachtungen basierenden Sternenkatalog, der bis 1952 in Gebrauch war. - Tlw. stockfl. und leicht gebräunt. VGelenk gelockert, Kanten berieben.
First complete printed edition and first French edition of this rare and important work on Islamic astronomy. 7 folding lithogr. plates. Orig. cloth with gilt title on cover. - A critical revision of Ptolemy's star catalog "Almagest"and a classic of Islamic astronomy for centuries. - Partly sligthly foxing and slightly browned. Outer joints slightly shaken, edges rubbed.
21
Description des étoiles fixes. 1874
Sold:

€ 1,680 / $ 1.965
(incl. 20% surcharge)