Sale: 340 / Rare Books, May 19./20. 2008 in Hamburg

Lot 202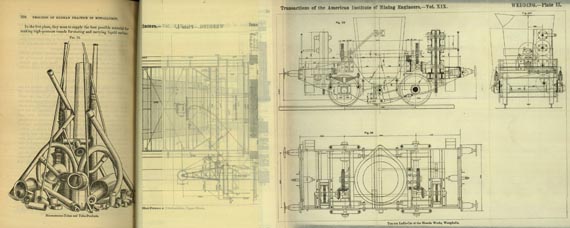 202
D0 92,136,137,337,141,346,345: 7 englischspr. Werke Bergbau/Metallverarbeitung, 1890-1960
Sold:

€ 192 / $ 211
(incl. 20% surcharge)
Lot description
Bergbau und Metallarbeiten. -
7 englische Werke über Bergbau und Metallarbeiten. Mit zahlr. Abbildungen. Aus den Jahren 1891-1960. Versch. Einbde. 8vo.
The International meetings of 1890.
Published by the American institute of Mining Engineers. Philadelphia 1891. - EA. -
Campbell, H. H.,
The manufacture and properties of iron and steel. New York 1903. - 2. Ausgabe. -
Goodrich, C. L. und F. A. Stanley,
Automatic screw machines and their tools. New York 1909. - EA. -
Adt, H. E.
, Screw thread production to close limits. New York 1920. - EA. -
Isler, C.
, Well-Boring for water, brine and oil. Third edition. London 1921. -
Hatfield, W. H.
, Cast iron in the light of recent research. Third edition. London 1928. -
Angus, H. T.
, Physical and engineering properties of cast iron. Alvechurch 1960. - EA. - Mit leichten Gebrauchsspuren.
202
D0 92,136,137,337,141,346,345: 7 englischspr. Werke Bergbau/Metallverarbeitung, 1890-1960
Sold:

€ 192 / $ 211
(incl. 20% surcharge)