Sale: 340 / Rare Books, May 19./20. 2008 in Hamburg

Lot 101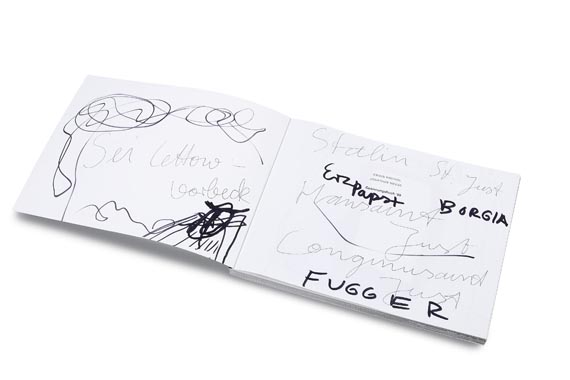 101
9 Exx. Kataloge, vom Künstler überarbeitet. 2002
Sold:

€ 720 / $ 792
(incl. 20% surcharge)
Lot description
Meese. -
8 Kataloge zu J. Meese mit
eigh. Überarbeitungen
von J. Meese.Aus dem Jahren 1999-2004. OBrosch. 8vo. und 4to.
Einzigartige Sammlung von Ausstellungskatalogen zu Jonathan Meese, sämtlich mit eigh. Eintragungen, Widmungen, Zeichnungen und Unter- bzw. Durchstreichungen von Meese in schwarzem und roten Farbstift oder Kugelschreiber. - Der 1970 in Tokio geborene Künstler lebt und arbeitet z. Zt. in Berlin. In den Jahren 1995-98 studierte er an der Hochschule der Bildenden Künste in Hamburg unter Prof. Franz Erhard Walther. Der Maler und Aktions- bzw. Performancekünstler gilt als einer der spektakulärsten deutschen Künstler der internationalen Kunstszene. Er wird auch auf internationaler Ebene als "Wiedergänger von Joseph Beuys", als "Schamane" sowie als "Massakreur konformistischer Gegenwartskunst" bezeichnet und gefeiert. - Vorhanden:
I: Meese, J. und E. Kneihsl
, Gesinnungsbuch '99. Hrsg. von B. Brunnet. Köln 1999. -
II: #1 Speed.
Richard Prince, Jonathan Meese, Claude Closky, Sylvie Flery, Terry Richardson. O. O., bei den Künstlern und der Windsor Collection 2000. -
III: Young Americans.
Aktion Squaw. Ausstellung 20. April - 22. Juni 2002 bei Contemporary Fine Arts. Berlin 2002. -
IV: Love
. 25. Mai - 30 Juli 2002. , Galerie Ascan Crone. Text K. Althoff und J. Meese. Hamburg/Berlin 2002. -
V: Love like blood.
Ausstellung des Max-Pechstein-Förderpreises der Stadt Zwickau 28.9-16.11.2003. Kunstsammlungen der Stadtischen Museen. Zwickau 2003. -
VI: Dr. No's son.
Ausstellung May bis Juni 2004 bei L. Koenig, New York. Berlin, Contemporary Fine Arts für New York, L. Koenig 2004. -
VII: Sils Maria
. Pamphlet I. Berlin, Contemporary Fine Arts 2004. -
VIII: Das Bildnis des Dr. Fu Manchu.
Text Fr. Meschede. Ausstellung 15. Juni bis 15. Juli bei Contemporary Fine Arts. Ebd. 2004. -
Dabei: Eigh. Brief
an seinen Freund Hans, dat. 26. XII. 2004. 4to. 8 S. sowie 4 Seiten Entwurf zu diesem Brief. - Mit geringfüg. Gebrauchsspuren. - 1 Beigabe ("Glauben - Bekennen - Handeln" Zum Reformationstag 1963. Mit Anmerkungen und Anstreichungen von J. Meese).
Unique collection of 8 catalogues with revisions by J. Meeses own hand in red and black felt pen and blue ballpen. - With slight signs of use.
101
9 Exx. Kataloge, vom Künstler überarbeitet. 2002
Sold:

€ 720 / $ 792
(incl. 20% surcharge)
You might also be interested in

Jonathan Meese - lots sold by Ketterer Kunst