Sale: 328 / Rare Books, Nov. 19./20. 2007 in Hamburg

Lot 6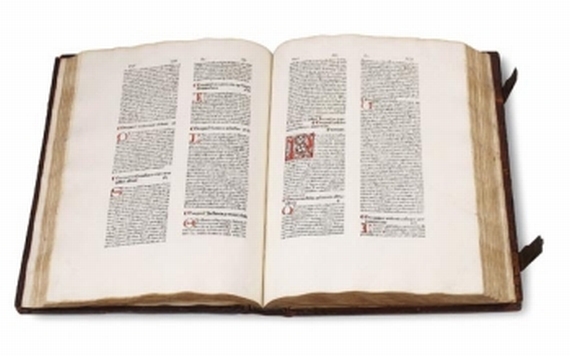 6
Epistolae. Ca. 1474.
Estimate:
€ 7,500 / $ 8,250
Sold:

€ 22,800 / $ 25,080
(incl. 20% surcharge)
Gregorius I.,
Epistolae. Mit
13 rot kolor. Maiblumen-Initialen
sowie zahlr. weiteren Holzschnitt-Initialen, ebenfalls rot koloriert. [Augsburg, G. Zainer, nicht nach 1476]. Spätgot. Kalblederband über starken Holzdeckeln (0,9 cm) mit Streicheisenlinien, Blatt- und Blütenstempeln sowie Maria-Hilf-Spruchband (Rücken und Schließen stilgerecht erneuert). Folio. 10 nn., 154 num. Bll. Rom. Type, durchgeh. in Rot rubriziert. 2 Sp. 59 Zeilen.
GW 11439. - Hain 7991. - Goff G 415. - BMC II, 322. - Proctor 1553. - BSB G-305. - Polain 1706. -
Erste Ausgabe, zugleich einzige Inkunabelausgabe. Äußerst selten
. - Prachtvolles Exemplar der bedeutenden Briefsammlung, welche nicht nur eine der wichtigsten Quellen für die Geschichte seiner Zeit darstellt, sondern für die Form des kurialen Briefes über Jahrhunderte stilbildend gewirkt hat und darüber hinaus instruktive Einblicke in die Denk- und Arbeitsweise des berühmten Papstes gewährt. "Manche der Schreiben Gregors sind von rein amtlichem Charakter; die meisten jedoch sind persönlicher Art, in einem klaren Stil von schlichter Schönheit abgefaßt. Ihre Bedeutung liegt zum einen in ihrem Rang als authentische historische Dokumente, die den Papst als umsichten Oberhirten der Kirche und erfolgreichen Politiker in den Auseinandersetzungen um die Gestaltung des frühmittelalterlichen Europa zeigen. Zum andern haben sie eine eminent literarhistorische Bedeutung erlangt, weil das Gregorianische Registrum zum Vorbild für alle späteren päpstlichen Register wurde und so als eine Art 'Formularbuch' zum unbestrittenen Stilmuster künftiger Zeiten avancieren konnte." (KLL VII, 78f.) - Breitrandiger und sauberer Druck in Rot und Schwarz auf kräftigem Papier. - Anfangs in den Stegen wasserrandig, 6 Bll. mit Wurmspur im weißen Rand.
Prachtvoll erhaltenes Exemplar
aus der Slg. des Bibliographen und Antiquars Ernst Philip Goldschmidt, mit dessen goldgepr. Ldr.-Exlibris.
Editio princeps and only incunabulum edition of the famous letters by pope Gregory I, the last of the four great Fathers of the Western Church. With 13 woodcut mayflower-initials and numerous further woodcut initials, all coloured in red. Contemp. blind-tooled calf over strong wooden boards with leaf-, blossom and banderole-tools (spine and clasps renewed in appropriate style). - Waterstaining to edges at the beginning, 6 leaves with wormtrace in the white margin. Wonderful and clean copy with broad margins on strong paper, from the collection of E. Ph. Goldschmidt.
6
Epistolae. Ca. 1474.
Estimate:
€ 7,500 / $ 8,250
Sold:

€ 22,800 / $ 25,080
(incl. 20% surcharge)
Gregorius I. - lots sold by Ketterer Kunst