Sale: 328 / Rare Books, Nov. 19./20. 2007 in Hamburg

Lot 11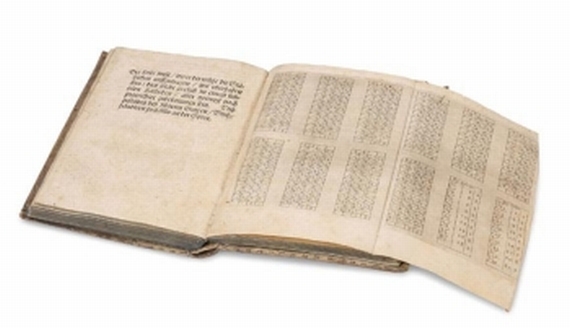 11
Rhabdologia. 1623
Sold:

€ 12,000 / $ 13.200
(incl. 20% surcharge)
Lot description
Napier, J.,
Rhabdologia Neperiana. Das ist: Newe und sehr leichte art durch etliche Staebichen allerhand Zahlen ohne mühe, und hergegen gar gewiß, zu Multipliciren und zu dividiren ... Anjtzo aber auffs kürtzeste, alß immer müglich gewesen ... ins Deutsche übersetzt durch B. Ursinus. Mit
1 gefalt. Kupfertafel
mit 12 Rechentabellen. Berlin, G. Runge 1623. Pgt. d. Zt. unter Verwendung eines alten Manuskriptes. 4to. 12 Bll.
Sampson 19. - VD 17, 23:254306G. - Zachert/Zeidler III, 1184. - Weil XXIX, 124 Anm. - Vgl. DSB IX, 610; Poggendorff II, 253; Sotheran I, 3188; Dibner 107; Müller, S. 75. -
Ausgesprochen seltene erste deutsche Ausgabe der berühmten mathematischen Publikation;
die Original-Ausgabe erschien 1617 in Edinburgh. Eine bei Müller erwähnte deutsche Ausgabe aus dem Jahr 1619 ist für uns nicht nachweisbar. - Der schottische Mathematiker John Napier gilt als der geschichtliche Erfinder und zugleich Namensgeber der Logarithmen. Napiers bahnbrechende Erfindung auf dem Gebiet der sphärischen Trigonometrie sind die sogen. Napierbeine, Stäbe zur Ermittlung des Produktes zweier Zahlen, des Quotienten zweier Zahlen sowie der Quadrat- und kubischen Wurzelberechnung. Seine Erfindung ist der Vorläufer der Rechenmaschine und des Computers (vgl. PMM 116). - Die hier vorliegende dt. Übertragung enthält das Buch I der engl. Orig.-Ausgabe mit den 10 Napierbeinen sowie den beiden Tabellen
pro cubica
und
pro quadrata
(zus. auf 1 Falttafel). "Book I contains the method of calculating by rods; it is in essence a mechanical multiplication table up to nine times, with any multiplicand ... the method is a very practical one, and probably saved many errors as well as the tedium attached to heavy multiplications" (Sampson S. 190). Die Übertragung stammt von dem schlesischen Mathematiker Benjamin Ursinus (1587-1633), der in Prag, Linz und später Frankfurt lehrte und u. a. mit Kepler gemeinsam an dessen Rudolphinischen Tafeln arbeitete. -
Die Tafel im vorlieg. Exemplar doppelt vorhanden
. - Titel mit altem Besitzeintrag, 1 Bl. mit geringem Randausriß.
3 mathemat. Werke beigeb. I: Euklid, Die sechs ersten Bücher. Von den anfaengen und fundamenten der Geometriae ... verteutscht durch S. Curtium. Mit zahlr. geometr. Figuren. Amsterdam, W. Jantz 1618. 8 Bll. (d. l. w.), 236 S., 1 Bl. - Steck S. 92. - Schweiger S. 112. - Deutsche Übersetzung nach der niederl. Ausgabe von J. P. Dou, Rotterdam. - Titel mit kl. Randabriß. - II: Grunewald, C., Sphyngicorum fertorum analysis. Das ist Aufflösung vieler schöner kunstreicher Cossischer und Polygonalischer Quaestionen oder Arithmetischer fragen ... Mit 1 gest. Wappenkupfer (Titel vo.). Nürnberg, A. Wagenmann 1617. 36 Bll. - VD 17, 23:674962P. - Erste Ausgabe. - III: Ders., Analysis, das ist: Aufflösung vierer schöner Cossischer Schlachtordnungs Exempeln ... Frankfurt, A. Humm 1616. 14 S., 1 w. Bl. - VD 17, 39:121332W. - Erste Ausgabe. - Zustand für alle 3 Werke: Untersch. gebräunt und stockfl., Einbd. fleckig, Rücken mit kl. Einriß.
Extremely rare first German edition of this famous mathematical publication. With 1 folding copperplate with logarithmic calculation charts (in our copy twice at hand). Contemp. vellum using an old manuscript. Title with owner's entry by old hand, 1 l. with small marginal piece torn off. - Three further works bound in. I: (Euklid) German translation after the Dutch edition by J. P. Dou, Rotterdam. Title with small marignal piece torn off. - II: (Grunewald) With 1 engr. armorial copper (on verso of title). Rare first edition. III (Idem): Rare first edition. - Condition for all works: Varyingly browned and foxed. Binding stained, spine with small tear.
11
Rhabdologia. 1623
Sold:

€ 12,000 / $ 13.200
(incl. 20% surcharge)
John Napier - lots sold by Ketterer Kunst