Sale: 328 / Rare Books, Nov. 19./20. 2007 in Hamburg

Lot 16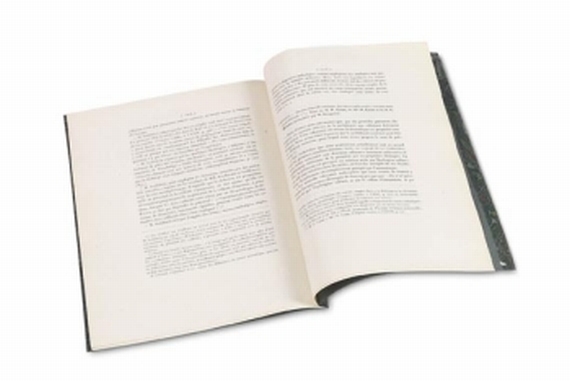 16
Curie substance. 1898.
Sold:

€ 900 / $ 990
(incl. 20% surcharge)
Lot description
Curie, P., M. S. Curie und G. Bémont,
Sur une substance nouvelle radio-active contenue dans la pechblende. - Sur une nouvelle substance fortement radio-active, contenue dans la pechblende. Présentée par M. Becquerel. - Demarcay, E., Sur le spectre d'une substance radio-active. - In:
Comptes rendus hebdomadaires des séances de L'Académie des Sciences
127, S. 175-182 und 1211-1218.Paris, Gauthier-Villars 1898. Mod. Umschlag. 4to.
Garrison/Morton 2003. - Norman Coll. 545: "Rare". - Poggendorff IV, 286. - Vgl. PMM 394. - Erstdrucke der beiden gemeinsamen und wissenschaftlich bedeutenden Veröffentlichungen der Curies über die Entdeckung des Poloniums und des Radiums; sowie die Anmerkung von Demarcay gleichfalls im Erstdruck. - Unaufgeschnittener, breitrandiger Druck.
First print of the famous treatises on radioactivity. - Modern wrappers. Unopened.
16
Curie substance. 1898.
Sold:

€ 900 / $ 990
(incl. 20% surcharge)