Sale: 309 / Rare Books, May 21./22. 2007 in Hamburg

Lot 13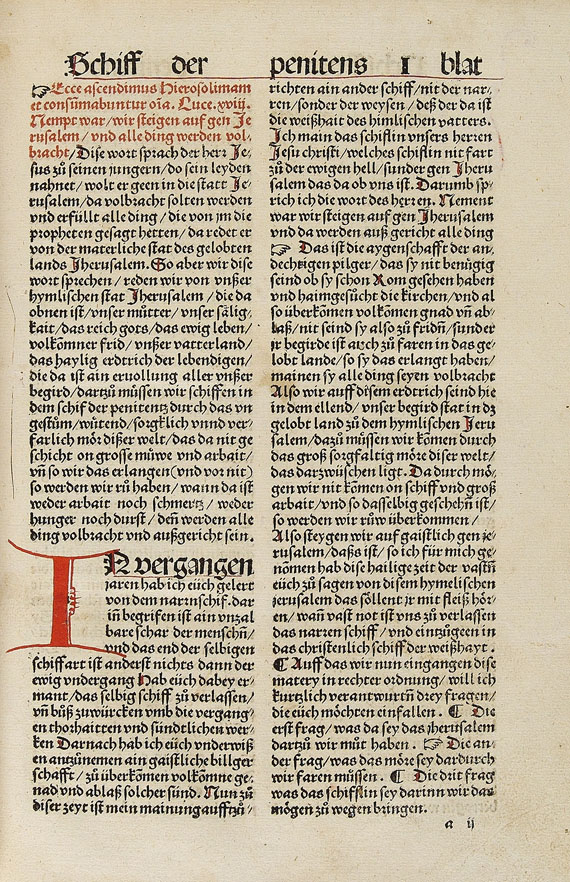 13
Johannes Geiler von Kaysersberg
Schiff Penitenz. 1514
Estimate:
€ 3,000 / $ 3,570
Sold:

€ 5,040 / $ 5.997
(incl. 20% surcharge)
Lot description
Geiler von Kaisersberg, Joh.,
Das Schiff der penitentz un(d) bußwürckung, gepredigt in dem hohen stifft, in unser lieben frauwen münster zu Stroßburg. Mit figürl.
Holzschnitt-Titelbordüre von L. Beck
und blattgr.
Textholzschnitt von H. Schäufelein
. Augsburg, Joh. Otmar 1514. Etw. spät. Ldr. d. Zt. mit gekrönten Wappensupralibros. Folio. 1 nn., CXXIX num., 3 nn. Bll., 1 w. Bl. - Durchgeh. rubriziert und mit
eingemalten Lombarden in Rot
.
VD 16, G 776. - Dacheux 59. - Adams G 321. - Goedeke I, 401, 18. - Muther 938 und 988. - Oldenbourg, Schäufelein 52, L 37. -
Erste vollständige deutsche Ausgabe
. Die Predigtsammlung erschien erstmals 1511 lateinisch unter dem Titel
Navicula poenitentiae
. Die eigens für dieses Werk geschaffene Titelbordüre von Leonhard Beck ist das einzige signierte Blatt des Künstlers neben seinen Arbeiten zum
Weißkunig
. Der Holzschnitt von Schäufelein mit einer Darstellung des Gekreuzigten wurde erstmals 1513 in Otmars Heiligenleben verwendet. - Schönes und durchgeh. rubriziertes Exemplar mit roten Lombarden, am Ende der letzten Predigt mit einem epigrammatischen
Vermerk des Rubrikators in Rot
: "Paulus wigg 1515. rubriziert und corporirt. - Anfang gedenck Mittel und endt / Wenn got wil so ist mein zil / Zu lützel und zu vil. Verderbt alle spil." Ein weiterer gereimter Vermerk von derselben Hand unterhalb des Kolophons: "Hye ist es am endt. Ach got als ubel van uns wendt." - Tlw. unbedeut. fleckig oder wasserrandig, die Holzschnitte mit wenigen kl. Ergänzungen in brauner Tinte. Vorsätze erneuert, Rücken restauriert. Das letzte w. Bl. mit hs. Besitzvermerk des Klosters Tegernsee von 1573. Exemplar aus der Adelsbibliothek des Freiherrn Gideon von Camuzzi (1799-1879).
First complete German edition. With fig. woodcut titleborder by L. Beck and fullpage woodcut by H. Schäufelein. Rubricated throughout with signature and inscription of the rubricator Paulus Wigg, dated 1515. 16th cent. calf with crowned armorial centrepiece (endpapers renewed, spine restored). - Partly negligible staining or waterstaining, the woodcuts with few small supplementations in ink. Ownership inscription of the monastery Tegernsee 1573. Fine copy from the library of the baron Gideon von Camuzzi.
13
Johannes Geiler von Kaysersberg
Schiff Penitenz. 1514
Estimate:
€ 3,000 / $ 3,570
Sold:

€ 5,040 / $ 5.997
(incl. 20% surcharge)
You might also be interested in

Johannes Geiler von Kaysersberg - lots sold by Ketterer Kunst