Sale: 309 / Rare Books, May 21./22. 2007 in Hamburg

Lot 12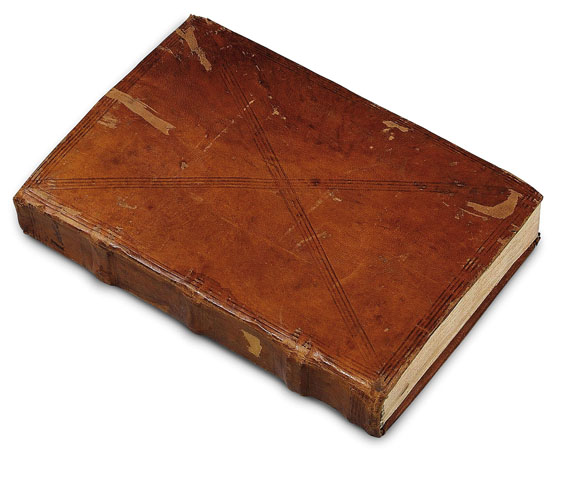 12
Supplementum chronicarum. 1490.
Estimate:
€ 12,000 / $ 14,520
Sold:

€ 10,080 / $ 12.196
(incl. 20% surcharge)
Lot description
Jacobus Philippus de Bergamo,
Supplementum chronicarum. Mit
4 biblischen Holzschnitten
und
63 Stadtansichten in Holzschnitt
sowie 12 ornament. Holzschnitt-Initialen und Holzschnitt-Druckermarke am Ende. Venedig, B. Rizus, 15. Mai 1490. Spät. Ldr. auf 3 Bünden mit blindgepr. Deckelfileten. Folio. 11 nn. Bll. (ohne das erste w.), 261 num. Bll. (ohne d. l. w.).
Hain/Cop. 2808. - Goff J 211. - BMC V, 402. - Proctor 4954. - BSB I-124. - Polain 1495. - Sander 917. - Essling 343. - Vierte Ausgabe der berühmten Weltchronik, zugleich die zweite illustrierte. - Die Holzschnitte wurden tlw. aus der Ausgabe von Bern. Benalius 1486 übernommen, tlw. neu geschnitten. Hinzugekommen sind die schönen und größeren Ansichten von Verona und Genua sowie besonders bemerkenswert die detaillierte Ansicht der Piazetta von Venedig.
"Venise, dit M. Lippmann, dans l'édition de 1490, est représentée sur une assez grande échelle, par une vue très bonne et fort bien exécutée de Palais des Doges et de la Piazetta"
(Essling). Von besonderer Bedeutung ist die
in dieser Ausgabe erstmals verwendete Ansicht von Rom
, die Lippmann (Wood-engraving, S. 70-76) für
die älteste Ansicht der Stadt
hält.
"La vue la plus remarquable est celle de Rome, qui se trouve pour la première fois dans l'édition de 1490, et qui, à notre connaissance, est la plus ancienne représentation de cette ville."
- Enthält ferner reizende, teils wirklichkeitsnahe Ansichten von Alexandria, Ancona, Bergamo, Bologna, Brescia, Capua, Como, Dubrovnik, Ferrara, Fiesole, Florenz, Gaeta, Konstantinopel, Mailand, Marseille, Neapel, Padua, Pavia, Pistoia, Porto, Venere, Siena, Treviso etc. Unter den biblischen Darstellungen ist neu hinzugekommen der Turmbau zu Babel. - Auf Bl. 248vo. findet sich unter dem Jahr 1458 der Hinweis auf die Buchdruckerkunst mit den Namen der Erfinder 'Cutembergo' und Fust. - Erste und letzte Bll. deutlicher fleckig, sonst nur stellenw. leicht fleckig; erste 3 Lagen und letzte Lage mit hinterl. bzw. angeränderten Läsuren im Randbereich, ca. 10 Bll. zu Beginn mit durchgeh. Wurmspur (Buchstabenverlust), hint. Vorsätze mit Wurmgang; vereinz. Marginalien von alter Hand sowie am Kolophon mit zeitgenöss. Besitzvermerk eines Petrus Filius Clarinus de Petrisgemellus aus der Diözese von Novara, unterhalb mit längerer Eintragung über dessen Lebensumstände von der Hand eines seiner Nachkommen. Einbd. mit wenigen Schabspuren, Deckel leicht geworfen.
Fourth edition, second illustrated edition of the famous world chronicle. With 4 biblical woodcuts and 63 woodcuts with townviews. Most of the woodcut illustrations and the woodcut initials are those of the 1486 edition by Bern. Benalius. Rizus added to them the Tower of Babel cut and fine larger city-view cuts of Venice, Rome, Verona and Genoa. After Lippmann (Woodcut-engravings) the view of Rome is the earliest printed view of that city. - 17th cent. leather with blindpressed cover fillets (some rubbing, boards slightly bowed). - Lacking first and last blank. - First 3 quires and last quire stained and with repairs to gutters and other marginal repairs, wormhole through first 10 leaves at beginning (loss of letters), minor worming to last leaf and endpapers; some later marginalia. Contemp. ownership inscription below the colophon with entry of his descendents concerning his life and death.
12
Supplementum chronicarum. 1490.
Estimate:
€ 12,000 / $ 14,520
Sold:

€ 10,080 / $ 12.196
(incl. 20% surcharge)
You might also be interested in