Sale: 309 / Rare Books, May 21./22. 2007 in Hamburg

Lot 11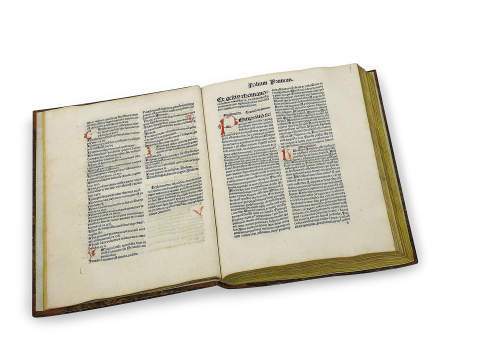 11
Gesta Romanorum. 1489.
Estimate:
€ 1,500 / $ 1,815
Sold:

€ 4,800 / $ 5.808
(incl. 20% surcharge)
Lot description
Gesta Romanorum
cu(m) applicationib(us) moralisatis ac misticis. Mit zahlr. rot eingemalten Initialen. [Straßburg, Drucker des Jordanus von Quedlinburg, d. i. Georg Husner], 6. Aug. 1489. HLdr. d. 19. Jhs. mit etw. RVerg. Folio. 8 nn., 93 num. Bll., 1 w. Bl. Got. Type, rubriziert. 2 Sp., 46 Zeilen.
GW 10897. - Hain/Cop. 7746. - Goff G 292. - BMC I, 139. - Proctor 621. - Polain (Suppl.) 4382. - Geldner I, 66. - Die beliebte Novellensammlung wurde 1473 erstmals gedruckt und erschien seitdem in zahlr. Ausgaben mit unterschiedlicher Anzahl der enthaltenen Kapitel. Vorliegende Ausgabe mit Kapitelzählung (181), Titeln der Kapitel und Register. - Der Drucker und gelernte Goldschmied Georg Husner wandte sich auf Veranlassung seines Schwiegervaters Nicolaus Honau 1470 dem Buchdruck zu. "Daß Husners Name so selten in einem Impressum erscheint, hängt wohl damit zusammen, daß Honau der Besitzer der Druckerei und damit der Verleger war, während Husner nur als Leiter der Druckerei fungierte ... Die bestehenden Lücken werden jetzt damit geschlossen, daß Husner von einem Teil der Inkunabelbibliographien auch mit dem
Drucker des Jordanus von Quedlinburg
und dem
Drucker der Causus Breves
identifiziert wird." (Geldner) - Schöner und sauberer Druck auf kräftigem, breitrandigem Papier.
Incunabulum edition by Georg Husner in Straßbourg. Fine and well-preserved printing on strong paper with numerous painted initials in red. Gothic type, rubricated, 2 columns. 19th cent. half calf.
11
Gesta Romanorum. 1489.
Estimate:
€ 1,500 / $ 1,815
Sold:

€ 4,800 / $ 5.808
(incl. 20% surcharge)