Sale: 309 / Rare Books, May 21./22. 2007 in Hamburg

Lot 252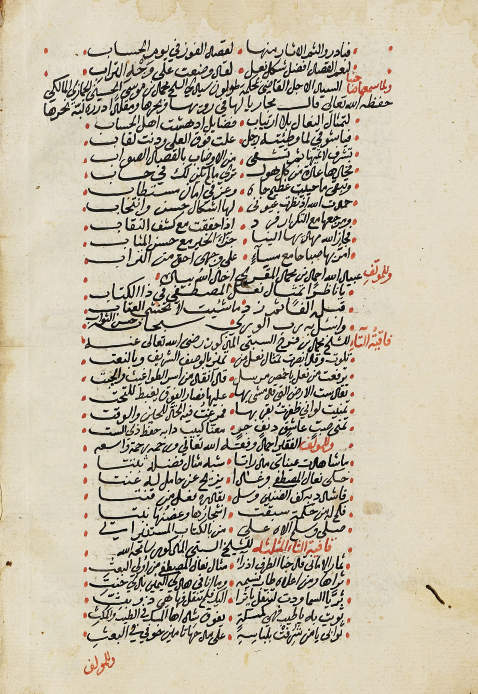 252
Arabische Handschrift auf Papier. Ca. 1662
Estimate:
€ 1,000 / $ 1,170
Sold:

€ 1,140 / $ 1.333
(incl. 20% surcharge)
Lot description
Arabische Handschrift
auf geglättetem Papier. Mitte des 17. Jhs. 39 Bll. Blattgr. 28 : 19 cm, Schriftspiegel 22 : 12,8 cm, 35 Zeilen. Text in schwarzer Tinte. Mit
7 blattgr. Zeichnungen in Gold und Farben
. Späterer roter HMaroquinband mit Zunge, in HLdr.-Schuber. 4to.
Beschreibung von Mohammeds Pantoffeln, aus verschiedenen Überlieferungen zusammengetragen von Ahmed Mohamed Abdel-Rahman. Dat. 1073 (= 1662). Die Zeichnungen jew. mit schematischen Darstellungen der beschriebenen Pantoffeln. - Wasserrandig und leicht fleckig, vereinz. mit kl. Wurmspur i. w. Rd., 2 Bll. mit ergänzter Eckläsur, 2 Bll. gelöst; tlw. im Bund verstärkt. Vorsätze erneuert, Schuber mit Gebrauchsspuren.
Arabic manuscript on polished paper, dealing on the various stories mentioned about the slipper of the Prophet Mohamed. Dated 1073 (i. e. 1662). 39 leaves. Sheet size 28 : 19 cm, 35 lines. With 7 fullpage schematic figures in gold and colours, depicting the Prophet's slippers. Later red half morocco with strap, in half mor. slipcase. - Waterstaining and slight fingerstaining, partly small wormtrace in the white margin, 2 ll. with mended defective corner, 2 ll. detached; partly strengthened in the gutter, slipcase worn.
252
Arabische Handschrift auf Papier. Ca. 1662
Estimate:
€ 1,000 / $ 1,170
Sold:

€ 1,140 / $ 1.333
(incl. 20% surcharge)