Sale: 305 / Rare Books, Nov. 13./14. 2006

Lot 304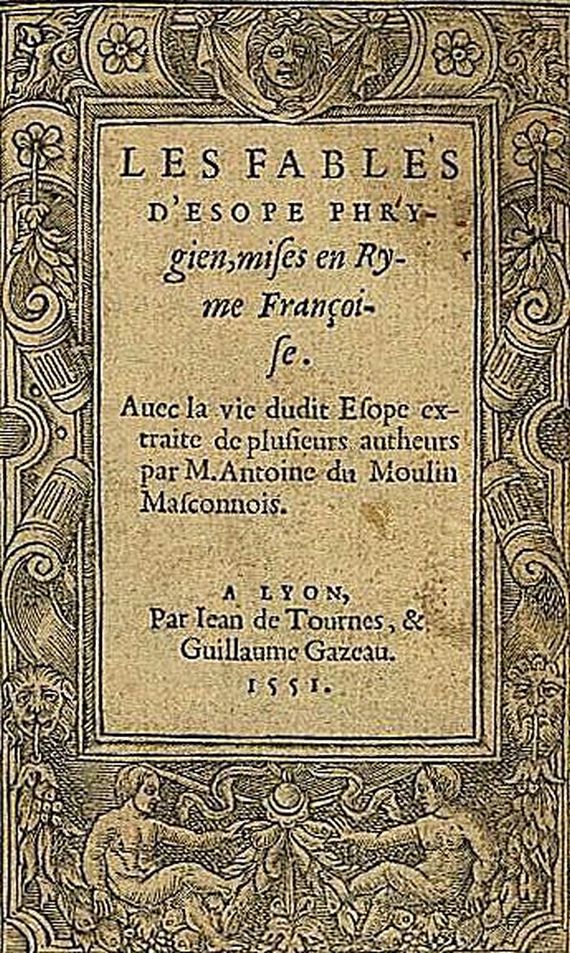 304
Fables. 1551.
Sold:

€ 3,570 / $ 4.069
(incl. 19% surcharge)
Lot description
Aesop,
Les fables, mises en ryme Françoise [par Corrozet]. Avec la vie dudit Esope extraite de plusiers autheurs par A. du Moulin. Mit
figürl. Holzschnitt-Titelbordüre
und
100 Textholzschnitten von Bernard Salomon
sowie Holzschnitt-Druckermarke am Ende. Lyon, J. de Tournes und G. Gazeau 1551. Spät. Ldr. 16mo. 223 S.
Cartier 184. - Mortimer 5 Anm. - Nicht im Index Aurel., BM STC, bei Adams und Bodemann. - Seitengetreuer Nachdruck der de Tournes-Ausgabe von 1549, die wiederum auf die erste Ausgabe von 1547 zurückgeht. "Cette jolie édition, qui présente encore les bois du Petit Bernard dans toute leure finesse, est la copie page pour page de celle de 1549, avec quelques petites variantes d'orthographie dans certains mots." (Cartier) - Unsere Ausgabe ist, ebenso wie die beiden vorhergehenden,
von außergewöhnlicher Seltenheit
. "Les exemplaires sont devenus aussi rares pour le moins, que ceux des deux éditions précédentes." (ebd.) - Die Illustrationen stehen jeweils auf der linken Buchseite und sind mit Leitsatz, vierzeiligem Bildepigramm und einfacher Schmuckleiste versehen. "Text-Bild-Komposition aus der ersten Corrozet-Ausgabe übernommen, ebenfalls die Mehrzahl der Bildthemen, dier hier technisch feiner, stilistisch eleganter gestaltet sind." (Bodemann 27.1 zur Ausg. 1549). - Mit der Titelbordüre "Cadre aux Enfants nus" (Cartier A.4). - Vereinz. leicht fleckig, letzte Seite (Prisma-Druckermarke) angeschmutzt und mit alten Besitzeinträgen. Einbd. berieben, Gelenke etw. brüchig, Kap. mit Fehlstellen.
Reprint of the de Tournes edition in 1549 which in turn based on de Tournes' first edition of 1547 (cf. Mortimer 5). Extremely scarce, not in Index Aurel., BM STC, Adams and Bodemann. With fig. woodcut titleborder (Cartier A.4) and 100 woodcut illustrations by B. Salomon, each on the left side with motto, epigram and ornamental border. Later calf. - Here and there minor staining, last page (device) dusty and with early ownership inscriptions. Binding rubbed, joints brittle, spine at extremities defective. Exlibris.
304
Fables. 1551.
Sold:

€ 3,570 / $ 4.069
(incl. 19% surcharge)
You might also be interested in

Aesop - lots sold by Ketterer Kunst