Sale: 305 / Rare Books, Nov. 13./14. 2006

Lot 191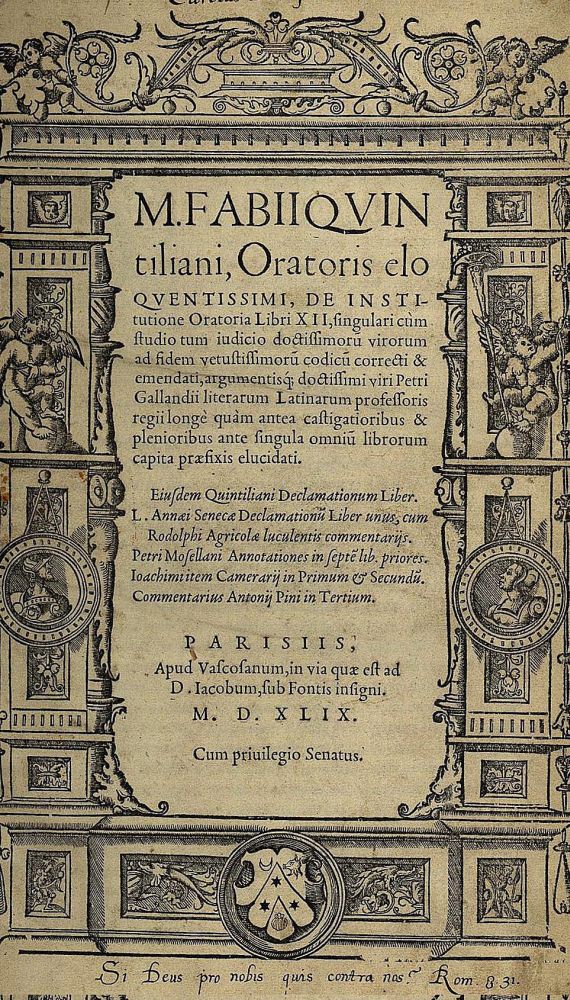 191
Marcus Fabius Quintilianus
De institutione oratoria. 1549.
Sold:

€ 333 / $ 366
(incl. 19% surcharge)
Lot description
Quintilian, M. F.,
De instiutione oratoria libri XII ... correcti & emendati, argumentisque P. Gallandii ... Eiusdem Quintiliani Declamationum liber. L. A. Senecae Declamationum liber unus, cum R. Agricolae commentariis. P. Mosellani annotationes in septem lib. priores. J. Camerarii in primum & secundum. Commentarius A. Pini in tertium. 3 Tle. in 1 Bd. Mit
breiter figürl. Holzschnitt-Titelbordüre
und
zahlr. meist figürl. Holzschnitt-Initialen
. Paris, M. Vascosanus 1549. Spät. Ldr. auf Bünden. Folio. 22 nn., 198 num, 58 num., 58 num. Bll.
Adams Q 40. - Brunet IV, 1025. - Schweiger II, 838. - Vereinz. wasserrandig, Titel knapp beschnitten, feste Vorsätze gelöst, flieg. Vors. entfernt. Exlibris.
3 pts. in 1 vol. With broad fig. woodcut titleborder and numerous mostly historiated initials. Later calf on raised bands. - Here and there waterstained, title cropped close, endpapers detached or removed. Ex libris.
191
Marcus Fabius Quintilianus
De institutione oratoria. 1549.
Sold:

€ 333 / $ 366
(incl. 19% surcharge)
Marcus Fabius Quintilianus - lots sold by Ketterer Kunst