Sale: 301 / Rare Books, May 22./23. 2006

Lot 155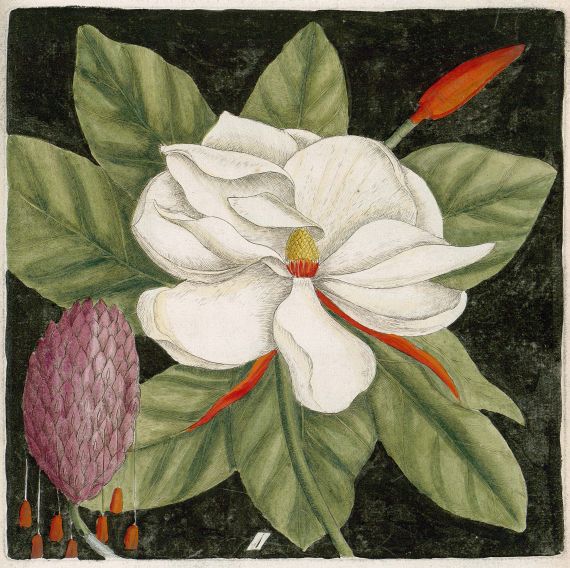 155
Hortus europae americanus, 1767.
Estimate:
€ 12,000 / $ 13,920
Sold:

€ 26,180 / $ 30.368
(incl. 19% surcharge)
Lot description
Catesby, M.,
Hortus Europae Americanus: or, a collection of 85 curious trees and shrubbs, the produce of North America ... together with their blossoms, fruits and seeds. Mit
62 Pflanzenabbildungen auf 17 altkolor. Kupfertafeln
. London, J. Millan 1767. HLdr. d. Zt. mit RVerg. und goldgepr. Deckelvignette. Gr.-4to. 2 Bll. (Titel und Widmung), VI, 41 S.
Nissen 338. - Pritzel 1603. - Hunt 578 Anm. - Henrey 545. - Dunthorne 73. - Sabin 11507. - Nicht bei De Belder und in der Plesch-Coll. - Titelauflage der ersten Ausgabe aus dem Jahr 1763. -
Seltenes botanisches Prachtwerk,
ursprünglich unter dem Titel
Hortus Britanno-Americanus
bei J. Ryall erschienen. Mark Catesby (1683-1749) hatte sich zunächst von 1712-19 und dann nochmal von 1722-25 in Amerika aufgehalten und in dieser Zeit ausführlich heimische Pflanzen studiert und gesammelt. Die 62 Pflanzenkupfer in sorgfältigem Handkolorit sind von 1-84 numeriert (mit Auslassungen) und auf insgesamt 17 Tafeln zusammengefaßt; bis auf das erste und letzte blattgr. Kupfer finden sich jeweils 4 Abbildungen auf jeder Tafel. Die Tafeln wurden im Vergleich zum Text auf etwas stärkerem Papier gedruckt; zu Beginn die prachtvolle
Magnolia altissima (grandiflora)
. - Die Tafeln jew. im Bund verstärkt bzw. angefalzt, dadurch dort und im Außensteg tlw. etw, knapp beschnitten. Nur tlw. etw. fleckig (vorw. im Text), Titelbl. mit gelöschtem Stempel, die ersten 3 Bll. im Bund leicht lädiert und gelockert. Einbd. berieben. Insgesamt gutes und wohl erhaltenes Exemplaraus der Sammlung Douglas Ainslie (hs. bez. gest. Exlibris des 18. Jhs.
17 engr. plates in contemp. coloring, with 62 pictures of plants. Contemp. half calf with gilt spine. - Reissue under new title of the rare botanical work, not in De Belder and the Plesch collection. Mostly 4 pictures in 1 plate, the plates printed on strong paper. - Plates remargined in the nerve and only partly slightly trimmed and stained. Title page with detached stamp, first 3 ll. slightly damaged in the gutter. Overall good and well preserved, Douglas Ainslie copy.
155
Hortus europae americanus, 1767.
Estimate:
€ 12,000 / $ 13,920
Sold:

€ 26,180 / $ 30.368
(incl. 19% surcharge)
More offers for Mark Catesby
You might also be interested in