Sale: 298 / Light, Space and Gesture, Dec. 05. 2005

Lot 337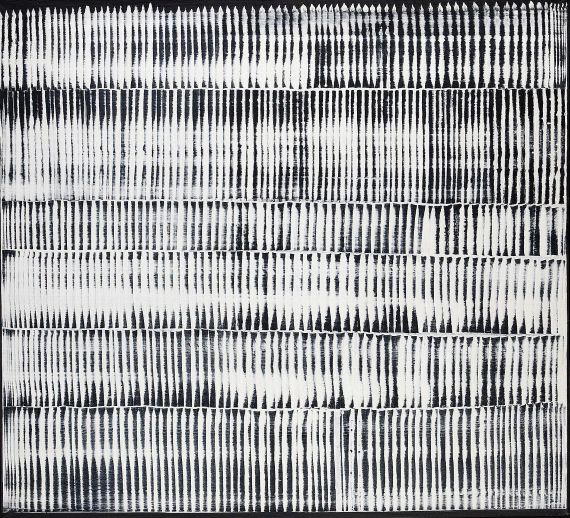 337
Ohne Titel (Dynamische Struktur Weiß auf Schwarz), 1961.
Synthetic resin
Estimate:
€ 14,000 / $ 16,800
Sold:

€ 27,370 / $ 32.844
(incl. 19% surcharge)
Lot description
Ohne Titel (Dynamische Struktur Weiß auf Schwarz)
Kunstharz auf Nessel, 1961
Verso signiert, datiert und mit einem Richtungspfeil versehen. 105 x 115 cm ( 41,3 x 45,2 in).
Mit OAtelierleiste.
PROVENIENZ: Privatsammlung München.
Ausstellung: Fifteen German Artists 1962-1963, The Corcoran Gallery of Art, Washington D.C., o.J. (auf dem Keilrahmen mit dem Etikett).
"Linien, Fläche und Raum müssen kontinuierlich ineinander übergehen, aneinander sich 'aufheben', in dem dialektischen Sinne, den unsere Sprache hergibt. Bleibt diese Integration sichtbar, dann vibriert ein Bild und unser Auge findet die Ruhe der Unruhe." (Mack, in: Ute Mack, WVZ der Druckgraphik und Multiples, Stuttgart 1990, S. 10). Tatsächlich erlebt der Betrachter das vorliegende Gemälde als Vibration, als Ausdruck einer kontinuierlichen Bewegung, die den Farb- und Formteilen räumliche Ordnung gibt. Die Reduktion auf die "Unfarben" Weiß und Schwarz ist ein charakteristisches Merkmal für Macks "ZERO"-Zeit, in der diese Arbeit entsteht. Sie gehört zur Werkgruppe der "Dynamischen Strukturen", die eine Zwischenstufe auf dem Weg von der Malerei zur Kinetik darstellen. Ihre Wirkung wird parallel dazu durch die Erfindung der "Lichtreliefs" fortgeführt, die mit reflektierender Silberfläche Farbe, Bewegung und Licht der Umgebung einfangen. Mack gilt heute als "früh anerkannter und etablierter Künstler", den man sicherlich als Klassiker des 20. Jahrhunderts bezeichnen kann. Seit den 1950er Jahren ist der Künstler mit seinen Werken weltweit in über 240 Einzelausstellungen in Museen, Kunstvereinen, Stiftungen und Galerien vertreten. [LB]
337
Ohne Titel (Dynamische Struktur Weiß auf Schwarz), 1961.
Synthetic resin
Estimate:
€ 14,000 / $ 16,800
Sold:

€ 27,370 / $ 32.844
(incl. 19% surcharge)
More offers for Heinz Mack
You might also be interested in
Heinz Mack - lots sold by Ketterer Kunst