Sale: 296 / Rare Books, Nov. 21./22. 2005

Lot 69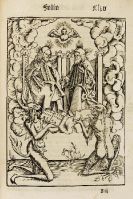 69
Der neü Layenspiegel, 1511, 1511.
Estimate:
€ 2,000 / $ 2,340
Sold:

€ 1,904 / $ 2.227
(incl. 19% surcharge)
Lot description
(Tengler, U.),
Der neü Layenspiegel. Von rechtmässigen ordnungen in Burgerlichen und peinlichen Regimenten. Mit Addit(i)on. Auch der guldin Bulla ...Mit
33 ganzseit. Holzschnitten
(überwieg. von dem Meister H F und H. Schäufelein; st. 34) sowie 7 schemat. Textholzschnitten. Augsburg, H. Othmar für J. Rynnmann 1511.Blindgepr. Lederband d. Zt. über Holzdeckeln auf 3 Bünden. Folio. 18 Bll., CCLVIII (recte 242) num. Bll.
VD 16 T 340. - BM STC, German Books S. 851. - Adams L 334. - Dodgson II, 11,2. - Oldenbourg L 7. - Kaspers S. 123f. - Zweite rechtmäßige und damit
eine der frühesten Ausgaben des bedeutenden Rechtsbuches der beginnenden Neuzeit
(allein bis 1560 erschienen 12 weitere Auflagen). Die erste Ausgabe erschien 1509 ebenfalls in Augsburg, dann folgten zwei unberechtigte Straßburger Nachdrucke und dann folgte die hier vorliegende Augsburger Neuausgabe, erweitert und redigiert von Seb. Brant. "Sie ist beträchtlich erweitert und enthält auch einen Abschnitt 'von kätzerei warsagen, schwarzer kunst, zauberey, unholden', der auf das inzwischen offensichtlich von der Strafrechtspflege übernommene, berühmte Werk 'Malleus maleficarum', den 'Hexenhammer', zurückgeht und einen wichtigen Beleg für die Legalisierung der nun beginnenden Hexenverfolgungen bildet." (Kaspers) - Illustriert ist das Werk mit 34 (9 wdlt.) prachtvollen blattgr. Holzschnitten, zumeist mit Szenen aus der Gerichtspraxis und dem Strafvollzug. In unserem Exemplar liegen sowohl der doppelblattgr. Holzschnitt wie auch sämtliche fünf Schäufelein-Holzschnitte vor. - Es fehlt lediglich ein Bl. (b/4) mit einem Holzschnitt (in Kopie eingebunden). Tlw. etw. braun- und schmutzfl., ca. 12 Bll. mit Randeinrissen, 1 Bl. mit Eckausriß (ohne Textverlust), vereinzelt mit Wurmspuren. Bindung und Rücken (tlw. unter Verwendung des ursprüngl. Materials) erneuert, Einbd. beschabt und mit Wurmspuren. - Titelblatt mit zeitgenössischen Besitzeinträgen einer Wiener Augustiner-Konvents.
Second legitimated edition of the famous juridical work at the end of the middle ages, revised and edited by Seb. Brant. 33 full-page woodcuts (5 by H. Schäufelein, chiefly by the master H F). Blind-tooled leather over wooden boards. - 1 leaf with 1 woodcut (b/4) is missing (bound in as fotocopy). Partly brownish, stained and wormy, 12 ll. with marginal tears, 1 l. with piece torn out in a corner (without loss of text). Binding rubbed and wormy, back and binding renewed.
69
Der neü Layenspiegel, 1511, 1511.
Estimate:
€ 2,000 / $ 2,340
Sold:

€ 1,904 / $ 2.227
(incl. 19% surcharge)
You might also be interested in

Ulrich Tengler - lots sold by Ketterer Kunst