Sale: 287 / Rare Books, May 24./25. 2004

Lot 1177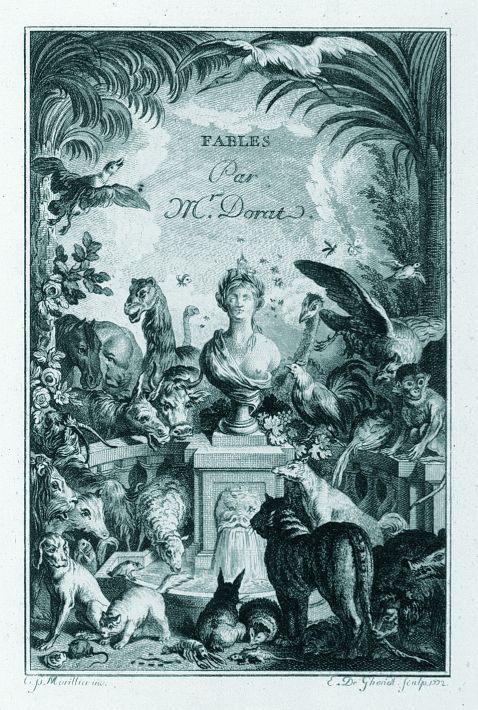 1177
Fables nouvelles. 1773., 1773.
Estimate:
€ 1,200 / $ 1,392
Sold:

€ 1,170 / $ 1.357
(incl. 17% surcharge)
Lot description
Dorat, [C. J.],
Fables. 2 in 1 Bd.. Mit
gest. Frontispiz, 2 gest. Titeln, 1 gest. Titelvignette sowie 198 gest. Kopf.- und Schlußvignetten
nach C. P. Marillier
von N. de Launay, E. de Ghendt, D. Néc, Y. le Gouaz, L. J. Masquelier, P. Duflos, Godefroy, Ponce u. a. Den Haag, Delalain 1773.Hellbrauner Maroquinbd. d. Zt. mit reicher ornamentaler RVerg. mit kleinen schwarzen Lederintarsien. Beide Deckel mit floraler Mäanderbordüre, Steh- und Innenkantenverg. sowie GGoldschnitt. 4to. XXII S., 1 Bl., 309 S., 1 Bl.
Reynaud, Sp. 136ff. - Lewine S. 150 ff. - Sander 508. - Cohen/R. Sp. 313ff.: "
Cet ouvrage ... est le chef-d'oeuvre de Marillier, sous le rapport de la finesse de l'exécution et de l'esprit qui règne dans tous les jolis sujets qui l'ornent
". - "Wir haben es hier wieder mit einem Illustrator zu tun, der zu stechen verstand, wenn er auch leider diese Kenntnis nicht oft genug ausübte. Er blieb in der Qualität am gleichmäßigsten unter den großen Meistern des Jahrhunderts, solange er sich im Rahmen der Vignette hielt. ...
Die 'Fables' gelten mit Recht als die schönste Leistung des Künstlers.
Sie nehmen es an Vollendung und persönlicher Gestaltung mit jeder zeitgenössischen Schöpfung auf ..." (Fürstenberg S. 104).
Das Werk enthält neben den 198 Kopf- und Schlußkupfern in Band I das Frontispiz 'La Vérité', die Titelvignette, die La Fontaine darstellt und den ersten Kupfertitel von de Ghendt. Teil II weist den zweiten Kupfertitel de Ghendts vor und beginnt auf S. 177 mit dem in der Paginierung fortlaufenden Text. - Band I mit den bei Reynaud beschriebenen Merkmalen der zweiten Ausgabe, die der Verleger aufgrund der herrschenden Nachfrage mit kleinen Änderungen und typographischen Korrekturen herausgab. - Zu Beginn tlw. nicht beschnitten. 6 Bll. etw. stockfl., 4 Bll. leicht wasserrandig. Einbd. gering fleckig und mit wenigen kl. Bereibungen. - Schöner sauberer und breitrandiger Druck auf kräftigem, teilweise bläulichem Papier in einem bemerkenswerten zeitgenössischen Einband.
Part I of the famous illustrations by Marillier in the reimpression. 1 engr. frontispiece, 2 engr. titles, 1 engr. title vignette and 198 head and tail vignettes. Contemp. calf with spine gilt , rolled borders gilt, inner dentelle gilt and gilt edges. - At the beginning partly untrimmed. 6 leaves slightly foxed, 4 leaves minimally waterstained.
1177
Fables nouvelles. 1773., 1773.
Estimate:
€ 1,200 / $ 1,392
Sold:

€ 1,170 / $ 1.357
(incl. 17% surcharge)
Claude-Joseph Dorat - lots sold by Ketterer Kunst