Sale: 418 / Rare Books, Nov. 17./18. 2014 in Hamburg

Lot 481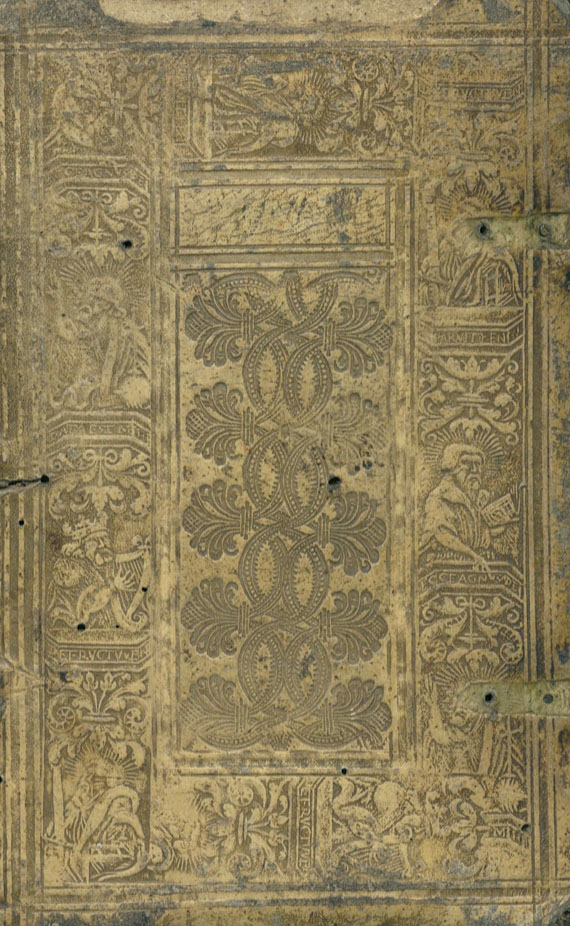 481
Comoediae sex. 1559.
Sold:

€ 240 / $ 273
(incl. 20% surcharge)
Lot description
Terentius Afer, P., Comoediae sex elegantissimae, E. Roterodami, Ph. Melanchthonis, & aliorum doctissimorum virorum .. Praeterea adiectae sunt Chr. Hegenorphini adnotatiunculae. Basel, N. Brylinger 1559. Schweinsldr. d. Zt. mit reicher Blind- und Rollenprägung über Holzdeckeln (fehlen beide Schließen). Kl.-8vo. 12 Bll., 438 (st. 439) S.

Fünfte bei N. Brylinger in Basel erschienene Ausgabe von Terenz' sechs Komödien. In einem Renaissance-Schmuckeinband mit reicher Blind- und Rollenprägung mit Heiligen- und Apolsteldarstellungen (Salvator, Petrus, Paulus und Johannes d. Täufer) mit Inschriften "Data est mihi", "Ecce Agnus Dei", "Apparavit Benignitas" u. a., sowie mittig mit Rankenraute. - Fehlt das letzte Blatt. Feste Vorsätze und Text durchgehend mit Anmerkungen in Tinte und Blei von zwei versch. Schreibern des 17. und 19. Jhs., vord. Drittel mit kl. Wurmlöchern und im Seitensteg mit schwachem Wasserfleck, 1 Textbl. fleckig, flieg. Vorsätze entfernt. Einbd. etw. beschabt, VDeckel mit kl. Wurmlöchern, Kanten mit mehreren kl. Fehlstellen im Bezug.

VD 16, T 452. - Vander Haeghen II, 56.

Fifth edition of Terence' six comedies in Basle by N. Brylinger. Contemp. pigskin over wooden boards with rich blindtooled decoration (both clasps removed). - Lacking the flying endpapers and the last text leaf (p. 493). Throughout with ms. annotations in ink and pencil from two different old hands, first third of the text with small wormholes and marginal waterstain, 1 text leaf stained. Binding somewhat scraped, front board with small wormholes and here and there with defective spots in the cover of the edges.


481
Comoediae sex. 1559.
Sold:

€ 240 / $ 273
(incl. 20% surcharge)
You might also be interested in

Publius Terentius Afer - lots sold by Ketterer Kunst