Sale: 394 / Old Masters and Art of the 19th Century, Nov. 23. 2012 in Munich

Lot 215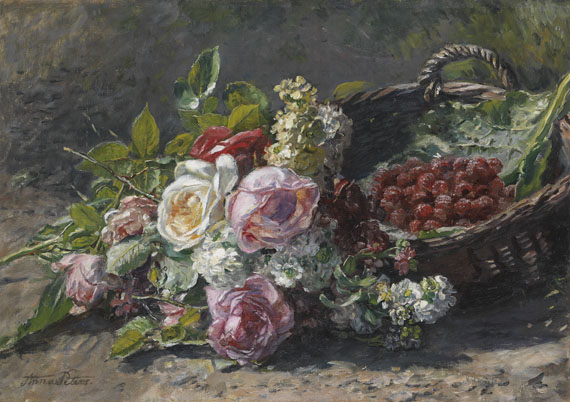 215
Blumenstillleben mit Rosen und einem Weidenkorb mit Himbeeren, 1880.
Oil on canvas
Estimate:
€ 3,000 / $ 3,390
Sold:

€ 12,500 / $ 14.124
(incl. 25% surcharge)
Blumenstillleben mit Rosen und einem Weidenkorb Himbeeren. Um 1880.
Oil on canvas.
Signed lower left. 43 x 60 cm (16,9 x 23,6 in).

Anna Peters was born daughter of the landscape painter Pieter Francis Peters and his wife Heinrika Mali in Mannheim in 1843. Both parents came from Dutch painter families. In 1845 they took on the younger brother of Heinrika, Christian Mali, into the family. The father Pieter Francis Peters, who had already taught the older Mali brothers painting, made sure that Christians would also get an education in art. Together with Mali, he later trained his daughters Anna, Ida and Pietronella.
Self-confident, Anna Peters called herself a flower painter as of 1868, despite all social reservations against female artists in those days. She regularly showed works in exhibitions. Besides her numerous flower paintings, which made Anna Peters famous, she also made landscape paintings of her surroundings. The artist went on journeys to, among others, Florence, Rome and Lugano, but also to the Thuringian Forest and to Nijmegen, her father's Dutch home. She was often accompanied by her uncle Christian Mali. The large painter family Peters went on regular painting trips to Köngen near Esslingen as of 1894, where Christian Mali and his friend Anton Braith visited them during their summer stays at the local castle from time to time. In Stuttgart Anna Peters lived together with her sisters in an artist house with two studios that was built just for them. Her five years younger sister Pietronella was a successful portrait- and genre painter. Peters died shortly after her sisters in Stuttgart in 1926.

Anna Peters early flower still lifes basically go back to the Dutch tradition in the 17\up5 th century, which she had learned from her father. However, she attained a much more natural pictorial language at an early point. Her sketchbooks containing illustrations of flowers and plants inscribed with their botanical names show how important scientifically correct renderings were to her. Despite artistic compositions, Peters was quite focussed on authentic illustrations of plants originating from the same growing season. Insects or snails appear from time to time, like the little fly on the raspberries. These animals, just as the blossoms and the withered leaves are part of her realistic rendering of nature. A deeper symbolism, as it is the case with the Dutch vanitas still lives cannot be found in Peters paintings. [CB].


215
Blumenstillleben mit Rosen und einem Weidenkorb mit Himbeeren, 1880.
Oil on canvas
Estimate:
€ 3,000 / $ 3,390
Sold:

€ 12,500 / $ 14.124
(incl. 25% surcharge)
Anna Peters - lots sold by Ketterer Kunst