Sale: 394 / Old Masters and Art of the 19th Century, Nov. 23. 2012 in Munich

Lot 64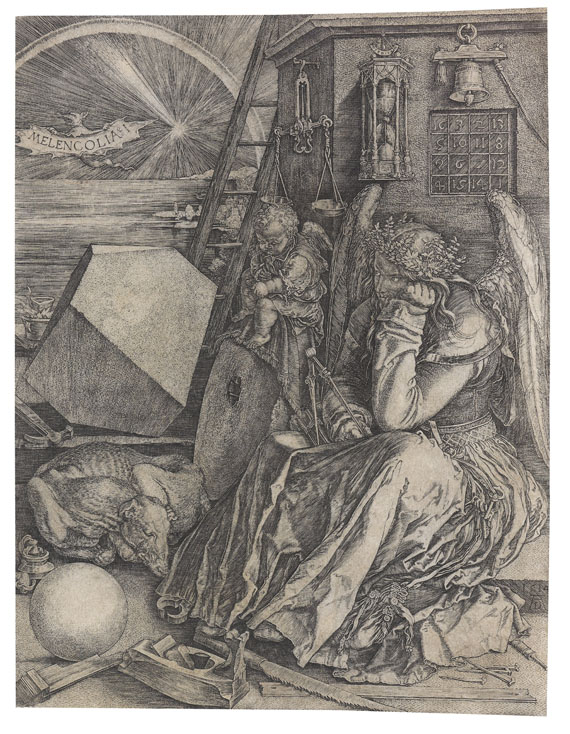 64
Die Melancholie (Melencolia I), 1514.
Engraving
Estimate:
€ 9,000 / $ 9,000
Sold:

€ 23,750 / $ 23.750
(incl. 25% surcharge)
Die Melancholie (Melencolia I). 1514.
Engraving.
Bartsch 74, Hollstein 75, Meder 75 2 presumably e (of f), Schoch/Mende/Scherbaum 71. Monogrammed and dated, titled on bat's wings. Strong and delicate impression on laid paper, padded with thin Japon. Trimmed to image. 24 x 18,5 cm (9,4 x 7,2 in), the full sheet. [CB].

PROVENANCE: Private collection Baden-Württemberg.

"No other work in art history has been more in the focus of discussion and interpretation than Dürer's engraving 'Melencolia 1'. It is the [..] 'The picture of pictures'. [..] The sheet [..] is doubtlessly an allegoric illustration of one of the four human tempers, as it had been developed in ancient times. The woman's head is resting on her left hand – a topos for sorrow and grieving common since antiquity. [..] The fact that most, if not all living and dead things on Dürer's 'Melencolia' carry symbolic meaning, has been guessed since the days of Goethe. The findings and interpretations make for a large part of the literature on the Melancholia engraving." (Matthias Mende, in: Schoch/Mende/Scherbaum, p. 179f.).


64
Die Melancholie (Melencolia I), 1514.
Engraving
Estimate:
€ 9,000 / $ 9,000
Sold:

€ 23,750 / $ 23.750
(incl. 25% surcharge)
Albrecht Dürer - lots sold by Ketterer Kunst