Sale: 393 / Post War/Contemporary Art, June 09. 2012 in Munich

Lot 208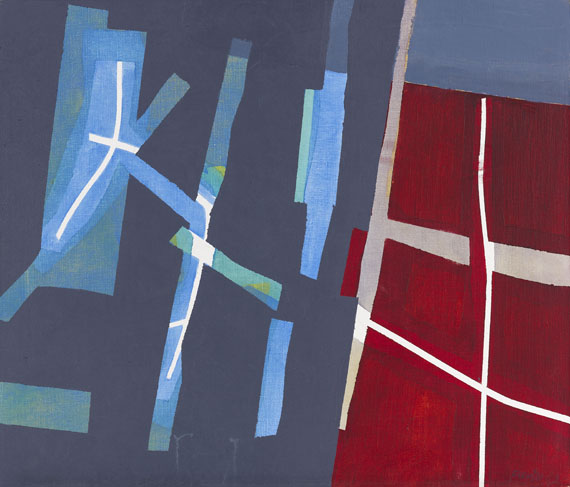 208
Lineare Spiegelung, 1969.
Oil on canvas
Estimate:
€ 15,000 / $ 16,950
Sold:

€ 26,250 / $ 29.662
(incl. 25% surcharge)
Lineare Spiegelung. 1969.
Oil on canvas.
Lohberg 2691. Signed and dated lower right. Once more signed and dated as well as titled on verso. 60 x 70 cm (23,6 x 27,5 in).
The painting "Lineare Spiegelung" belongs to fritz Winter's highly sought-aftzer abstract compositions from the 1960s and is offered on the international auction market for the first time (source: www.artnet.de).

PROVENANCE: Collection Konrad Knoepfel, Nürnberg (with two stamps on stretcher).
Private collection Southern Germany.

Fritz Winter was born as the first of eight children in Altenbögge near Unna on 22 September 1905. In 1919 he began an apprenticeship as an electrician and worked as a miner. At the beginning of the 1920s he made his first attempts in drawing and painting. In 1927 he applied successfully to the Bauhaus in Dessau, where he studied for three years under Klee, Kandinsky and Schlemmer. In 1929 Winter participated in the exhibition 'Junge Bauhausmaler'. He got acquainted with Ernst Ludwig and Erna Kirchner, whom he visited repeatedly in Davos. After his studies Winter taught at the Pädagogische Akademie in Halle. In 1933 he moved to Munich and in 1935 to Dießen on the Ammersee. The National Socialists declared his art 'degenerate' and banned him from exhibiting his works. Winter was drafted in 1939 and sent to the eastern front. He was captured by the Russians shortly before the end of the war and not released until 1949. During the war he drew the so-called 'Feldskizzen' in small sketchbooks, which prepared his famous series 'Triebkräfte der Erde'. Immediately after his return Fritz Winter was co-founder of the group 'Zen 49' and soon joined the European avant-garde movement. Elaborating his works of the 1930s, which were made under the influence of the Bauhaus, Winter developed his own pictorial language, which set him apart from the Informel. In 1955 Winter began teaching at the Landeskunstschule in Hamburg and two years later he was appointed professor at the Staatliche Hochschule für Bildende Künste in Kassel. In the same year, and again in 1959, he exhibited at the documenta I and II. Winter received numerous prizes, e.g. the Cornelius-prize of the city of Düsseldorf in 1956, the International Graphics prize Tokyo in 1957 as well as the prize of the International building exhibition Berlin and the prize of the world fair in Brussels in 1958. In 1959 he fell ill as an after-effect of his war injuries.

Fritz Winters œuvre is structured by the sequel of different periods of creation, in which he made works that belong together structurally. This work belongs to the so-called "Schablonenbildern" (Stencil Pictures), that Winter made between 1967 and 1975. what makes these works so special is the artist's technical approach, because Fritz Winter worked out parts of his works with stencils in order to create sharply defined, mostly striped outlines. The effect of this technique is remarkably in many ways: On the one hand, Winter created a clearly structured and yet tremendously dynamic composition that allows the observer manifold visual experience. On the other hand, Fritz Winter created an almost three-dimensional concept of space with the overlapping color fields. In a fascinating contrast of cool and warm colors on the left and right side as well as in contrasting soft glazing and rich color application "Lineare Spiegelung" is an outstanding example from this period of creation.

On the occasion of his 60th birthday, the artist was honoured with large retrospectives in several German cities. He received the 'Großes Bundesverdienstkreuz' in 1969. He retired from his chair in Kassel in 1970 and returned to Diessen on the Ammersee. A Fritz-Winter-House was opened in Ahlen in 1975. Fritz Winter died on 1 October 1976. Even before his death Winter was considered one of the most famous German post-war artists. [KP].


208
Lineare Spiegelung, 1969.
Oil on canvas
Estimate:
€ 15,000 / $ 16,950
Sold:

€ 26,250 / $ 29.662
(incl. 25% surcharge)
You might also be interested in
Fritz Winter - lots sold by Ketterer Kunst