Sale: 393 / Post War/Contemporary Art, June 09. 2012 in Munich

Lot 244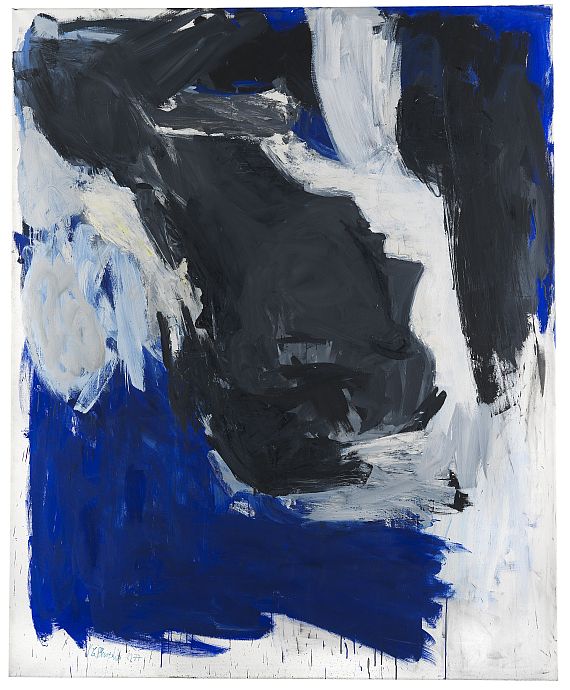 244
Kopf (Elke Profil), 1977.
Oil on canvas
Estimate:
€ 200,000 / $ 220,000
Sold:

€ 329,400 / $ 362,340
(incl. 22% surcharge)
Kopf (Elke Profil). 1977.
Oil on canvas.
Signed and dated lower left. Signed, twice dated, titled and inscribed on verso. 199 x 162 cm (78,3 x 63,7 in).

PROVENANCE: Private collection North-Rhine Westphalia.

EXHIBITION: Georg Baselitz, Paintings Bilder 1962-1988, ex. cat. Runkel-Hue Williams Ltd., London 1990 (illu. in colors on p. 35).
Grob Gallery, London (with label on stretcher).
Galerie Neher, Essen (with label on stretcher).
100 + 1 Jahr, jubilee exhibition on occasion of the 101st birthday of the 'Kunstmuseum Mülheim an der Ruhr', 19 June - 29 August, 2010.

Baselitz, born as Hans-Gerog Kern, borrowed his artist's name from his home town. After being expelled from the East-Berlin Kunsthochschule due to 'sociopolitical immaturity', he switched to the Hochschule der Bildenden Künste in Berlin-Weißensee in 1957. Between 1957 and 1962 baselitz continued his training at the Hochschule der Bildenden Künste in Berlin-Charlottenburg. Hann Trier became one of his teachers. In the early 1960s he published several artistic manifestos and he established a new figurative art with expressive elements - together with artists like Eugen Schönebeck or Markus Lüpertz - at the same time. Baselitz wanted to offend against fixed categories and regularities, his unpretentious painting was directed against the established ideal. In 1963 the paintings 'Die große Nacht im Eimer' and 'Der nackte Mann', which caused a scandal, were confiscated at the gallery Werner & Katz in Berlin by the public prosecutor's office. The following actions for pornography were closed and the works were returned. In 1969, he created the first one of his typical pictures, which presents the motif head downwards.

In the 1970s Baselitz painted several portraits of himself and his wife Elke, who would be his model time and again over the following years. In 1977 the painting "Kopf (Elke Profil)"was made in an expressive gestural painting that is still bound to the object of the portrait, however, without any narration of anecdotes whatsoever. The head is placed as black fragment amongst white color fields and is hard to distinguish as a motif from its surrounding. Light and dark forms make for an almost abstract composition. Despite the inversion of the motif, it is particularly the portrait that shows how intricate Baselitz's propagated detachment from the object in favor of a focus on the painting process is, it is much more complicated than with the landscapes. Baselitz manages to entirely detach himself from the model and gains a distanced and controlled perspective. This is also shown by the choice of the cool and reduced palette of blue, white and black, by means of which Baselitz succeeds in an objectification of the portrayed.

At the beginning of the 1970s the artist was well-known in Germany through numerous exhibitions. In 1980, he designed the German pavilion for the Venice Biennale, exhibited at the documenta VII and had countless exhibitions and retrospectives in major international art forums, e.g. at the Guggenheim Museum in New York in 1995. Baselitz was appointed professor at the Academy of Fine Arts in Karlsruhe, from 1983 to 1988 he taught at the School of Visual Arts in Berlin. In 2004 Baselitz received the 'Nobel prize for arts', the 'Praemium Imperiale' of the Japan Association. Baselitz has been living on Ammersee in Upper Bavaria since 2006. [CB].


244
Kopf (Elke Profil), 1977.
Oil on canvas
Estimate:
€ 200,000 / $ 220,000
Sold:

€ 329,400 / $ 362,340
(incl. 22% surcharge)
More offers for Georg Baselitz
You might also be interested in
Georg Baselitz - lots sold by Ketterer Kunst