Sale: 386 / Modern Art, Dec. 10. 2011 in Munich

Lot 34.10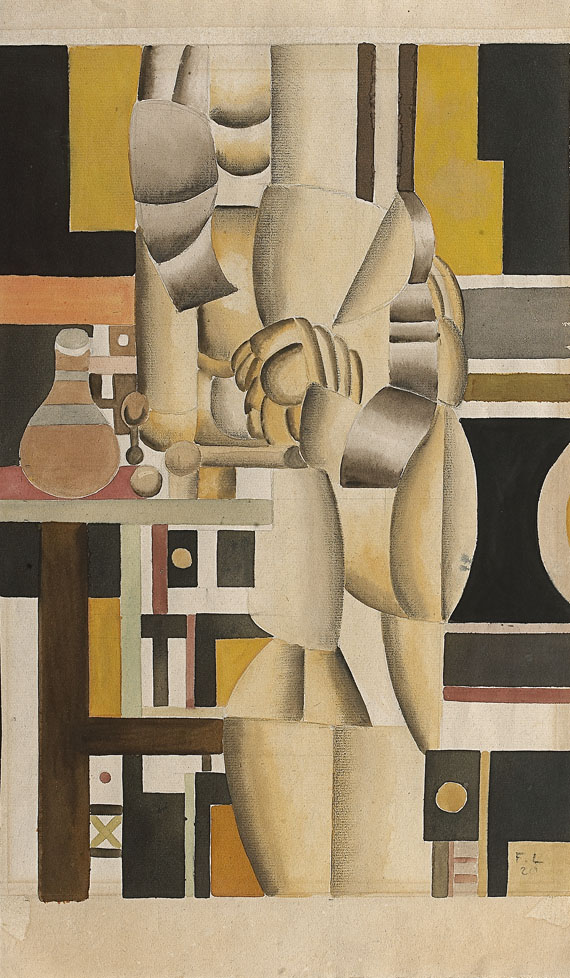 34.10
Deux femmes à la toilette, 1920.
Watercolor
Estimate:
€ 200,000 / $ 212,000
Sold:

€ 195,200 / $ 206,912
(incl. 22% surcharge)
Watercolor and pencil.
Monogrammed and dated lower right. On toned Ingres laid paper by Arches (with watermark). 46,2 x 26,5 cm (18,1 x 10,4 in), size of sheet.
Our exceptional watercolor was made as a study for the oil painting of the same name which Léger executed the same year (see Bauquier 248).

Accompanied by a photo confirmation issued by Madame Irus Hansma, Paris, dated 9 January, 2007. The work will be included into the forthcoming catalog raisonné of works on paper.

PROVENANCE: Daniel-Henry Kahnweiler (Galerie Simon Paris), cf. information on errata / addenda list.
Galerie Alfred Flechtheim, Berlin, cf. information on errata / addenda list.
Collection M. Lévy, Berlin.
Private ownership Paris.

EXHIBITION: For the oil painting cf. Fernand Léger 1911-1924. Le rythme da la vie moderne, Kunstmuseum Wolfsburg / Kunstmuseum Basel 1994, cat. no. 60 (with illu. in colors p. 75).

The French painter Fernand Léger was born at Argentan (Normandy) on 4 February 1881. From 1897-1899 Fernand Léger served an apprenticeship in architecture in Caen, where he worked as an architectural draughtsman. In 1900 Fernand Léger went to Paris, attending both the École des Arts Décoratifs and the Académie Julian in 1903-04. In Paris Fernand Léger soon came into contact with the Paris avant-garde, making friends with Robert Delaunay, Henri Matisse, Henri Rousseau and Guillaume Apollinaire. The work of Paul Cézanne, which he first saw at the large Cézanne retrospective at the 1907 Salon d'Automne, made an enormous impression on him. Cubist painting, the work of Pablo Picasso and Georges Bracques, shaped Fernand Léger's conception of form and from 1909 he developed a distinctively unconventional reduced Cubist style, its formal astringency linked in 1913-14 with a sharply contrasting palette of pure colors. After the First World War Fernand Léger - fascinated by the power and beauty of modern technology - arrived at a language of forms that was even more geometric: cylindrical configurations reminiscent of the welter of pipes and machinery in an engine room. Man and machine were thus conflated in the period of Fernand Léger's work known as his "période mécanique".

Our work is a characteristic example of a style that Fernand Léger developed as of 1920, a style that was more focussed on the human figure. "A new form of Classicism could be found everywhere, it was a reversion to the big French names such as Jean Fouquet, Poussin, Ingres, Corot, Manet, Cézanne, and it became increasingly relecant for Léger also in terms of his themes. In the 1920s Léger interprets his figures in a modern, post-cubist simplicity. In these days the world of work and machines took a back seat, while a group of works of interior scenes enlivened with female figures were made." (Transl. Of quote from Siegfried Gohr, in: Fernand Léger. Das figürliche Werk, ex. cat. Kunsthalle Cologne 1978, p. 50). The female bodies dissolve in clearly defined abstract forms, so that they contrast the geometrically structured background only through their soft curves and delicate coloring. This work delivers clear proof of Léger's extraordinary poise in composition and coloring.

From the 1930s, however, Fernand Léger's style was again looser and curvilinear. Overtones of Surrealism also emerged in his work. Fernand Léger spent the war years 1940-1945 in the US, where he taught at Yale University. After the war Léger returned to France, where he died at Gif-sur-Yvette near Paris on 17 August 1955. [KH]/[NB].


34.10
Deux femmes à la toilette, 1920.
Watercolor
Estimate:
€ 200,000 / $ 212,000
Sold:

€ 195,200 / $ 206,912
(incl. 22% surcharge)
Fernand Léger - lots sold by Ketterer Kunst