Sale: 380 / Modern Art, June 04. 2011 in Munich

Lot 67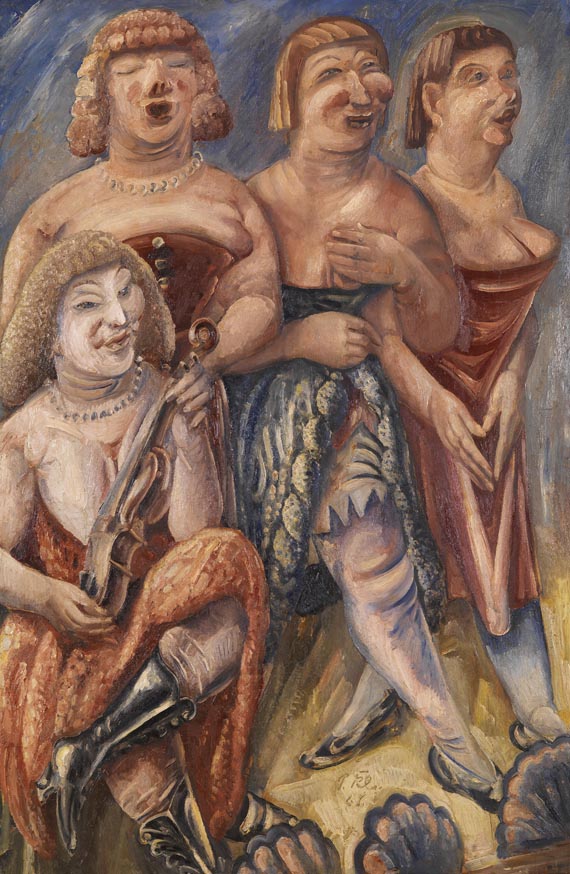 67
Sängerinnen, 1926.
Oil on panel
Estimate:
€ 60,000 / $ 62,400
Sold:

€ 130,540 / $ 135.761
(incl. 22% surcharge)
Oil on panel
Lipps-Kant 56. Monogrammed and dated lower center (scratched into wet layer of paint). Inscribed "Paul Kleinschmidt "Sängerinnen" gemalt im März 1926" on verso of wooden plate. 170,5 x 113 cm (67,1 x 44,4 in)
With adhesive exhibition label "Deutsche Kunst Düsseldorf 1928", on verso, there typographically numbered "1543".

PROVENANCE: Albert Kley, as present from artist.

EXHIBITION: Paul Kleinschmidt. Gemälde. Galerie Alfred Flechtheim, Berlin 27 February - 16 March 1928, cat. no. 4, no illu.

Paul Kleinschmidt was born on 31 July 1883 scion of an artist family, the father was director of a travelling theatre, the mother an actress. During his studies of art at the Berlin Akademie under the history painter Anton von Werner Adolf von Menzel was Paul Kleinschmidt's great model. This was also when he met Lovis Corinth. He was impressed by him as a person but also benefited from the artists knowledge of art. In 1904 Kleinschmidt continued his studies at the Akademie in Munich under Peter Halm and Heinrich von Zügel. Here he studied the techniques of lithography and engraving. After finishing his studies Kleinschmidt worked in Berlin as a painter and graphic artist and exhibited at the 'Sezession' shows in 1908 and 1911. He was called up for military service in 1914, but was released one year later after being poisoned by gas. In 1915 he began earning a living with odd jobs as a technical draughtsman and a drawing teacher. Many of his most important etchings and lithographs were produced during this period. They were exhibited in 1923 in his first one-man exhibition organized by the publishing company Euphorion and in 1925 at F. Gurlitt in Berlin. After that he produced less graphic art in order to concentrate on painting.

Just as it was the case with many of his contemporaries, the Berlin night life of the 1920s was full of inspirations for Paul Kleinschmidt. He was particularly fond of the lady bands, with their mixture of latent eroticism and merry temper. The buxom ladies captivated the artist's heart right away and he depicts them with his artistic means in the common broad and pastose painting technique. Where his contemporaries always had some sort of social criticism in mind, this did not seem to play a role for Kleinschmidt. To him it is the depiction of the feminine and super-feminine. The new female power, still demonized before World War I, comes out in an easy and free manner in this work. It is neither the spiritual female being, nor the caring mother, that Kleinschmidt is fascinated by. He sees woman entirely in their liberated role, being equal to men, they determine their own way of life.

In 1927 Kleinschmidt first met the New York art collector Erich Cohn who later became his sponsor. The artist moved from Berlin to Southern Germany in 1932 where he first lived in Klingenstein near Blaubeuren and then in Ulm. He left this city again one year later, however, to move to Ay near Senden. Here he and his family soon suffered under the political repression. The political pressure became so strong that Kleinschmidt eventually emigrated to Holland in 1936. From there he went to France in 1938. In February 1940 he was imprisoned in different camps for several months but released again after the French capitulation. While he was living in Bensheim the Nazis forced Kleinschmidt to stop painting in 1943. His entire possessions were destroyed in an air raid in 1945. His Angina Pectoris which had been diagnosed in 1940 became so severe in 1948 that the artist never recovered and died one year later on 2 August. [KD].


67
Sängerinnen, 1926.
Oil on panel
Estimate:
€ 60,000 / $ 62,400
Sold:

€ 130,540 / $ 135.761
(incl. 22% surcharge)
You might also be interested in
Paul Kleinschmidt - lots sold by Ketterer Kunst