Sale: 380 / Modern Art, June 04. 2011 in Munich

Lot 50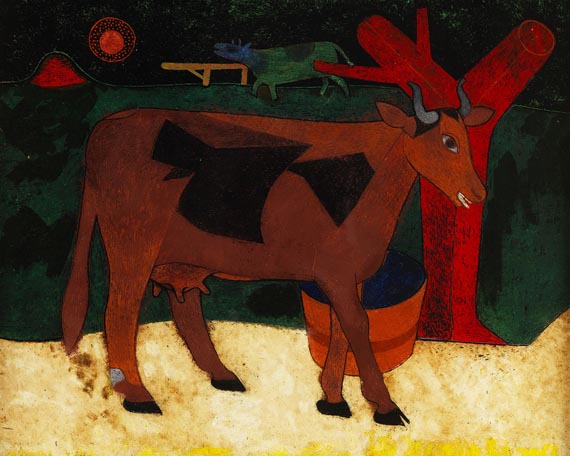 50
Kühe, 1931.
Glass painting
Estimate:
€ 25,000 / $ 26,500
Sold:

€ 52,460 / $ 55,607
(incl. 22% surcharge)
Glass painting
Firmenich 957. 31 x 38,7 cm (12,2 x 15,2 in)
Rear of covering board inscribed "H. Campendonck Düsseldorf, Titel Glasbild No. 2 'Aus der Bretagne'" by two hands other than that of the artist.

PROVENANCE: Private collection Rhineland.

EXHIBITION: Expressionismus in Malerei und Plastik, Kaiser Wilhelm Museum, Krefeld, 15 December, 1946 - 15 January, 1947, cat. no. 9.
Heinrich Campendonck, Clemens-Sels-Museum, Neuss, 10 February - 16 March, 1952, cat. no. 22.
Heinrich Campendonck, Haus Lange, Krefeld, 25 May - 17 July, 1960, p. 92, no. 109 (with exhibition label on verso of cardboard on rear of frame).
Heinrich Campendonck, Museum am Ostwall, Dortmund, October 1960 (with exhibition label on verso of cardboard on rear of frame).
Heinrich Campendonck, Kunstverein Frankfurt/Main, November 1960.
Heinrich Campendonck, Städtische Galerie im Lenbachhaus, Munich, 29 July - 4 September, 1960, cat. no. 78.

LITERATURE: Mathias T. Engels, Heinrich Campendonck, Monographien zur rheinisch-westfälischen Kunst der Gegenwart, vol. 8, Recklinghausen 1958, page 34 (with illu.).
Paul Wember, Heinrich Campendonck, Krefeld 1889 - 1957 Amsterdam, in: Die Heimat, year. 31, issue 1/4, Krefeld 1960 (with illu.).

After his studies at the Kunstgewerbeschule in Krefeld under the Dutch artist Johan-Thorn Prikker Heinrich Campendonk accepted an invitation to Sindelsdorf in Bavaria by Franz Marc and settled there in 1911. Already at that time he found the basic subject of his works: the depiction of harmony of man and beast, Creation, the circle of life. Beside paintings, watercolors, gouaches and first woodcuts came into existence. In Sindelsdorf he got acquainted with the members of the artist group 'Blauer Reiter' and participated in exhibitions their that very same year. Together with this group of artists he also exhibited at the 'Erster Deutscher Herbstsalon' of the 'Sturm', led by Herwarth Walden in Berlin, two years later. His artistic creativity was strongly influenced by Marc, Macke and Kandinsky during these years and had a first climax. A stiff geometrical form language was combined with color in pure complementary contrasts to a dynamic, rhythmic form language. In 1916 Campendonk moved to Seeshaupt at the Starnberger See, from where he travelled extensively. His painting is now formed by softly flowing forms, large areas of intensive light and a lyrical, often fairytale-like mood. Behind glass paintings were also created. In 1926 the artist was appointed professor at the Kunstakademie in Düsseldorf. Campendonk gained artistic recognition since the mid-1920s particularly through doing windows of churches and public buildings (the Landtag and Paulskirche in Duesseldorf, Essener Münster et al.).

Besides the glass windows that Campebndonk made for churches and other representative buildings, the reverse-glass paintings are another interesting component of his art. The reverse-glass picture, originally found in folk art, had already inspired the artists of the Blauer Reiter, especially Münter and Wassily Kandinsky. The technical difficulties of reverse-glass painting are perceived as challenges, accordingly, they are met with a simplified compositional structure. Heinrich Campendonck possessed great mastery in coping with this challenge, as our work clearly shows. The clear forms are firmly contoured, they are subject to a simple and harmonious coloring. The small format's make has a monumental effect supported by the image space's two-dimensional partition. It is Campendonck's concern to avoid any form of Naturalism in favor of a unification of the clear and concise composition.

When he was dismissed from his teaching profession in 1933, he emigrated to Belgium, where he lived in Ostende for the time being, before he accepted a teaching post at the Rijksakademie van beeldende Kunsten in Amsterdam in 1935. Campendock did not return to Germany at the end of world war II. He continued his teaching profession and got several orders for glass windows in the Netherlands and in Germany. In 1956 he was awarded the Quellinus-Preis of the city of Amsterdam and was dubbed a knight of the order De Neederlandse Leeuw. Campendonk died in Amsterdam in 1957. [KD].


50
Kühe, 1931.
Glass painting
Estimate:
€ 25,000 / $ 26,500
Sold:

€ 52,460 / $ 55,607
(incl. 22% surcharge)
You might also be interested in
Heinrich Campendonk - lots sold by Ketterer Kunst