Sale: 378 / Post War / Contemporary Art, May 07. 2011 in Munich

Lot 324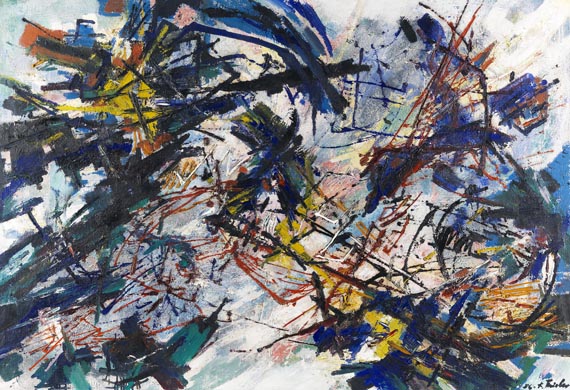 324
Monadisch spektral, 1956.
Oil on canvas
Estimate:
€ 14,000 / $ 15,400
Sold:

€ 68,320 / $ 75,152
(incl. 22% surcharge)
Oil on canvas
Melchior 5/119. Signed and dated lower right. With two adhesive labels on stretcher, there with typed title and artist's address. 130 x 189 cm (51,1 x 74,4 in)

PROVENANCE: Galerie Otto Stangl, Munich 1958 (with remains of a label on stretcher).
Collection Prof. Gustav Stein, Bonn.
Private collection Southern Germany.

EXHIBITION: Große Kunstausstellung Munich, Haus der Kunst Munich, 22 June - 7 October 1956, cat. no. 392 (with illu. on p. 112).
lebendige farbe - couleur vivante, Städtisches Museum Wiesbaden, 7 April - 30 June 1957, cat. no. 65.
Fred Thieler. Arbeiten aus den letzten fünf Jahren, Haus am Waldsee Berlin/Städtisches Museum Wiesbaden, 15 December 1962/1963, cat. no. 7 (with illu.).

The art of Fred Thieler is entirely uncoupled from everyday figuration, it not defined by any exterior factors, it neither means or shows anything but itself. It is solely tied in with the artist's personality and his inner sensation. The canvas becomes the playing field of his existence. Thieler enters a dialog with the paint, which he pours or drips onto the canvas either slowly or quickly, at times thoroughly and at times explosively. The process of creation seems arbitrary, coincidental and uncontrollable. However, Thieler directs the paint by watering it down and pouring it or by applying it to the canvas in streaks, he controls its course by moving the canvas or by squeezing it through a sponge. He thus creates surprising results, unintentional things combine and the unconscious is brought out. Thieler does not only cause, he also allows and thus the paintings create themselves with the help of the artist: "Thieler can leave everything to coincidence which he conducts and induce so that the picture becomes his place of activity." (Translation of quote by Jörn Merkert, Kreative Umwege oder Die Kunst von Fred Thieler von außen betrachtet, in: Andrea Firmenich/Jörn Merkert, Fred Thieler. Monographie und Werkverzeichnis, Cologne 1995, p. 22). [SM].


324
Monadisch spektral, 1956.
Oil on canvas
Estimate:
€ 14,000 / $ 15,400
Sold:

€ 68,320 / $ 75,152
(incl. 22% surcharge)
More offers for Fred Thieler
You might also be interested in
Fred Thieler - lots sold by Ketterer Kunst