Sale: 375 / Post War / Contemporary Art, Dec. 04. 2010 in Munich

Lot 196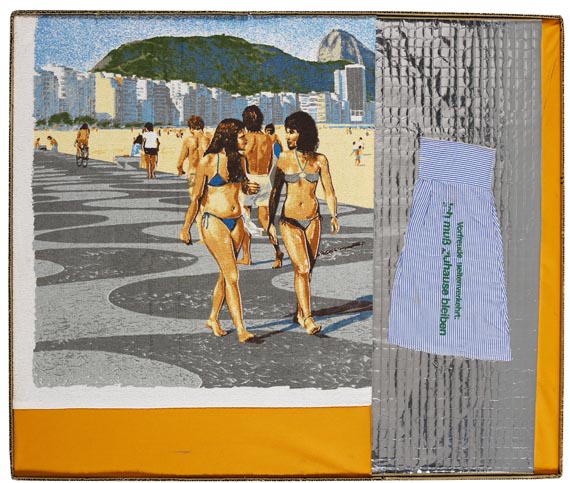 196
Vorfreude seitenverkehrt: Ich muß zuhause bleiben, 1986.
Collage
Estimate:
€ 24,000 / $ 26,400
Sold:

€ 56,120 / $ 61,732
(incl. 22% surcharge)
Collage. Terry cloth, cloth, plastic foil, cardboard, sleeves with silkscreen, on stretcher
Signed and dated on verso. 76 x 91,5 cm (29,9 x 36 in)

PROVENANCE: Galerie Gisela Capitain, Cologne.
Private collection Hesse.

Martin Kippenberger was one of the most versatile and prolific post-war German artists. Exuberantly energetic, he produced an enormous and variegated œuvre, ranging from painting, prints and sculpture to Installation and Happening. He was engaged in almost all aspects of art, being actively involved in organising exhibitions, and worked in publishing between the 1970s and his untimely death. His chief concern was questioning the assumptions of society at large and the art scene in particular while plumbing the possibilities that might remain for contemporary art. Assuming an intentional amateurishness, he attacked the art industry in provocatively trite or ironical pictorial inventions, which could on occasion be deliberately tasteless, and in nonsense texts. He was never squeamish about overstepping the bounds of good taste. Martin Kippenberger grew up in a cultured, art-loving family. After doing badly at school and dropping out of an apprenticeship as a decorator, he began to study painting at the Hamburg Art Academy in 1972. Kippenberger embarked on his first large-scale art project in 1976 while spending a year in Florence and it was followed by a catalogue in 1977. In 1978 Kippenberger moved to Berlin, where he founded 'Kippenbergers Büro' with Gisela Capitain and managed Club SO 36. In the course of organising exhibitions and concerts, Kippenberger began to buy work by contemporaries and met Max Hetzler, who would become his agent. In the 1980s Kippenberger produced many of his own works and had his first large-scale exhibition at a museum in Darmstadt in 1986: 'Miete Strom Gas' ['Rent Electricity Gas']. He also collaborated with Albert Oehlen, Werner Büttner and Georg Herold on joint projects.

Kippenberger's extremely versatile œuvre questions society and the contemporary art business. In provokingly banal or spotting images, which openly accept embarrassment, in nonsense texts and with intended dilettantism he jeopardizes our traditional concept of art and artists time and again. This can also be said about his Copacabana motifs, which were made after his "Magical Misery Tour" through Brasil. The lively beach promenade is contrasted with the cut off shirtsleeve as a symbol for day-to-day worklife and the European reserve that Kippenberger always tried to break up by means of his non-conformistic art. Accordingly, our work, dominated by a terrycloth towel with Copacabana motif, ironically comments on our yearning for distant lands and puts our conventional concept of art and artist to the test. The cnavas is not dominated by a particularly virtuous color application, on contrast, art is conceived as skillfully retrieving and combining everyday gems, thus he followed and continued Duchamp's Ready-Mades from the early 20\up5 th century. A large share of works from this period of creation was shown in the first comprehensive museum exhibition "Miete Strom Gas" at the Landesmuseum Darmstadt in 1986.

In 1990 Kippenberger was visiting professor at the Städelschule in Frankfurt and taught at the Gesamthochschule Kassel in 1992. A large-scale, long-term project that would keep him busy for the rest of his life was the realisation of a world-wide underground railway, for which he designed and built an entrance in Syros, Greece, in 1993, another in Dawson City, Canada, in 1995 and a third in 1997 at the Leipzig Trade Fair. It was posthumously supplemented that same year by a ventilation shaft executed after his plans in Münster and a portable entrance at documenta X in Kassel. [JS].


196
Vorfreude seitenverkehrt: Ich muß zuhause bleiben, 1986.
Collage
Estimate:
€ 24,000 / $ 26,400
Sold:

€ 56,120 / $ 61,732
(incl. 22% surcharge)
More offers for Martin Kippenberger
You might also be interested in
Martin Kippenberger - lots sold by Ketterer Kunst