Sale: 375 / Post War / Contemporary Art, Dec. 04. 2010 in Munich

Lot 149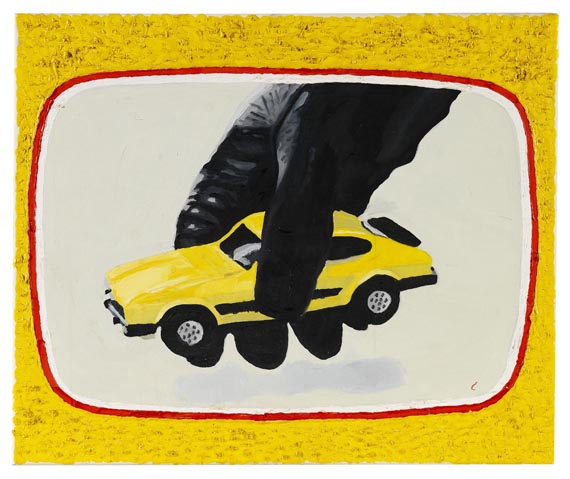 149
Kleiner Verkehr (Kreuzung Hauptstraße-Gerwigstraße, St. Georgen - Nach Witzleben links - Capri Nr. 8), 1981.
Oil on canvas
Estimate:
€ 250,000 / $ 275,000
Sold:

€ 353,800 / $ 389,180
(incl. 22% surcharge)
Oil on canvas
Each signed and dated "1981" (1) and "1982" (2) on folded canvas. Each 50 x 60 cm (19,6 x 23,6 in)
Rarely found on the market in the unusual form of the tryptich.

Accompanied by a photo expertise by Hans-Jürgen Müller, Stuttgart, no date.

PROVENANCE: Galerie Müller, Stuttgart.
Private collection Hesse.

LITERATURE: Der Kippenberger, Thomas Grässlin, St. Georgen/Max-Ulrich Hetzler GmbH, Stuttgart 1982, illu. p. 27 (released on occasion of the exhibition "Das Leben ist hart und ungerecht", Forum Kunst, Rottweil/Studio f, Ulm).

Martin Kippenberger was one of the most versatile and prolific post-war German artists. Exuberantly energetic, he produced an enormous and variegated œuvre, ranging from painting, prints and sculpture to Installation and Happening. He was engaged in almost all aspects of art, being actively involved in organizing exhibitions, and worked in publishing between the 1970s and his untimely death. His chief concern was questioning the assumptions of society at large and the art scene in particular while plumbing the possibilities that might remain for contemporary art. Assuming an intentional amateurishness, he attacked the art industry in provocatively trite or ironical pictorial inventions, which could on occasion be deliberately tasteless, and in nonsense texts. He was never squeamish about overstepping the bounds of good taste. Martin Kippenberger grew up in a cultured, art-loving family. After doing badly at school and dropping out of an apprenticeship as a decorator, he began to study painting at the Hamburg Art Academy in 1972. Kippenberger embarked on his first large-scale art project in 1976 while spending a year in Florence and it was followed by a catalogue in 1977. In 1978 Kippenberger moved to Berlin, where he founded 'Kippenbergers Büro' with Gisela Capitain and managed Club SO 36. In the course of organising exhibitions and concerts, Kippenberger began to buy work by contemporaries and met Max Hetzler, who would become his agent.

Looking back onto his life, Martin Kippenberger said the following in an interview in 1996: "Finding an own style was something I was not really good at, until I realized that a bad style is also some kind of style. That was what I pursued, that made me feel free." (translation of quote after: Doris Krystof/Jessica Morgan (publisher), Martin Kippenberger, London/Cologne 2006, p. 59). Martin Kippenberger freed himself and his art from conventional ideas of artists and art, thus he enabled his work to confront the viewer with entirely new images that are almost devoid of any traditions. In our work in three pieces Kippenberger reference the triptych, however, as far as the topic is concerned, the artist broke with its typical characteristics. There is no focal point in the three scenes, no scene makes for the center, thus he tricks our habitual mechanisms of reception. The viewer tries to find a reference point that connects the three canvasses and creates a whole, in doing so, he suddenly has something in common with the content in question: the traffic motifs are symbols for being on the way to an unknown destination. Kippenberger himself was a seeker and restless character throughout his life. Trying to escape conventions and seeking innovation and recognition, he changed places of residence, hotels and apartments, thus our three-piece work can also be understood as an impressive profile of the restless artist's personality.

In the 1980s Kippenberger produced many of his own works and had his first large-scale exhibition at a museum in Darmstadt in 1986: 'Miete Strom Gas' ['Rent Electricity Gas']. He also collaborated with Albert Oehlen, Werner Büttner and Georg Herold on joint projects. In 1990 Kippenberger was a visiting professor at the Städelschule in Frankfurt and taught at the Gesamthochschule Kassel in 1992. A large-scale, long-term project that would keep him busy for the rest of his life was the realisation of a world-wide underground railway, for which he designed and built an entrance in Syros, Greece, in 1993, another in Dawson City, Canada, in 1995 and a third in 1997 at the Leipzig Trade Fair. It was posthumously supplemented that same year by a ventilation shaft executed after his plans in Münster and a portable entrance at documenta X in Kassel.


149
Kleiner Verkehr (Kreuzung Hauptstraße-Gerwigstraße, St. Georgen - Nach Witzleben links - Capri Nr. 8), 1981.
Oil on canvas
Estimate:
€ 250,000 / $ 275,000
Sold:

€ 353,800 / $ 389,180
(incl. 22% surcharge)
More offers for Martin Kippenberger
You might also be interested in
Martin Kippenberger - lots sold by Ketterer Kunst