Sale: 378 / Post War / Contemporary Art, May 07. 2011 in Munich

Lot 515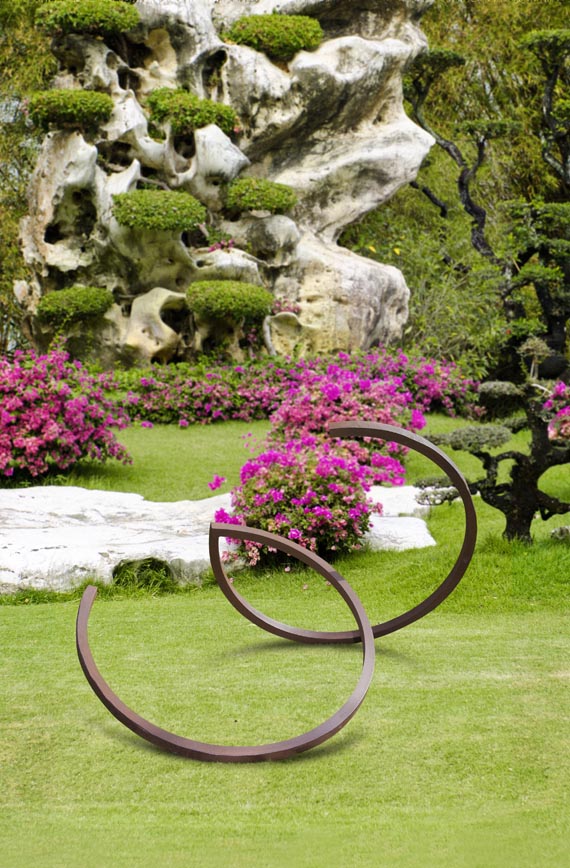 515
Kreis-Teilung, 1990.
Sculpture
Estimate:
€ 6,000 / $ 5,640
Sold:

€ 22,500 / $ 21,150
(incl. 25% surcharge)
Sculpture, square bar steel (Corten), rolled
Honisch 471 (here titled "Kreis-Teilung"). 110 x 150 x 110 cm (43,3 x 59 x 43,3 in)
The profile cross-section is 40 x 40 cm, the diameter of the ring 110 cm. [EH].

Accompanied by a photo expertise by the artist, there titled "Orthopädische Ringskulptur".

PROVENANCE: Private collection Southern Germany.

Alf Lechner, a contemporary German sculptor, was born in Munich on 17 April. Lechner started his career as a painter, studying from 1940 to 1950 by Alf Bachmann, a traditionalist landscape painter, near Lake Starnberg. Landscapes in the Impressionist manner notable for deft brushwork were early Lechner works but they soon yielded to more abstract formulations. As versatile as he is prolific, Alf Lechner has worked since 1950 as a graphic artist, industrial designer and inventor. He has designed chairs and lamps, including lighting for operation theatres, which he made himself at his own small factory. It was not until 1961 that Alf Lechner began to devote himself more intensively to sculpture, producing his first works in steel. These pieces are, on the one hand, defined by the material steel, with which Alf Lechner has worked virtually to the exclusion of all others, and, on the other, by basic geometric forms, which are variously juxtaposed paratactically, multiplied, divided or interlocking. What the artist likes about steel as a material is its enormous toughness linked with ductility and the fact that it can be worked in so many ways. The first solo show of Alf Lechner's sculpture was mounted in 1968 and the work was widely acclaimed. Subsequent phases of his work represent a continuous process of refining both form and theme. They may seem simple, but the Lechner works consisting in basic geometric forms are the result of the most sophisticated analyses and a meticulously thought-out reductive process.

Many his sculptures are based on a side length of 170 cm (human mean) (lit. cat. raisonné vol.2, p. 15)

In addition to free-standing works, Alf Lechner has produced a considerable number of architecturally related works of sculpture for public spaces. The artist has been the recipient of quite a few art awards and has been represented at numerous solo and group shows. In 2000 the Alf Lechner Museum was inaugurated in Ingolstadt, a fitting tribute to the artist in his lifetime.


515
Kreis-Teilung, 1990.
Sculpture
Estimate:
€ 6,000 / $ 5,640
Sold:

€ 22,500 / $ 21,150
(incl. 25% surcharge)
You might also be interested in
Alf Lechner - lots sold by Ketterer Kunst