Sale: 375 / Post War / Contemporary Art, Dec. 04. 2010 in Munich

Lot 125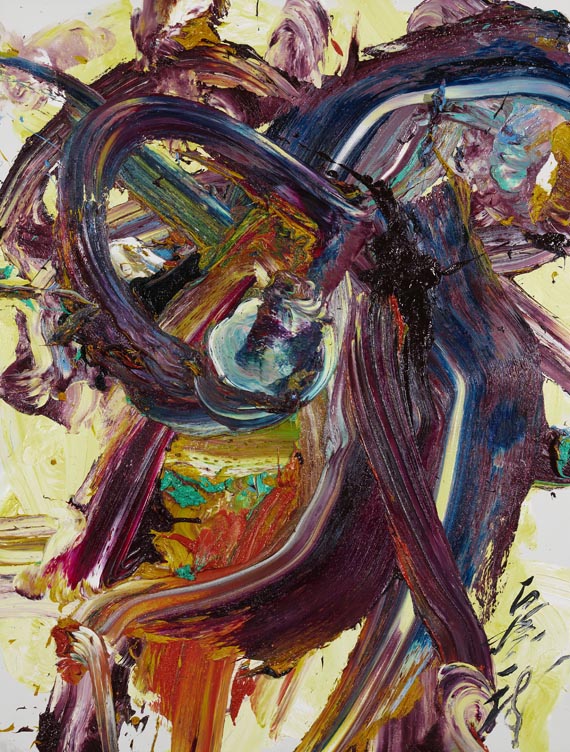 125
Yugi, 1994.
Oil on canvas
Estimate:
€ 80,000 / $ 90,400
Sold:

€ 109,800 / $ 124.073
(incl. 22% surcharge)
Oil on canvas
Signed lower right. Inscribed in Japanese on verso. 145,5 x 112 cm (57,2 x 44 in)

PROVENANCE: Matsumoto Co. Ltd., Tokyo (with label on stretcher).
Annely Juda Fine Art, London (with label on stretcher).
Galleria Magi'900, Pieve di Cento (with two labels on stretcher and the stamp).

Kazuo Shiraga completed his studies of traditional Japanese painting at the Kyoto City Specialist School of Arts (today Kyoto City University of Arts) in 1948, two years after Japan's capitulation in World War II. The historical changes going on in Japan at that time also required an artistic new beginning in the eyes of Shiraga, thus he began to increasingly examine western tendencies in art. Together with Akira Kanayama, Saburo Murakami and Kaiko Tanaka the artist founded the group "Zero" in 1952, its name expresses the belief that nay form of artistic creation arises from nothingness. A little later Shiraga belonged to the founding members and leading representatives of the Gutai group around the spiritual master Jiro Yoshihara, who, under the influence of Buddhism, helped his supporters on their way to an entirely new form of painting. The word "gutai" means something like "concrete" and, accordingly, it is the groups ambition to not only employ their imagery as a means to describe issues, but to make the imagery itself the subject of their painting. In this environment Shiraga developed a very dynamic and physical way of applying the paint, which would become characteristic of his art. In 1957 Shiraga's first foot painting performance takes places in a gallery in Osaka, in which the artist, hanging upside-down on a rope from the ceiling spreads oil paint onto sheets of paper on the ground with his feet. Impressed by the positive reception, Shiraga began to work in the same technique on canvas in 1959 and thus laid the foundation for his international breakthrough. Because of their body-focussed process of creation, Shiraga's works can be regarded as happenings and precede the epoch-making works of Allen Kaprow and Yves Klein. Copies of the Gutai manifesto, which was released in the Japanese art magazine Geijutsu Shincho, were found in Jackson Pollock's library in 1956.

In 1971 Shiraga, the precursor of Japanese Action Painting, joins the Enryaku monastery near Kyoto as a Buddhist monk under the name of Sodo. Over the following years he remained true to the strenuous and dynamic application of the paint, as this large-sized work in its warm coloring is an impressive proof of. The paint makes for a massive relief of a couple of centimeters and thus adds the unique haptics to Shiraga's energetic creation that can only be attained through the unusual painting method.

Shiraga's later works are remaining documents of a both active and contemplative process of creation. They were honored in a large single exhibition in the Annely Juda Gallery in London in late 2007. Works by Shiraga are in possession of numerous international collections, among others, the Hara Museum, Tokyo, the Musée d'Art Contemporain, Marseille, and the Museum of Modern Art, Tokyo. [JS].


125
Yugi, 1994.
Oil on canvas
Estimate:
€ 80,000 / $ 90,400
Sold:

€ 109,800 / $ 124.073
(incl. 22% surcharge)
You might also be interested in
Kazuo Shiraga - lots sold by Ketterer Kunst